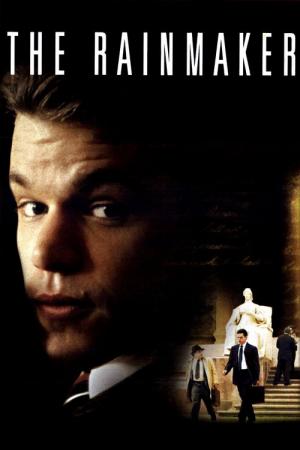 14 Best Movies Like The Rainmaker ...
If you liked this movie , you will definitely love these too! In this selection we highlight some of the best films that share a very similar mood to 'The Rainmaker', and are worth checking out.
1h 36m Mystery Drama Crime Thriller
A terrorist attack in London results in the capture of suspect, and the attorney general appoints Claudia Simmons-Howe as special advocate on his defence team. On the eve of the trial, the accused's attorney dies and a new one, Martin Rose, steps in. Martin and Claudia are former lovers—a fact which must remain hidden—and, as Martin assembles his case, he uncovers a sinister conspiracy that places him and Claudia in danger.
1h 55m Drama Mystery Thriller Crime
A female attorney learns that her husband is really a marine officer awol for fifteen years and accused of murdering fifteen civilians in El Salvador. Believing her husband when he tells her that he's being framed as part of a U.S. Military cover-up, the attorney defends him in a military court.
3.
Night Falls on Manhattan (1996)
1h 53m Crime Drama Thriller
A newly elected District attorney finds himself in the middle of a police corruption investigation that may involve his father and his partner.
4.
The Pelican Brief (1993)
2h 21m Mystery Drama Thriller Crime
Two Supreme Court Justices have been assassinated. One lone law student has stumbled upon the truth. An investigative journalist wants her story. Everybody else wants her dead.
2h 9m Crime Drama Mystery Thriller
An arrogant, high-powered attorney takes on the case of a poor altar boy found running away from the scene of the grisly murder of the bishop who has taken him in. The case gets a lot more complex when the accused reveals that there may or may not have been a third person in the room. The intensity builds when a surprise twist alters everyone's perception of the crime.
2h 9m Drama
Frank Galvin is a down-on-his-luck lawyer and reduced to drinking and ambulance chasing, when a former associate reminds him of his obligations in a medical malpractice suit by serving it to Galvin on a silver platter—all parties are willing to settle out of court. Blundering his way through the preliminaries, Galvin suddenly realizes that the case should actually go to court—to punish the guilty, to get a decent settlement for his clients... and to restore his standing as a lawyer.
1h 57m Crime Drama TV Movie
During the trial of a man accused of his father's murder, a lone juror takes a stand against the guilty verdict handed down by the others as a result of their preconceptions and prejudices.
8.
The Star Chamber (1983)
1h 45m Drama Thriller
As violence escalates in Los Angeles and heinous murders are committed, Steven Hardin, a young judge of the California Supreme Court, must struggle with his tortured conscience and growing despair as he watches helplessly as the ruthless criminals brought before his court go free because clever lawyers find obscure loopholes in the law.
9.
Erin Brockovich (2000)
2h 11m Drama
A twice-divorced mother of three who sees an injustice, takes on the bad guy and wins -- with a little help from her push-up bra. Erin goes to work for an attorney and comes across medical records describing illnesses clustered in one nearby town. She starts investigating and soon exposes a monumental cover-up.
2h 7m Drama Thriller History
A tenacious attorney uncovers a dark secret that connects a growing number of unexplained deaths to one of the world's largest corporations. In the process, he risks everything — his future, his family, and his own life — to expose the truth.
11.
Michael Clayton (2007)
1h 59m Drama Thriller
A law firm brings in its 'fixer' to remedy the situation after a lawyer has a breakdown while representing a chemical company that he knows is guilty in a multi-billion dollar class action suit.
12.
A Time to Kill (1996)
2h 29m Crime Drama Thriller
A young lawyer defends a black man accused of murdering two white men who raped his 10-year-old daughter, sparking a rebirth of the KKK.
13.
...and justice for all. (1979)
1h 59m Crime Drama Thriller
An ethical Baltimore defense lawyer disgusted with rampant legal corruption is forced to defend a judge he despises in a rape trial under the threat of being disbarred.
2h 2m Crime Drama Thriller
An American attorney on business in China, ends up wrongfully on trial for murder and his only key to innocence is a female defense lawyer from the country.
explore
Check out more list from our community