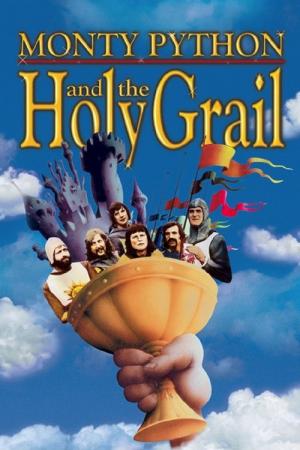 27 Best Movies Like Monty Python ...
If you liked this one , you will definitely love these too! In this list we highlight some of the best films that share a very similar mood to '', and are worth checking out.
1h 34m Comedy
Brian Cohen is an average young Jewish man, but through a series of ridiculous events, he gains a reputation as the Messiah. When he's not dodging his followers or being scolded by his shrill mother, the hapless Brian has to contend with the pompous Pontius Pilate and acronym-obsessed members of a separatist movement. Rife with Monty Python's signature absurdity, the tale finds Brian's life paralleling Biblical lore, albeit with many more laughs.
2.
And Now for Something Completely Different (1971)
1h 28m Comedy
A collection of Monty Python's Flying Circus skits from the first two seasons of their British TV series.
3.
The Meaning of Life (1983)
1h 47m Comedy
Life's questions are 'answered' in a series of outrageous vignettes, beginning with a staid London insurance company which transforms before our eyes into a pirate ship. Then there's the National Health doctors who try to claim a healthy liver from a still-living donor. The world's most voracious glutton brings the art of vomiting to new heights before his spectacular demise.
4.
The Adventures of Baron Munchausen (1988)
2h 6m Action Adventure Comedy Fantasy Family
An account of Baron Munchausen's supposed travels and fantastical experiences with his band of misfits.
1h 56m Family Fantasy Science Fiction Adventure Comedy
Young history buff Kevin can scarcely believe it when six dwarfs emerge from his closet one night. Former employees of the Supreme Being, they've purloined a map charting all of the holes in the fabric of time and are using it to steal treasures from different historical eras. Taking Kevin with them, they variously drop in on Napoleon, Robin Hood and King Agamemnon before the Supreme Being catches up with them.
1h 45m Fantasy Comedy
A medieval tale with Pythonesque humour: After the death of his father the young Dennis Cooper goes to town where he has to pass several adventures. The town and the whole kingdom is threatened by a terrible monster called 'Jabberwocky'. Will Dennis make his fortune? Is anyone brave enough to defeat the monster?
7.
The Imaginarium of Doctor Parnassus (2009)
2h 3m Adventure Fantasy Mystery
A traveling theater company gives its audience much more than they were expecting.
8.
Erik the Viking (1989)
1h 47m Adventure Fantasy Comedy
Erik the Viking gathers warriors from his village and sets out on a dangerous journey to Valhalla, to ask the gods to end the Age of Ragnorok and allow his people to see sunlight again. A Pythonesque satire of Viking life.
1h 42m Comedy Adventure Fantasy
A fantasy movie about an arrogant, lazy prince and his more heroic brother who must complete a quest in order to save their father's kingdom.
1h 36m Comedy Adventure
For years Yellowbeard had looted the Spanish Main, making men eat their lips and swallow their hearts. Caught and convicted for tax evasion, he's sentenced to 20 years in St. Victim's Prison for the Extremely Naughty. In a scheme to confiscate his fabulous treasure, the Royal Navy allows him to escape and follows him, where saucy tarts, lisping demigods and some awful puns and punishments await.
2h 20m Adventure Fantasy
A surreal adaptation of Sir Thomas Malory's "Le Morte d'Arthur", chronicling Arthur Pendragon's conception, his rise to the throne, the search by his Knights of the Round Table for the Holy Grail, and ultimately his death.
1h 26m Action Adventure Comedy
When Edward, Peter, Lucy and Susan each follow their own path, they end up finding themselves at Willy's Chocolate factory. Walking through a wardrobe, they discover the world of Gnarnia, which is ruled by the White Bitch. Meeting up with characters such as Harry Potter and Captain Jack Swallows, the newly reunited family must team up with Aslo, a wise-but-horny lion to stop the white bitch's army
1h 35m Comedy Fantasy Adventure
Martin Lawrence plays Jamal, an employee in Medieval World amusement park. After nearly drowning in the moat, he awakens to find himself in 14th century England.
14.
Monty Python's Flying Circus (1969)
30m Comedy
A British sketch comedy series with the shows being composed of surreality, risqué or innuendo-laden humour, sight gags and observational sketches without punchlines.
15.
Fierce Creatures (1997)
1h 33m Comedy Romance
Ex-policeman Rollo Lee is sent to run Marwood Zoo, the newly acquired business of a New Zealand tycoon. In order to meet high profit targets and keep the zoo open, Rollo enforces a new 'fierce creatures' policy, whereby only the most impressive and dangerous animals are allowed to remain in the zoo. However, the keepers are less enthusiastic about complying with these demands.
16.
Army of Darkness (1992)
1h 21m Fantasy Horror Comedy
Ash is transported back to medieval days, where he is captured by the dreaded Lord Arthur. Aided by the deadly chainsaw that has become his only friend, Ash is sent on a perilous mission to recover the Book of the Dead, a powerful tome that gives its owner the power to summon an army of ghouls.
1h 32m Comedy Music
An obscure Eastern cult that practices human sacrifice pursues Ringo after he unkowingly puts on a ceremonial ring (that, of course, won't come off). On top of that, a pair of mad scientists, members of Scotland Yard, and a beautiful but dead-eyed assassin all have their own plans for the Fab Four.
1h 47m Fantasy Comedy
This outrageous time-travel comedy follows the misadventures of a wacky medieval knight (Jean Reno) and his faithful servant when they are accidentally transported to contemporary times by a senile sorcerer. Mayhem rules as these 12th-century visitors try adapting to the wildly confusing modern world. To avoid being stuck here for good, however, they soon begin an all-out cosmic assault on their former castle -- now a luxury hotel -- in their quest to return to the past.
2h 1m Adventure Comedy Drama Fantasy
Captain Etienne Navarre is a man on whose shoulders lies a cruel curse. Punished for loving each other, Navarre must become a wolf by night whilst his lover, Lady Isabeau, takes the form of a hawk by day. Together, with the thief Philippe Gaston, they must try to overthrow the corrupt Bishop and in doing so break the spell.
20.
The Chronicles of Narnia: The Lion, the Witch and the Wardrobe (2005)
2h 23m Adventure Family Fantasy
Siblings Lucy, Edmund, Susan and Peter step through a magical wardrobe and find the land of Narnia. There, they discover a charming, once peaceful kingdom that has been plunged into eternal winter by the evil White Witch, Jadis. Aided by the wise and magnificent lion, Aslan, the children lead Narnia into a spectacular, climactic battle to be free of the Witch's glacial powers forever.
21.
Robin Hood: Men in Tights (1993)
1h 44m Comedy
Robin Hood comes home after fighting in the Crusades to learn that the noble King Richard is in exile and that the despotic King John now rules England, with the help of the Sheriff of Rottingham. Robin Hood assembles a band of fellow patriots to do battle with King John and the Sheriff.
1h 51m Adventure Family Fantasy
Living a bleak existence at a London orphanage, 12-year-old Peter finds himself whisked away to the fantastical world of Neverland. Adventure awaits as he meets new friend James Hook and the warrior Tiger Lily. They must band together to save Neverland from the ruthless pirate Blackbeard. Along the way, the rebellious and mischievous boy discovers his true destiny, becoming the hero forever known as Peter Pan.
23.
The Hobbit: An Unexpected Journey (2012)
2h 49m Adventure Fantasy Action
Bilbo Baggins, a hobbit enjoying his quiet life, is swept into an epic quest by Gandalf the Grey and thirteen dwarves who seek to reclaim their mountain home from Smaug, the dragon.
1h 36m Comedy
An uncompromising British school headmaster finds himself beset by one thing going wrong after another.
2h 10m Fantasy Comedy Adventure
The latest battle in the eternal war between Good and Evil has come to New Jersey in the late, late 20th Century. Angels, demons, apostles and prophets (of a sort) walk among the cynics and innocents of America and duke it out for the fate of humankind.
26.
Night at the Museum: Secret of the Tomb (2014)
1h 38m Adventure Comedy Fantasy Family
When the magic powers of The Tablet of Ahkmenrah begin to die out, Larry Daley spans the globe, uniting favorite and new characters while embarking on an epic quest to save the magic before it is gone forever.
explore
Check out more list from our community