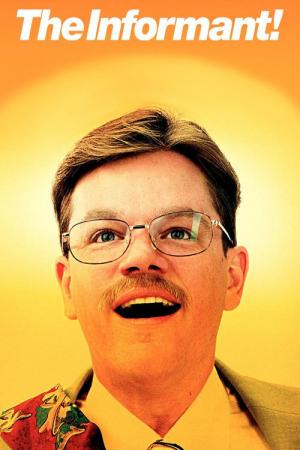 12 Best Movies Like The Informant ...
If you liked this one , you will probably love these too! In this selection we highlight some of the best films that share a very similar mood to 'The Informant!', and are worth checking out.
2h 5m Drama Crime
Based on the true story of Jack DiNorscio, a mobster who defended himself in court for what would be the longest mafia trial in U.S. history.
1h 27m Action Comedy Thriller
Needing a new partner capable of intricate cons, Richard Gaddis, recruits Rodrigo, a crook with a perfect poker face. The two plan a big-time scam: selling a fake Silver Certificate to currency collector William Hannigan. Rodrigo distrusts his new associate, but needs money to help out his ill father. The situation becomes more complicated when Rodrigo falls for Gaddis' sister, Valerie, drawing another player into the game.
3.
Prince of the City (1981)
2h 47m Drama Thriller Crime
New York City detective Daniel Ciello agrees to help the United States Department of Justice help eliminate corruption in the police department, as long as he will not have to turn in any close friends. In doing so, Ciello uncovers a conspiracy within the force to smuggle drugs to street informants
2h 7m Crime Drama Thriller
An FBI undercover agent infilitrates the mob and finds himself identifying more with the mafia life at the expense of his regular one.
5.
Barbarians at the Gate (1993)
1h 47m Comedy Drama TV Movie
A television movie based upon the book by Bryan Burrough and John Helyar, about the leveraged buyout (LBO) of RJR Nabisco.
2h 15m Drama Crime Thriller
When Rudy Baylor, a young attorney with no clients, goes to work for a seedy ambulance chaser, he wants to help the parents of a terminally ill boy in their suit against an insurance company. But to take on corporate America, Rudy and a scrappy paralegal must open their own law firm.
2h 13m History Drama
Lawyer Richard Goodwin discovers that 'Twenty-One', a successful TV quiz show, is rigged and decides to expose the team behind the show.
1h 50m Drama Thriller Crime History
Eric O'Neill, a computer specialist who wants to be made an agent is assigned to clerk for Robert Hanssen, a senior agent with 25 years in the FBI, and to write down everything Hanssen does. O'Neill's told it's an investigation of Hanssen's sexual habits, however Hanssen is really suspected of spying for the Soviet Union and Russia for years and being responsible for the deaths of agents working for the United States.
10.
Kill the Messenger (2014)
1h 52m Thriller Crime Drama Mystery
A reporter becomes the target of a vicious smear campaign that drives him to the point of suicide after he exposes the CIA's role in arming Contra rebels in Nicaragua and importing cocaine into California. Based on the true story of journalist Gary Webb.
1h 48m Comedy Crime Drama
Based on a true story, a hot shot Washington DC lobbyist and his protégé go down hard as their schemes to peddle influence lead to corruption and murder.
12.
The Laundromat (2019)
explore
Check out more list from our community