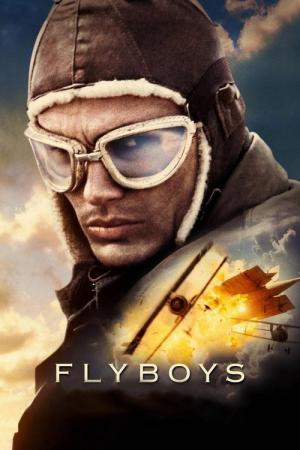 14 Best Movies Like Flyboys ...
If you liked this one , you will probably love these too! In this list we highlight some of the best films that share a very similar premise to 'Flyboys', and are worth checking out.
1.
Battle of the Bulge (1965)
2h 47m Drama History War
In the winter of 1944, the Allied Armies stand ready to invade Germany at the coming of a New Year. To prevent it, Hitler orders an all-out offensive to re-take French territory and capture the major port city of Antwerp.
2h Action Adventure Drama History War
Richthofen goes off to war like thousands of other men. As fighter pilots, they become cult heroes for the soldiers on the battlefields. Marked by sportsmanlike conduct, technical exactitude and knightly propriety, they have their own code of honour. Before long he begins to understand that his hero status is deceptive. His love for Kate, a nurse, opens his eyes to the brutality of war.
3.
The Lost Battalion (2001)
1h 32m History Drama War TV Movie
Fact-based war drama about an American battalion of over 500 men which gets trapped behind enemy lines in the Argonne Forest in October 1918 France during the closing weeks of World War I.
1h 54m Drama Romance War History
Sergeant Michael Dunne fights in the 10th Battalion, AKA The "Fighting Tenth" with the 1st Canadian Division and participated in all major Canadian battles of the war, and set the record for highest number of individual bravery awards for a single battle
2h 12m Action Drama History War
This war drama depicts the U.S. and Japanese forces in the naval Battle of Midway, which became a turning point for Americans during World War II.
2h War Action Thriller
This true story follows the exploits of a top secret British military mission to destroy Nazi radio ships in a neutral harbor during WWII. The daring plan is led by British Intelligence officers Col. Lewis Pugh (Gregory Peck) and Capt. Gavin Stewart (Roger Moore). Since the ships are in neutral territory the British Military command, while encouraging the scheme, must deny any knowledge of it if it fails. Pugh and Stewart enlist the aid of retired officer Col. Bill Grice (David Niven) and some of his former soldiers. On the pretext of being on a fishing expedition, these seemingly drunken old men in civilian clothing must board and destroy 3 Nazi ships, whose radio transmissions have resulted in Nazi submarines sinking allied ships. While Stewart arranges a diversion on shore, Pugh and Grice carry out the dangerous raid on and destruction of the Nazi ships.
7.
The Tuskegee Airmen (1995)
1h 46m Drama History War TV Movie
During the Second World War, a special project is begun by the US Army Air Corps to integrate African American pilots into the Fighter Pilot Program. Known as the "Tuskegee Airman" for the name of the airbase at which they were trained, these men were forced to constantly endure harassement, prejudice, and much behind the scenes politics until at last they were able to prove themselves in combat.
8.
Flight of the Intruder (1991)
1h 55m Action War
U.S. Navy pilot Lt. Jake Grafton and his bombardier buddy, Lt. Cmdr. Virgil Cole, are two soldiers embedded in the Vietnam War growing frustrated by the military's constraints on their missions. Despite the best efforts of their commanding officer, Cmdr. Frank Camparelli, to re-engage them, this disillusioned pair decide to take the war effort into their own hands with an explosive battle plan that could well get them court-martialed.
2h 12m Action History War
As World War II rages, the elite Sixth Ranger Battalion is given a mission of heroic proportions: push 30 miles behind enemy lines and liberate over 500 American prisoners of war.
10.
Saints and Soldiers: The Void (2014)
1h 36m War Action Drama
Germany, May 1945, deep in the Harz Mountains a U.S. tank crew discovers a platoon of Germans preparing to ambush U.S. supply trucks.
1h 45m Action War
Lt. Col. Iceal "Ham" Hambleton is a weapons countermeasures expert and when his aircraft is shot over enemy territory the Air Force very much wants to get him back. Hambleton knows the area he's in is going to be carpet-bombed but a temporary shortage of helicopters causes a delay. Working with an Air Force reconnaissance pilot, Capt. Bartholomew Clark, he maps out an escape route.
12.
Pathfinders: In the Company of Strangers (2011)
1h 31m Action History War
Untold and lost history. A true story of the American Pathfinders, the volunteer paratroopers whose deadly mission was to land 30 minutes before the Normandy invasion, locate and mark strategic "drop zones" and set up the top-secret navigation equipment needed to guide the main airborne assault on D-Day.
1h 47m Drama War Action
The "Memphis Belle" is a World War II bomber, piloted by a young crew on dangerous bombing raids into Europe. The crew only have to make one more bombing raid before they have finished their duty and can go home. In the briefing before their last flight, the crew discover that the target for the day is Dresden, a heavily-defended city that invariably causes many Allied casualties
14.
Battle of Britain (1969)
2h 12m History War
In 1940, the Royal Air Force fights a desperate battle against the might of the Luftwaffe for control of the skies over Britain, thus preventing the Nazi invasion of Britain.
explore
Check out more list from our community