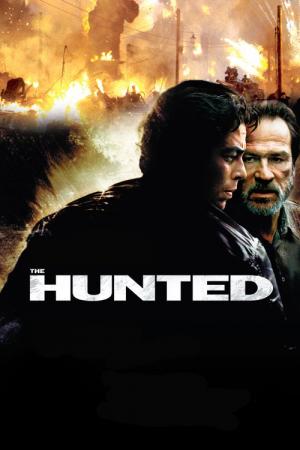 12 Best Movies Like The Hunted ...
If you liked this one , you will for sure love these too! In this collection we highlight some of the best films that share a very similar mood to 'The Hunted', and are worth checking out.
2h 4m Action Drama Mystery Thriller Crime
A marksman living in exile is coaxed back into action after learning of a plot to kill the president. Ultimately double-crossed and framed for the attempt, he goes on the run to track the real killer and find out who exactly set him up, and why??
2.
The Glimmer Man (1996)
1h 32m Action Crime
A former government operative renowned for his stealth, Jack Cole is now a Los Angeles police detective. When a series of horrible murders occurs in the metro area, Cole is assigned to the case, along with tough-talking fellow cop Jim Campbell. Although the two men clash, they gradually become effective partners as they uncover a conspiracy linked to the killings, which also involves terrorism and organized crime.
3.
Jackson County Jail (1976)
1h 24m Crime Drama
A young woman stumbles into a nightmare land of hijacking and humiliation while driving cross-country from California to New York.
2h 37m Drama Thriller Crime
A North Korean man takes an assassination job in the South to make money and find his missing wife. But when the job is botched, he is forced to go on the run from the police and the gangsters who paid him.
1h 54m Action Drama Thriller Crime
Brooklyn mobster and prolific hit man Jimmy Conlon has seen better days. Longtime best friend of a mob boss, Jimmy is haunted by the sins of his past—as well as a dogged police detective who's been one step behind Jimmy for 30 years. But when Jimmy's estranged son becomes a target, Jimmy must make a choice between the crime family he chose and the real family he abandoned long ago. Now, with nowhere safe to turn, Jimmy has just one night to figure out exactly where his loyalties lie and to see if he can finally make things right.
2h 30m Action Crime Thriller
After fighting his way through an apartment building populated by an army of dangerous criminals and escaping with his life, SWAT team member Rama goes undercover, joining a powerful Indonesian crime syndicate to protect his family and uncover corrupt members of his own force.
1h 50m Action Thriller Crime
While racing to a boxing match, Frank, Mike, John and Rey get more than they bargained for. A wrong turn lands them directly in the path of Fallon, a vicious, wise-cracking drug lord. After accidentally witnessing Fallon murder a disloyal henchman, the four become his unwilling prey in a savage game of cat & mouse as they are mercilessly stalked through the urban jungle in this taut suspense drama
8.
Assassination Games (2011)
1h 41m Action
Brazil is a contract killer, willing to take any job if the price is right. Flint left the assassin game when a ruthless drug dealer's brutal attack left his wife in a coma. When a contract is put out on the same coldblooded drug dealer, both Brazil and Flint want him dead – one for the money, the other for revenge. With crooked Interpol agents and vicious members of the criminal underworld hot on their trail, these two assassins reluctantly join forces to quickly take out their target before they themselves are terminated.
2h 11m Crime Drama Thriller Horror
After having successfully eluded the authorities for years, Hannibal peacefully lives in Italy in disguise as an art scholar. Trouble strikes again when he's discovered leaving a deserving few dead in the process. He returns to America to make contact with now disgraced Agent Clarice Starling, who is suffering the wrath of a malicious FBI rival as well as the media.
1h 50m Action Drama Thriller Crime
John "Breacher" Wharton leads an elite DEA task force that takes on the world's deadliest drug cartels. When the team successfully executes a high-stakes raid on a cartel safe house, they think their work is done – until, one-by-one, the team members mysteriously start to be eliminated. As the body count rises, everyone is a suspect.
2h 11m Thriller Crime Action
U.S. Marshal Sam Gerard is accompanying a plane load of convicts from Chicago to New York. The plane crashes spectacularly, and Mark Sheridan escapes. But when Diplomatic Security Agent John Royce is assigned to help Gerard recapture Sheridan, it becomes clear that Sheridan is more than just another murderer.
12.
No Country for Old Men (2007)
2h 2m Crime Drama Thriller
Llewelyn Moss stumbles upon dead bodies, $2 million and a hoard of heroin in a Texas desert, but methodical killer Anton Chigurh comes looking for it, with local sheriff Ed Tom Bell hot on his trail. The roles of prey and predator blur as the violent pursuit of money and justice collide.
explore
Check out more list from our community