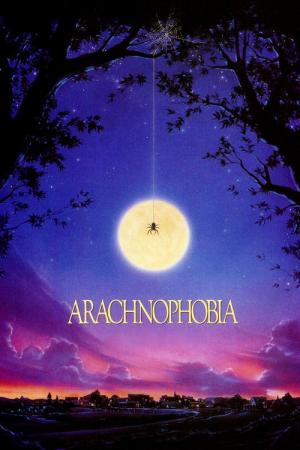 30 Best Movies Like Arachnophobia ...
If you liked this film , you will definitely love these too! In this selection we highlight some of the best films that share a very similar premise to '', and are worth checking out.
1h 22m Horror Comedy Action Science Fiction Thriller
When a man is eaten alive by an unknown creature, the local Game Warden teams up with a paleontologist from New York to find the beast. Add to the mix an eccentric philanthropist with a penchant for "Crocs", and here we go! This quiet, remote lake is suddenly the focus of an intense search for a crocodile with a taste for live animals...and people!
1h 36m Horror Comedy Action Adventure Fantasy
Hick handymen Val McKee and Earl Bassett can barely eke out a living in the Nevada hamlet of Perfection, so they decide to leave town -- despite an admonition from a shapely seismology coed who's picking up odd readings on her equipment. Before long, Val and Earl discover what's responsible for those readings: 30-foot-long carnivorous worms with a proclivity for sucking their prey underground.
1h 22m Horror Action Comedy Science Fiction Thriller
A massive ball of furry creatures from another world eat their way through a small mid-western town followed by intergalactic bounty hunters opposed only by militant townspeople.
1h 33m Horror Thriller
A friendly St. Bernard named "Cujo" contracts rabies and conducts a reign of terror on a small American town.
1h 56m Horror Thriller Science Fiction
Scientist Dr. Bradford Crane and army general Thalius Slater join forces to fight an almost invisible enemy threatening America; killer bees that have deadly venom and attack without reason. Disaster movie-master Irwin Allen's film contains spectacular special effects, including a train crash caused by the eponymous swarm.
1h 26m Comedy Horror Science Fiction
A batch of unhatched critter eggs are mistaken for Easter eggs by the country-folk inhabitants of Grover's Bend and, before long, the ferocious furballs are on the rampage again.
7.
Eight Legged Freaks (2002)
1h 39m Action Comedy Horror Thriller
The residents of a rural mining town discover that an unfortunate chemical spill has caused hundreds of little spiders to mutate overnight to the size of SUVs. It's then up to mining engineer Chris McCormack and Sheriff Sam Parker to mobilize an eclectic group of townspeople, including the Sheriff's young son, Mike, her daughter, Ashley, and paranoid radio announcer Harlan, into battle against the bloodthirsty eight-legged beasts.
8.
Anacondas: The Hunt for the Blood Orchid (2004)
1h 36m Adventure Action Horror Thriller
The blood orchid - a rare flower that could hold the secret of eternal life and be worth a fortune to the company that finds it. Led by a pharmaceutical research team, a scientific expedition sets out to explore deep into the jungles of Borneo to locate and bring back samples of the legendary plant. Battling through rainstorms to make their way upriver, the group encounters poisonous insects and a ferocious crocodile, only to discover they're being stalked by an even greater danger: a gathering of giant anacondas! Heat-sensing, fifty-foot-long flesh-eaters that'll go after anyone that crosses their path!
1h 31m Horror Thriller
Genetically mutated bats escape and it's up to a bat expert and the local sheriff to stop them.
1h 35m Horror Action Thriller
Trapped in a remote tavern, a group of strangers must band together for survival. Outside the bar, a horde of ravenous, flesh-eating monsters are trying to break in and dine on the frightened humans inside.
1h 34m Horror Thriller Science Fiction Comedy
When flesh-eating piranhas are accidently released into a summer resort's rivers, the guests become their next meal.
12.
Blood Lake: Attack of the Killer Lampreys (2014)
1h 30m Horror Thriller
After chomping through the fish population, thousands of starved lampreys begin attacking the citizens of a sleepy lake town, and the community scrambles to stay alive.
13.
Killer Klowns from Outer Space (1988)
1h 28m Comedy Horror Science Fiction
Aliens disguised as clowns crash land on Earth in a rural town to capture unsuspecting victims in cotton candy cocoons for later consumption.
1h 29m Adventure Horror Thriller
A "National Geographic" film crew is taken hostage by an insane hunter, who takes them along on his quest to capture the world's largest - and deadliest - snake.
15.
Birdemic 2: The Resurrection (2013)
1h 22m Action Comedy Horror Science Fiction
A platoon of eagles and vultures attack Hollywood, California. Why did the eagles and vultures attack? Who will survive?
16.
Tremors II: Aftershocks (1996)
1h 40m Action Horror Comedy Science Fiction Thriller
Those supersucking desert creatures are back --- and this time they're south of the border. As the creatures worm their way through the oil fields of Mexico, the only people who can wrangle them are veteran Earl Bassett and survivalist Burt Gummer. Add to that team a young punk out for cash and a fearless scientist, and the critters don't stand a chance.
17.
In the Spider's Web (2007)
1h 28m Horror TV Movie
When a team of backpackers sets out to explore the Indian jungles, one of them is bitten by a poisonous spider and killed.
1h 31m Horror Science Fiction
In the peaceful town of Snowfield, Colorado something evil has wiped out the community. And now, its up to a group of people to stop it, or at least get out of Snowfield alive.
1h 35m Horror Science Fiction
Remake of the 1958 horror sci-fi about a deadly blob which is the spawn of a secret government germ warfare project which consumes everyone in its path. Teenagers try in vain to warn the townsfolk, who refuse to take them seriously, while government agents try to cover up the evidence and confine the creature.
20.
Man's Best Friend (1993)
1h 39m Comedy Horror Science Fiction
Sleepy New Haven California is a small town with a big problem. A sixty foot slithering horror has arrived and shattered the town's tranquillity on it's path of death and destruction... Growing violent and more savage with each attack the gigantic creature soon becomes an unstoppable feeding machine raging beyond control of it's creator, leaving only the stripped bones of it's victims in it's wake.
22.
Cat's Eye (1985)
1h 34m Horror Thriller
Three short stories by shock-meister Stephen King are linked by a stray cat that roams from one tale to the next in this creepy triptych that begins as Dick (James Woods) tries to quit smoking by any means necessary. Next, we meet Johnny, an adulterous man who's forced by his lover's husband onto a building's hazardous ledge. Finally, Amanda is threatened by an evil gnome who throws suspicion on the family cat.
23.
Deep in the Darkness (2014)
1h 40m Horror Thriller
Dr. Michael Cayle thought leaving the chaotic lifestyle of New York City behind for the quiet, small town of Ashborough would bring his family closer together. Soon after arriving, however, he discovers the town's deepest secret: a terrifying and controlling race of creatures that live amongst the darkness in the woods behind his home.
24.
Final Destination 2 (2003)
1h 30m Horror Mystery
When Kimberly has a violent premonition of a highway pileup she blocks the freeway, keeping a few others meant to die, safe...Or are they? The survivors mysteriously start dying and it's up to Kimberly to stop it before she's next.
25.
Birdemic: Shock and Terror (2010)
1h 35m Horror Science Fiction
A platoon of eagles and vultures attacks the residents of a small town. Many people die. It's not known what caused the flying menace to attack. Two people manage to fight back, but will they survive Birdemic?
1h 20m Horror Science Fiction
Based on actual creatures that for years have tormented our armed forces in the Middle East, these creatures have now invaded the southwestern deserts of the United States. The Camel Spiders now freely hunt for prey, unafraid of any predator - including man. No place is safe no one is beyond their paralyzing sting. In the end, a small band of hearty fighters are forced to make one last stand against the creatures.
27.
An American Werewolf in Paris (1997)
1h 45m Horror Comedy
An American man unwittingly gets involved with werewolves who have developed a serum allowing them to transform at will.
1h 29m Horror
The widow, Deputy Sheriff Jane Kozik, moves from Manhattan to Black Stone, New York, with her daughter Kelsey Kozik. There she expects to find a safe place to live. The day after moving, a homeless man is found dead in the tool shed of Jane's blind friend Beverly Rowe. Devin Hall and the entomologist Katherine Randell are summoned to help with the investigation. Devin is Jane's brother-in-law and former boyfriend, and Jane still has a crush on him. Meanwhile, Kelsey befriends the scientist Eli Giles, who has developed genetically modified wasps to the army as a weapon, and now he is trying to revert the process. When the wasps attack Black Stone, Jane, Devin and Eli team-up to attempt to destroy the swarm.
29.
An American Werewolf in London (1981)
1h 37m Horror Comedy
Two American tourists in England are attacked by a werewolf that none of the locals will admit exists.
explore
Check out more list from our community