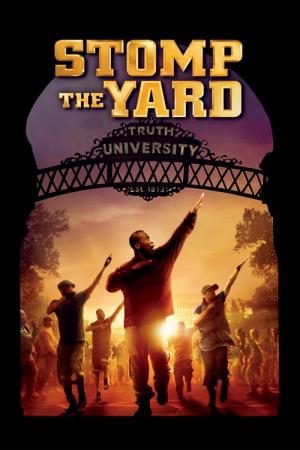 28 Best Movies Like Stomp The Yard ...
If you liked this film , you will probably love these too! In this collection we highlight some of the best films that share a very similar mood to '', and are worth checking out.
1h 44m Music Drama Romance Crime
Everyone deserves a chance to follow their dreams, but some people only get one shot. Tyler Gage is a rebel from the wrong side of Baltimore's tracks and the only thing that stands between him and an unfulfilled life are his dreams of one day making it out of there. Nora is a privileged ballet dancer attending Baltimore's ultra-elite Maryland School of the Arts
1h 35m Drama Music
At Mr. Rad's Warehouse, the best hip-hop crews in Los Angeles compete for money and respect. But when a suburban crew crashes the party, stealing their dancers - and their moves - two warring friends have to pull together to represent the street. Starring hip-hop sensations Marques Houston, Omari Grandberry, Lil' Kim and comedian Steve Harvey.
3.
Save the Last Dance (2001)
1h 53m Drama Family Romance Music
After the death of her mother, Sara moves to the South Side of Chicago to live with her father and gets transferred to a majority-black school. Her life takes a turn for the better when befriends Chenille and her brother Derek, who helps her with her dancing skills.
4.
Step Up Revolution (2012)
1h 39m Music Drama Romance
Emily arrives in Miami with aspirations to become a professional dancer. She sparks with Sean, the leader of a dance crew whose neighborhood is threatened by Emily's father's development plans.
1h 47m Drama Romance
A tight-knit group of New York City street dancers, including Luke and Natalie, team up with NYU freshman Moose, and find themselves pitted against the world's best hip hop dancers in a high-stakes showdown that will change their lives forever.
1h 58m Drama Romance Comedy Music
A fish-out-of-water comedy about a talented street drummer from Harlem who enrolls in a Southern university, expecting to lead its marching band's drumline to victory. He initially flounders in his new world, before realizing that it takes more than talent to reach the top.
8.
Step Up 2: The Streets (2008)
1h 38m Music Drama Romance
When rebellious street dancer Andie lands at the elite Maryland School of the Arts, she finds herself fighting to fit in while also trying to hold onto her old life. When she joins forces with the schools hottest dancer, Chase, to form a crew of classmate outcasts to compete in Baltimore s underground dance battle The Streets.
1h 35m Drama Romance
Alex Owens, a teen juggling between two odd jobs, aspires to become a successful ballet dancer. Nick, who is her boss and lover, supports and encourages her to fulfil her dream.
10.
Step Up All In (2014)
1h 52m Romance Drama Music
All-stars from the previous Step Up installments come together in glittering Las Vegas, battling for a victory that could define their dreams and their careers.
1h 36m Drama Music Romance
When a hip hop violinist busking in the New York subway encounters a classical dancer on scholarship at the Manhattan Conservatory of the Arts, sparks fly. With the help of a hip hop dance crew they must find a common ground while preparing for a competition that could change their lives forever.
1h 53m Drama Music Romance
Ren MacCormack is transplanted from Boston to the small southern town of Bomont where loud music and dancing are prohibited. Not one to bow to the status quo, Ren challenges the ban, revitalizing the town and falling in love with the minister's troubled daughter Ariel in the process.
1h 24m Crime Drama Music
A young female breakdancer, Angel, moves to Los Angeles after an attack by an ex-boyfriend nearly ends her dance career forever. B-Girl follows Angel through recovery and acceptance of a new life as she busts a move into the male-centric world of underground hip hop.
1h 25m Drama Romance Music
After suffering humiliation by the crew Invincible, street dancer Ash looks to gather the best dancers from around the world for a rematch.
15.
Stomp the Yard 2: Homecoming (2010)
1h 30m Drama Music
Chance Harris looks to find a balance between his school, work, relationships and opportunity to perform at the nationally televised step competition during homecoming weekend at Truth University.
1h 34m Romance Music Family
Honey Daniels dreams of making a name for herself as a hip-hop choreographer. When she's not busy hitting downtown clubs with her friends, she teaches dance classes at a nearby community center in Harlem, N.Y., as a way to keep kids off the streets. Honey thinks she's hit the jackpot when she meets a hotshot director casts her in one of his music videos. But, when he starts demanding sexual favors from her, Honey makes a decision that will change her life.
2h 6m Drama Music Romance
Young Cuban Rafael just buried his mother, and comes to Houston to meet his father John for the first time. The difficult part is that John doesn't know he is Rafael's father. John runs a dance studio, and everyone prepares for the World Open Dance championship in Las Vegas. It soon becomes clear Rafael is a very good dancer, and Ruby is the biggest hope for the studio at the championship.
1h 55m Drama Music
A group of 12 teenagers from various backgrounds enroll at the American Ballet Academy in New York to make it as ballet dancers and each one deals with the problems and stress of training and getting ahead in the world of dance.
19.
Battle of the Year (2013)
1h 50m Music Drama
A down-on-his-luck coach is hired to prepare a team of the best American dancers for an international tournament that attracts all the best crews from around the world, but the Americans haven't won in fifteen years.
1h 40m Drama Music Romance
Expecting the usual tedium that accompanies a summer in the Catskills with her family, 17-year-old Frances 'Baby' Houseman is surprised to find herself stepping into the shoes of a professional hoofer—and unexpectedly falling in love.
46m Drama
Naoko, who is a medical student falls in love for the first time for her uncle, Masato. She gets admitted into a prestigious medical school in Tokyo to get closer to him. There, she meets Aya, the daughter of the hospital's director and also a talented researcher at the school. Aya is also Masato's girlfriend. Aya feels insecure when Naoko meets Masato again.
1h 48m Comedy Music Drama
A former professional dancer volunteers to teach dance in the New York public school system and, while his background first clashes with his students' tastes, together they create a completely new style of dance. Based on the story of ballroom dancer, Pierre Dulane.
23.
Save the Last Dance 2 (2006)
1h 30m Drama Family Romance
Sara joins Julliard in New York to fulfill her and her mother's dream of becoming the Prima ballerina of the school. She befriends her roommates, Zoe and Miles, who teach hip-hop classes. She has ballet classes with the rigid and famous Monique Delacroix that she idolizes - Monique requires full commitment, discipline and hard work from her students. When Miles, who is a composer, invites Sara to help him compose the music for the dance choreography Sara's passion for hip-hop is sparked and she also falls in love with Miles. When she is assigned to perform Giselle in an important event, she feels divided between the technique of the ballet and the creative work offered by Miles.
1h 30m Music Comedy
A struggling young dancer joins forces with two breakdancers and together they become a street sensation.
1h 47m Drama Romance
When teenager Ren and his family move from big-city Chicago to a small town in the West, he's in for a real case of culture shock after discovering he's living in a place where music and dancing are illegal.
1h 59m Drama Romance
The Burlesque Lounge has its best days behind it. Tess, a retired dancer and owner of the venue, struggles to keep the aging theater alive, facing all kinds of financial and artistic challenges. With the Lounge's troupe members becoming increasingly distracted by personal problems and a threat coming from a wealthy businessman's quest to buy the spot from Tess, the good fortune seems to have abandoned the club altogether. Meanwhile, the life of Ali, a small-town girl from Iowa, is about to change dramatically. Hired by Tess as a waitress at the Lounge, Ali escapes a hollow past and quickly falls in love with the art of burlesque. Backed by newfound friends amongst the theater's crew, she manages to fulfill her dreams of being on stage herself. Things take a dramatic turn though when Ali's big voice makes her become the main attraction of the venue.
27.
Make Your Move (2013)
1h 50m Music
A pair of star-crossed dancers in New York find themselves at the center of a bitter rivalry between their brothers' underground dance clubs.
explore
Check out more list from our community