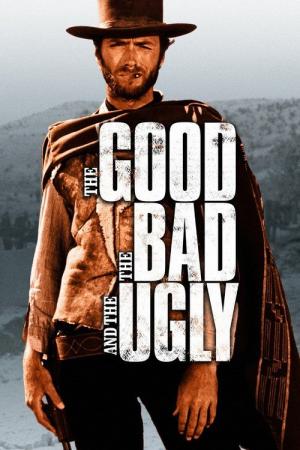 28 Best Movies Like The Good The Bad And The Ugly ...
If you liked this movie , you will definitely love these too! In this list we highlight some of the best films that share a very similar premise to '', and are worth checking out.
1.
Once Upon a Time in the West (1968)
2h 46m Western
As the railroad builders advance unstoppably through the Arizona desert on their way to the sea, Jill arrives in the small town of Flagstone with the intention of starting a new life.
2.
A Fistful of Dollars (1964)
1h 39m Western
The Man With No Name enters the Mexican village of San Miguel in the midst of a power struggle among the three Rojo brothers and sheriff John Baxter. When a regiment of Mexican soldiers bearing gold intended to pay for new weapons is waylaid by the Rojo brothers, the stranger inserts himself into the middle of the long-simmering battle, selling false information to both sides for his own benefit.
3.
The Hateful Eight (2015)
3h 8m Crime Drama Mystery Western
Bounty hunters seek shelter from a raging blizzard and get caught up in a plot of betrayal and deception.
4.
High Plains Drifter (1973)
1h 45m Western
A gunfighting stranger comes to the small settlement of Lago. After gunning down three gunmen who tried to kill him, the townsfolk decide to hire the Stranger to hold off three outlaws who are on their way.
5.
For a Few Dollars More (1965)
2h 12m Western
Two bounty hunters are in pursuit of "El Indio," one of the most wanted fugitives in the western territories, and his gang.
2h 10m Western
William Munny is a retired, once-ruthless killer turned gentle widower and hog farmer. To help support his two motherless children, he accepts one last bounty-hunter mission to find the men who brutalized a prostitute. Joined by his former partner and a cocky greenhorn, he takes on a corrupt sheriff.
7.
The Return of Sabata (1971)
8.
Death Rides a Horse (1967)
9.
The Outlaw Josey Wales (1976)
2h 15m Western
After avenging his family's brutal murder, Wales is pursued by a pack of soldiers. He prefers to travel alone, but ragtag outcasts are drawn to him - and Wales can't bring himself to leave them unprotected.
1h 36m Western
An ex-con seeks revenge on the man who put him in prison by planning a robbery of the latter's stagecoach, which is transporting gold. He enlists the help of a partner, who could be working for his nemesis.
13.
Django Unchained (2012)
With the help of a German bounty hunter, a freed slave sets out to rescue his wife from a brutal Mississippi plantation owner.
14.
Hang 'Em High (1968)
1h 54m Western
Marshall Jed Cooper survives a hanging, vowing revenge on the lynch mob that left him dangling. To carry out his oath for vengeance, he returns to his former job as a lawman. Before long, he's caught up with the nine men on his hit list and starts dispensing his own brand of Wild West justice.
15.
Take a Hard Ride (1975)
17.
The Sons of Katie Elder (1965)
1h 55m Western
A small gold mining camp is terrorised by a ruthless land owner wanting to take their land. Clint Eastwood arrives riding a pale horse just as a young girl is praying to God to help the miners. He is revealed to be a preacher with mysterious and possible otherworldly origins who teams up with the miners to defeat the land owner and the corrupt sheriff.
1h 50m Drama Adventure Western
Following the murder of her father by a hired hand, a 14-year-old farm girl sets out to capture the killer. To aid her, she hires the toughest U.S. Marshal she can find—a man with 'true grit'—Reuben J. 'Rooster' Cogburn.
Nevada Smith is the young son of an Indian mother and white father. When his father is killed by three men over gold, Nevada sets out to find them and kill them. The boy is taken in by a gun merchant. The gun merchant shows him how to shoot and to shoot on time and correct.
Karl Westover, an inexperienced farm boy, runs away after unintentionally killing a neighbor, whose family pursues him for vengeance. He meets Barbarosa, a gunman of near-mythical proportions, who is himself in danger from his father-in-law Don Braulio, a wealthy Mexican rancher. Don Braulio wants Barbarosa dead for marrying his daughter against the father's will. Barbarosa reluctantly takes the clumsy Karl on as a partner, as both of them look to survive the forces lining up against them.
25.
How the West Was Won (1962)
27.
Django Strikes Again (1987)
explore
Check out more list from our community