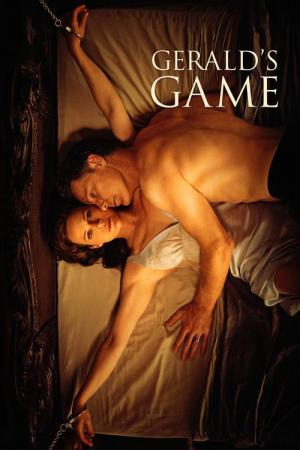 28 Best Movies Like Gerald ...
If you liked this movie , you will definitely love these too! In this list we highlight some of the best films that share a very similar mood to '', and are worth checking out.
1h 22m Horror Thriller
A deaf woman is stalked by a psychotic killer in her secluded home.
5.
The Disappointments Room (2016)
1h 32m Drama Horror Thriller
A mother and her young son release unimaginable horrors from the attic of their rural dream home.
1h 33m Horror Thriller
A female psychologist wants to understand the minds of a confessed serial killer who spent the last five years in a mental hospital because of his state.
1h 14m Drama Horror Thriller TV Movie
When awkward teen Ronald Wilby accidentally kills a young girl whose sister rejected his affections, his overbearing mother decides to hide him from the law by creating a concealed room in their home for him to live.
1h 37m Drama Fantasy Horror Thriller
An orphaned child's dreams—and nightmares—manifest physically as he sleeps.
9.
Ouija: Origin of Evil (2016)
1h 39m Horror Thriller
In 1965 Los Angeles, a widowed mother and her two daughters add a new stunt to bolster their séance scam business and unwittingly invite authentic evil into their home. When the youngest daughter is overtaken by the merciless spirit, this small family confronts unthinkable fears to save her and send her possessor back to the other side.
1h 44m Horror Thriller
Jon Lansdale is a comic book artist who loses his right hand in a car accident. The hand was not found at the scene of the accident, but it soon returns by itself to follow Jon around, and murder those who anger him.
11.
Sometimes They Come Back (1991)
1h 37m Horror TV Movie
Based on a short story by Stephen King, a man and his family return to his home town, but he is then harassed by teenagers that died when he was a kid.
2h 32m Horror Drama Fantasy Thriller
Still irrevocably scarred by the trauma he endured as a child at the Overlook, Dan Torrance has fought to find some semblance of peace. But that peace is shattered when he encounters Abra, a courageous teenager with her own powerful extrasensory gift, known as the 'shine'. Instinctively recognising that Dan shares her power, Abra has sought him out, desperate for his help against the merciless Rose the Hat and her followers.
1h 26m Drama Horror Thriller
The Hamiltons seem to be the picture-perfect American family. They are hardworking community members; giving to their local charities, attending town hall meetings and always respectful of their neighbors...except for the fact that they usually end up killing them.
1h 31m Drama Horror Thriller
Two college students share a ride home for the holidays. When they break down on a deserted stretch of road, they're preyed upon by the ghosts of people who have died there.
2h 24m Horror Thriller
Jack Torrance accepts a caretaker job at the Overlook Hotel, where he, along with his wife Wendy and their son Danny, must live isolated from the rest of the world for the winter. But they aren't prepared for the madness that lurks within.
16.
Lady in a Cage (1964)
1h 34m Drama Mystery Thriller Horror
A woman trapped in a home elevator is terrorized by a group of vicious hoodlums.
1h 42m Action Drama Horror Mystery Thriller
A law student, who takes a job as a night watchman at a morgue, begins to discover clues that implicate him as the suspect of a series of murders.
19.
The Witch Who Came from the Sea (1976)
1h 28m Drama Horror
Anger stemming from being abused as a child drives an alcoholic's daughter to kill as an adult.
1h 21m Drama Horror Thriller
Imprisoning a group of people in a living hell of darkness and death the Puppetmaster controls the fate of each one. One by one, the captives awake in agonizing pain—some are slightly injured, others are fatally wounded. The survivors are also mentally tortured by the unseen villain, who demands that there can be only one winner at this game.
1h 50m Horror Drama Thriller
Four successful elderly gentlemen, members of the Chowder Society, share a gruesome, 50-year old secret. When one of Edward Wanderley's twin sons dies in a bizarre accident, the group begins to see a pattern of frightening events developing.
23.
Burning Bright (2010)
24.
The Hitcher II: I've Been Waiting (2003)
1h 33m Action Thriller Horror
A sadistic serial killer terrorizes a couple driving on a rural highway in Texas while killing numerous people and framing them for his killings.
1h 26m Horror Drama Thriller
When Nancy is surfing on a secluded beach, she finds herself on the feeding ground of a great white shark. Though she is stranded only 200 yards from shore, survival proves to be the ultimate test of wills, requiring all of Nancy's ingenuity, resourcefulness, and fortitude.
1h 13m Drama Horror
A group of teens are faced with a life-changing experience when they meet a deranged drifter
27.
The Driller Killer (1979)
explore
Check out more list from our community