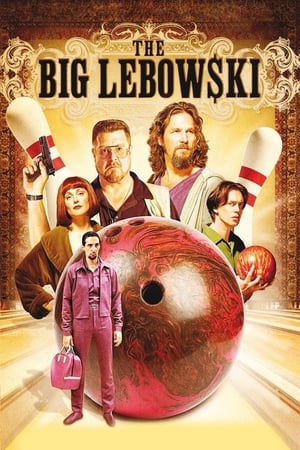 30 Best Movies Like The Big Lebowski ...
If you liked this film , you will probably love these too! In this selection we highlight some of the best films that share a very similar premise to '', and are worth checking out.
1.
Kiss Kiss Bang Bang (2005)
1h 43m Comedy Crime Action
A petty thief posing as an actor is brought to Los Angeles for an unlikely audition and finds himself in the middle of a murder investigation along with his high school dream girl and a detective who's been training him for his upcoming role...
2.
Burn After Reading (2008)
1h 36m Comedy Drama
When a disc containing memoirs of a former CIA analyst falls into the hands of gym employees, Linda and Chad, they see a chance to make enough money for Linda to have life-changing cosmetic surgery. Predictably, events whirl out of control for the duo, and those in their orbit.
1h 38m Crime Drama Thriller
Jerry, a small-town Minnesota car salesman is bursting at the seams with debt... but he's got a plan. He's going to hire two thugs to kidnap his wife in a scheme to collect a hefty ransom from his wealthy father-in-law. It's going to be a snap and nobody's going to get hurt... until people start dying. Enter Police Chief Marge, a coffee-drinking, parka-wearing - and extremely pregnant - investigator who'll stop at nothing to get her man. And if you think her small-time investigative skills will give the crooks a run for their ransom... you betcha!
1h 22m Comedy Crime
Three lovable party buds try to bail their friend out of jail. But just when the guys have mastered a plan, everything comes dangerously close to going up in smoke.
5.
Lock, Stock and Two Smoking Barrels (1998)
1h 45m Comedy Crime
A card shark and his unwillingly-enlisted friends need to make a lot of cash quick after losing a sketchy poker match. To do this they decide to pull a heist on a small-time gang who happen to be operating out of the flat next door.
1h 31m Comedy Crime Drama
Upon his release from a mental hospital following a nervous breakdown, the directionless Anthony joins his friend Dignan, who seems far less sane than the former. Dignan has hatched a hair-brained scheme for an as-yet-unspecified crime spree that somehow involves his former boss, the (supposedly) legendary Mr. Henry.
7.
Seven Psychopaths (2012)
1h 50m Comedy Crime
A struggling screenwriter inadvertently becomes entangled in the Los Angeles criminal underworld after his oddball friends kidnap a gangster's beloved Shih Tzu.
1h 56m Comedy Drama
A renowned New York playwright is enticed to California to write for the movies and discovers the hellish truth of Hollywood.
1h 28m Comedy Crime
Two untalented singers are mistaken for a pair of major league safe crackers in Providence, Rhode Island. The two are pressed into service by the local hoodlums and quickly find themselves in conflict with their professional colleagues. Romantic interest is added by the daughter of the underworld leader who won't date the men she knows are gangsters.
1h 38m Crime Comedy Thriller
Grocery store clerk Simon occasionally sells drugs from his cash register at work, so when soap opera actors Adam and Zack come looking for Ecstasy on a quiet Christmas Eve, they are surprised to find Ronna covering his shift. Desperate for money, Ronna decides to become an impromptu drug dealer, unaware that Adam and Zack are secretly working for obsessed narcotics officer Burke.
1h 54m Comedy
After bowler Roy Munson swindles the wrong crowd and is left with a hook for a hand, he settles into impoverished obscurity. That is, until he uncovers the next big thing: an Amish kid named Ishmael. So, the corrupt and the hopelessly naïve hit the circuit intent on settling an old score with Big Ern.
1h 29m Comedy Crime
With the aid of his girlfriend, Phyllis Potter, and best friend, Loomis, Grimm enters a Manhattan bank dressed as a clown, creates a hostage situation and executes a flawless robbery. The only thing left for the trio to do is make their getaway out of the city and to the airport. It sounds simple enough, but it seems that fate deserts them immediately after the bank heist. One mishap after another conspires to keep these robbers from reaching freedom.
13.
Horrible Bosses 2 (2014)
1h 48m Comedy
Dale, Kurt and Nick decide to start their own business but things don't go as planned because of a slick investor, prompting the trio to pull off a harebrained and misguided kidnapping scheme.
14.
Ruthless People (1986)
1h 33m Comedy
A couple, cheated by a vile businessman, kidnap his wife in retaliation—without knowing that their enemy is delighted they did.
1h 33m Crime Comedy
Unexpectedly widowed, prim and proper housewife Grace Trevethyn finds herself in dire financial straits when she inherits massive debts her late husband had been accruing for years. Faced with losing her house, she decides to use her talent for horticulture and hatches a plan to grow potent marijuana which can be sold at an astronomical price, thus solving her financial crisis.
16.
Lone Star State of Mind (2002)
1h 28m Comedy Crime
Earl and Baby, two young lovers with a plan to escape their small Texas town. But when Baby's dim-witted cousin Junior gets tangled up in a whole heap of trouble, Earl has just 48 hours to save the day, rescue Junior and keep his promise to get his Baby to Los Angeles in time for sweeps.
1h 21m Action Comedy
A chauffeur kidnaps his rich boss's dog to hold it for ransom, but when she accidentally gets the dog back, she thinks that it's the chauffeur who's been kidnapped.
1h 34m Comedy Crime
Two common criminals get more than they bargained for after kidnapping the wife of a corrupt real-estate developer who shows no interest in paying the $1 million dollar ransom for her safe return.
19.
Horrible Bosses (2011)
1h 38m Comedy Crime
For Nick, Kurt and Dale, the only thing that would make the daily grind more tolerable would be to grind their intolerable bosses into dust. Quitting is not an option, so, with the benefit of a few-too-many drinks and some dubious advice from a hustling ex-con, the three friends devise a convoluted and seemingly foolproof plan to rid themselves of their respective employers... permanently.
20.
The Hangover Part III (2013)
1h 40m Comedy
This time, there's no wedding. No bachelor party. What could go wrong, right? But when the Wolfpack hits the road, all bets are off.
21.
Drop Dead Sexy (2005)
1h 23m Comedy Crime
When their money scam runs aground, a group of would-be thieves turn to kidnapping in an attempt to blackmail their target.
22.
2 Days in the Valley (1996)
1h 44m Comedy Crime Thriller
In a sleepy bedroom community of LA's San Fernando Valley, the murder of a professional athlete by two hit men sets into motion a chain of events that puts the mundane lives of a dozen residents on a collision course. This clever tale tells the story of two hit men, a mistress, a nurse, a vindictive ex-wife, a wealthy art dealer and his lovelorn assistant, a suicidal writer and his dog, and a bitter cop and his partner.
23.
Cheech and Chong's Next Movie (1980)
1h 39m Action Adventure Comedy
Perennially stoned Cheech and Chong tear through the city of Los Angeles, causing trouble wherever they go. After Cheech loses his job, the two pot enthusiasts head to the welfare offices where Cheech's girlfriend, Donna, works. Instead of collecting unemployment, they find themselves thrown back on the streets, searching for a way to earn new income. But when Cheech's cousin, "Red" Mendoza, arrives, things get even crazier.
24.
A Fish Called Wanda (1988)
1h 49m Comedy Crime
A diamond advocate is attempting to steal a collection of diamonds, yet troubles arise when he realizes that he is not the only one after the diamonds.
1h 29m Comedy Crime
An art curator decides to seek revenge on his abusive boss by conning him into buying a fake Monet, but his plan requires the help of an eccentric and unpredictable Texas rodeo queen.
27.
Jay and Silent Bob Strike Back (2001)
1h 44m Comedy
When Jay and Silent Bob learn that their comic-book alter egos, Bluntman and Chronic, have been sold to Hollywood as part of a big-screen movie that leaves them out of any royalties, the pair travels to Tinseltown to sabotage the production.
1h 34m Action Comedy Thriller
A hard-luck limo driver struggling to go straight and pay off a debt to his bookie takes on a job with a crazed passenger whose sought-after ledger implicates some seriously dangerous criminals.
1h 28m Comedy
Cheech and Chong house sit for a marijuana grower and rip off the crop. Stalked by keystone-style cops, Los Guys have a series of encounters with L.A. area characters even weirder than themselves
explore
Check out more list from our community