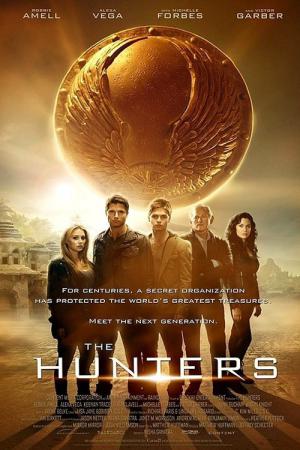 21 Best Movies Like The Hunters ...
If you liked this movie , you will probably love these too! In this collection we highlight some of the best films that share a very similar mood to '', and are worth checking out.
45m Sci-Fi & Fantasy Mystery Action & Adventure Drama
Sydney Fox is a professor and globe-trotting "relic hunter" who looks for ancient artifacts to return to museums and/or the descendants of the original owner. She is aided by her linguistic assistant Nigel and occasionally by her somewhat air-headed secretary Claudia. She often ends up battling rival hunters seeking out artifacts for the money.
1h 38m Adventure Comedy Family Fantasy
Pia's life, a girl from a small German town, changes when surprisingly, finds in her garden a huge black monster. She soon discovers that the mysterious creature, which called Yoko, is actually a kind yeti spiritually protecting animals and children worldwide. Yoko is constantly showing his friends Pia and their unique qualities, but children are not the only ones who want the Yeti. Its great value calls attention to two hunters who want to take advantage of the yeti.
3.
The Jensen Project (2010)
1h 26m TV Movie Action Adventure Family Fantasy Science Fiction
After a sixteen-year absence, married scientists Claire and Matt Thompson reunite with The Jensen Project. The Jensen Project is a secret community of geniuses doing cutting edge research they share anonymously to help the world.
4.
K-9 Adventures: Legend of the Lost Gold (2014)
1h 28m Family
When Kassie and her friends stumble across an old, broken pocket watch they begin an unexpected journey to unlock the secret of the legendary Garrison Gold. They'll have to solve riddles and follow clues to find the lost treasure. With the help of her faithful dog, Scoot and her gang of misfit friends, Kassie is about to go on the adventure of a lifetime! - Written by BigK509
5.
Grimm's Snow White (2012)
1h 29m Fantasy
When the King is killed by ferocious reptile beasts, his Queen takes control of the kingdom. She tries to kill her beautiful stepdaughter SNOW, but she escapes into the enchanted forest...
6.
Help! I've Shrunk the Family (2014)
7.
Spy Kids 2: Island of Lost Dreams (2002)
1h 40m Action Adventure Family Comedy
Exploring the further adventures of Carmen and Juni Cortez, who have now joined the family spy business as Level 2 OSS agents. Their new mission is to save the world from a mad scientist living on a volcanic island populated by an imaginative menagerie of creatures. On this bizarre island, none of the Cortez's gadgets work and they must rely on their wits--and each other--to survive and save the day.
1h 28m Action Comedy Family Adventure
Carmen and Juni think their parents are boring. Little do they know that in their day, Gregorio and Ingrid Cortez were the top secret agents from their respective countries. They gave up that life to raise their children. Now, the disappearances of several of their old colleagues forces the Cortez' return from retirement. What they didn't count on was Carmen and Juni joining the "family business."
9.
Treasure Guards (2011)
1h 30m Adventure TV Movie
On a dig in the remote Jordanian desert, maverick archaeologist Victoria Carter (Anna Friel) discovers an ancient scroll buried in the ruins of an old temple. It is encrypted with the location of the long lost Seal of Solomon, which, according to legend, was given to King Solomon by God himself. But this mighty treasure is also being sought by, amongst others, Victoria's estranged father, renowned archaeologist Teddy Carter, who's soon hot on its trail.
10.
Dawn of the Dragonslayer (2011)
1h 37m Adventure Fantasy Action
Dawn of the Dragonslayer tells the story of Will (Richard McWilliams), a shepherd's son whose land is ravaged by a dragon.
11.
Witches Don't Exist (2014)
1h 25m Adventure Fantasy
On her 13th birthday Katie, a talented young girl, receives a magical amulet. This amulet was on a quest to find the fifth and last witch to complete the order of the star witches. Because in it's incomplete form, the order is unable to protect earth against the evil witch Concuela. While Katie is exploring her new magical powers together with her best friend Roy, Grimbeck, the dandy gatekeeper of the star witches arena, as well as the evil Concuela are desperately trying to find Katie.
1h 46m Adventure Family Fantasy
The adventures of a father and his young daughter, in their search for a long lost book that will help reunite a missing, close relative.
13.
The Ewok Adventure (1984)
1h 36m Adventure Family Fantasy Science Fiction TV Movie
The Towani family civilian shuttlecraft crashes on the forest moon of Endor. The four Towani's are separated. Jermitt and Catarine, the mother and father are captured by the giant Gorax, and Mace and Cindel, the son and daughter, are missing when they are captured. The next day, the Ewok Deej is looking for his two sons when they find Cindel all alone in the shuttle (Mace and Cindel were looking for the transmitter to send a distress call), when Mace appears with his emergency blaster. Eventually, the four-year old Cindel is able to convince the teenage Mace that the Ewoks are nice. Then, the Ewoks and the Towani's go on an adventure to find the elder Towanis.
14.
The Adventurer: The Curse of the Midas Box (2013)
1h 39m Fantasy Adventure Family
Seventeen-year-old Mariah Mundi's life is turned upside down when his parents vanish and his younger brother is kidnapped. Following a trail of clues to the darkly majestic Prince Regent Hotel, Mariah discovers a hidden realm of child-stealing monsters, deadly secrets and a long-lost artefact that grants limitless wealth—but also devastating supernatural power. With the fate of his world, and his family at stake, Mariah will risk everything to unravel the Curse of the Midas Box.
15.
The Lost Medallion: The Adventures of Billy Stone (2013)
1h 37m Adventure Family
A man who stops into a foster home to drop off some donations soon tells the kids a story about two teenage friends who uncover a long-lost medallion that transports them back in time.
1h 23m Fantasy
Princess Bluerose is a small gnome living deep in the Norwegian mountains. A small community of gnomes is responsible for making the transition between daylight and night. This is called the magic hour, and is created by the magic silver which only these gnomes possess. When the silver is stolen, the world is transformed into eternal night. Princess Bluerose sets out on a remarkable journey to retrieve the silver and save the world from eternal darkness. Magic Silver is based on the popular Norwegian television series Jul i Blåfjell (1999) and Jul på Månetoppen (2002). They are considered classic Christmas calender series, and already firmly entrenched in an entire generation's old Christmas memories.
17.
The Spiderwick Chronicles (2008)
1h 35m Adventure Family Fantasy Drama
Upon moving into the run-down Spiderwick Estate with their mother, twin brothers Jared and Simon Grace, along with their sister Mallory, find themselves pulled into an alternate world full of faeries and other creatures.
1h 30m TV Movie Comedy Family Fantasy
Four very different high school teenagers battle trolls, ghouls and a dark leader of them named Maldark in a video game that goes haywire and releases the battle into the real world.
19.
Zathura: A Space Adventure (2005)
1h 41m Family Fantasy Science Fiction Adventure Comedy
After their father is called into work, two young boys, Walter and Danny, are left in the care of their teenage sister, Lisa, and told they must stay inside. Walter and Danny, who anticipate a boring day, are shocked when they begin playing Zathura, a space-themed board game, which they realize has mystical powers when their house is shot into space. With the help of an astronaut, the boys attempt to return home.
20.
Spy Kids 3-D: Game Over (2003)
1h 24m Action Adventure Comedy Family Science Fiction
Carmen's caught in a virtual reality game designed by the Kids' new nemesis, the Toymaker. It's up to Juni to save his sister, and ultimately the world.
explore
Check out more list from our community