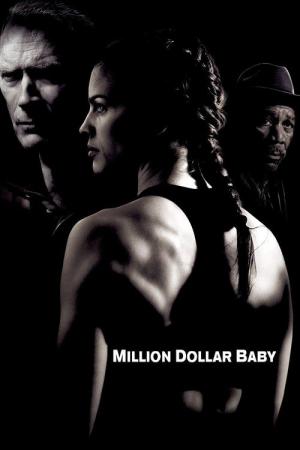 29 Best Movies Like Million Dollar Baby ...
If you liked this movie , you will definitely love these too! In this collection we highlight some of the best films that share a very similar mood to '', and are worth checking out.
2h 20m Drama Action
The youngest son of an alcoholic former boxer returns home, where he's trained by his father for competition in a mixed martial arts tournament – a path that puts the fighter on a collision course with his estranged, older brother.
1h 50m Drama
Diana Guzman begins to train as a boxer and achieves impressive success, blazing new trails for female boxers, all while keeping it a secret from her father.
2h 3m Action Drama
Billy "The Great" Hope, the reigning junior middleweight boxing champion, has an impressive career, a loving wife and daughter, and a lavish lifestyle. However, when tragedy strikes, Billy hits rock bottom, losing his family, his house and his manager. He soon finds an unlikely savior in Tick Willis, a former fighter who trains the city's toughest amateur boxers. With his future on the line, Hope fights to reclaim the trust of those he loves the most.
1h 42m Drama Action
When he loses a highly publicized virtual boxing match to ex-champ Rocky Balboa, reigning heavyweight titleholder, Mason Dixon retaliates by challenging Rocky to a nationally televised, 10-round exhibition bout. To the surprise of his son and friends, Rocky agrees to come out of retirement and face an opponent who's faster, stronger and thirty years his junior.
2h Drama Action
When world heavyweight boxing champion, Apollo Creed wants to give an unknown fighter a shot at the title as a publicity stunt, his handlers choose palooka Rocky Balboa, an uneducated collector for a Philadelphia loan shark. Rocky teams up with trainer Mickey Goldmill to make the most of this once in a lifetime break.
6.
Trouble with the Curve (2012)
1h 51m Drama Romance
Slowed by age and failing eyesight, crack baseball scout Gus Lobel takes his grown daughter along as he checks out the final prospect of his career. Along the way, the two renew their bond, and she catches the eye of a young player-turned-scout.
1h 49m Drama Romance
Aging wrestler Randy "The Ram" Robinson is long past his prime but still ready and rarin' to go on the pro-wrestling circuit. After a particularly brutal beating, however, Randy hangs up his tights, pursues a serious relationship with a long-in-the-tooth stripper, and tries to reconnect with his estranged daughter. But he can't resist the lure of the ring and readies himself for a comeback.
8.
The Shawshank Redemption (1994)
2h 22m Drama Crime
Framed in the 1940s for the double murder of his wife and her lover, upstanding banker Andy Dufresne begins a new life at the Shawshank prison, where he puts his accounting skills to work for an amoral warden. During his long stretch in prison, Dufresne comes to be admired by the other inmates -- including an older prisoner named Red -- for his integrity and unquenchable sense of hope.
1h 46m Drama
An aimless young man who is scalping tickets, gambling and drinking, agrees to coach a Little League team from the Cabrini Green housing project in Chicago as a condition of getting a loan from a friend.
1h 56m Drama
Widower Walt Kowalski is a grumpy, prejudiced, tough-minded, unhappy, old, Korean War veteran who can't get along with either his kids or his neighbours. His prize possession is a 1972 Gran Torino he keeps in mint condition. When his neighbour, Thao—a young Hmong teenager under pressure from his gang member cousin—tries to steal his Gran Torino, Walt sets out to reform the youth and takes steps to protect Thao and his family from the gangs that infest their neighborhood.
11.
Peaceful Warrior (2006)
2h Drama
A chance encounter with a stranger changes the life of a college gymnast.
2h 13m Drama
The former World Heavyweight Champion Rocky Balboa serves as a trainer and mentor to Adonis Johnson, the son of his late friend and former rival Apollo Creed.
1h 31m Drama
After iron man Drago, a highly intimidating 6-foot-5, 261-pound Soviet athlete, kills Apollo Creed in an exhibition match, Rocky comes to the heart of Russia for 15 pile-driving boxing rounds of revenge.
1h 59m Drama
After Rocky goes the distance with champ Apollo Creed, both try to put the fight behind them and move on. Rocky settles down with Adrian but can't put his life together outside the ring, while Creed seeks a rematch to restore his reputation. Soon enough, the "Master of Disaster" and the "Italian Stallion" are set on a collision course for a climactic battle that is brutal and unforgettable.
1h 52m Family Drama
The true story of teen surfer Bethany Hamilton, who lost her arm in a shark attack and courageously overcame all odds to become a champion again, through her sheer determination and unwavering faith.
1h 37m Drama
A teenager faces an uphill battle when she fights to give women the opportunity to play competitive soccer.
1h 40m Drama
Two men, working as professional boxers, come to blows when their careers each begin to take opposite momentum.
1h 44m Drama
A lifetime of taking shots has ended Rocky's career, and a crooked accountant has left him broke. Inspired by the memory of his trainer, however, Rocky finds glory in training and takes on an up-and-coming boxer.
20.
Price of Glory (2000)
1h 58m Drama
An ex-boxer, living with the knowledge that his fight career was cut short by a crooked manager, channels his bitter disappointment in a single-minded quest for boxing championships for his three sons. We see them in pee-wee Silver Glove matches with dad constantly pushing them. Ten years later, they're young men, with dad as both father and manager. A professional promoter, Nick Everson, wants to sign the boys, but dad rejects those offers. Then, in expressions of their varied relationships with their father, each son makes his own decisions. Can dad ever step aside, and can the family hold together?
21.
Cinderella Man (2005)
2h 24m Romance Drama History
The true story of boxer Jim Braddock who, in the 1920's following his retirement, makes a surprise comeback in order to get him and his family out of a socially poor state.
2h 1m Drama Family
The more you love, the harder you fight.The world looks at Billy Flynn and sees a has-been who seemingly never was, an ex-boxing champion slammed to the mat years ago by booze and gambling. But Billy's son TJ sees what the world doesn't. He knows his flawed but loving father is, was and always will be The Champ.
23.
We Are Marshall (2006)
2h 4m Drama
When a plane crash claims the lives of members of the Marshall University football team and some of its fans, the team's new coach and his surviving players try to keep the football program alive.
24.
Bang the Drum Slowly (1973)
1h 36m Drama
The story of a New York pro baseball team and two of its players. Henry Wiggen is the star pitcher and Bruce Pearson is the normal, everyday catcher who is far from the star player on the team and friend to all of his teammates. During the off-season, Bruce learns that he is terminally ill, and Henry, his only true friend, is determined to be the one person there for him during his last season with the club. Throughout the course of the season, Henry and his teammates attempt to deal with Bruce's impending illness, all the while attempting to make his last year a memorable one.
1h 39m Drama
Now the world champion, Rocky Balboa is living in luxury and only fighting opponents who pose no threat to him in the ring, until Clubber Lang challenges him to a bout. After taking a pounding from Lang, the humbled champ turns to former bitter rival Apollo Creed for a rematch with Lang.
26.
The Power of One (1992)
2h 7m Drama
PK, an English orphan terrorized for his family's political beliefs in Africa, turns to his only friend, a kindly world-wise prisoner, Geel Piet. Geel teaches him how to box with the motto "fight with your fists and lead with your heart". As he grows to manhood, PK uses these words to take on the system and the injustices he sees around him - and finds that one person really can make a difference.
1h 54m Drama Family
High school basketball is king in small-town Indiana, and the 1954 Hickory Huskers are all hope and no talent. But their new coach -- abrasive, unlikable Norman Dale -- whips the team into shape ... while also inciting controversy.
28.
A Shot at Glory (2000)
1h 44m Drama
Scottish second division football team Kilnockie is taken over by American Pete Cameron. The new owner puts pressure on manager Gordon McLeod to improve the fortunes of the team, and hires first division player Jackie McQuillan.
explore
Check out more list from our community