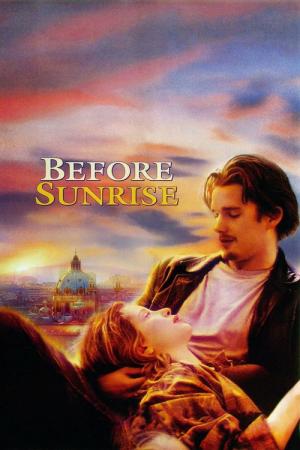 27 Best Movies Like Before Sunrise ...
If you liked this film , you will probably love these too! In this list we highlight some of the best films that share a very similar mood to '', and are worth checking out.
1h 20m Drama Romance
Nine years later, Jesse travels across Europe giving readings from a book he wrote about the night he spent in Vienna with Celine. After his reading in Paris, Celine finds him, and they spend part of the day together before Jesse has to again leave for a flight. They are both in relationships now, and Jesse has a son, but as their strong feelings for each other start to return, both confess a longing for more.
2.
Before Midnight (2013)
1h 49m Romance Drama
It has been nine years since we last met Jesse and Celine, the French-American couple who once met on a train in Vienna. Now, live in Paris with twin daughters, but have spent a summer in Greece on the invitation of an author colleague of Jesse's. When the vacation is over and Jesse must send his teenage son off to the States, he begins to question his life decisions, and his relationship with Celine is at risk.
3.
2 Days in Paris (2007)
1h 36m Comedy Romance
Adam Goldberg delivers "an uproarious study in transatlantic culture panic" as Jack, an anxious, hypochondriac-prone New Yorker vacationing throughout Europe with his breezy, free-spirited Parisian girlfriend, Marion. But when they make a two-day stop in Marion's hometown, the couple's romantic trip takes a turn as Jack is exposed to Marion's sexually perverse and emotionally unstable family.
1h 53m Drama Romance
Still reeling from a heartbreaking family event and his parents' subsequent divorce, Tyler Hawkins discovers a fresh lease on life when he meets Ally Craig, a gregarious beauty who witnessed her mother's death. But as the couple draws closer, the fallout from their separate tragedies jeopardizes their love.
5.
500 Days of Summer (2009)
1h 35m Comedy Drama Romance
Tom, greeting-card writer and hopeless romantic, is caught completely off-guard when his girlfriend, Summer, suddenly dumps him. He reflects on their 500 days together to try to figure out where their love affair went sour, and in doing so, Tom rediscovers his true passions in life.
1h 29m Drama Romance Comedy
A woman who is robbed on her way to catch the 1:30 train to Boston is left stranded in New York City. She meets a man who helps her during the course of the night and the two form a romance.
7.
Lost in Translation (2003)
1h 42m Romance Drama Comedy
Two lost souls visiting Tokyo -- the young, neglected wife of a photographer and a washed-up movie star shooting a TV commercial -- find an odd solace and pensive freedom to be real in each other's company, away from their lives in America.
1h 47m Drama Romance
A romantic comedy centered on Dexter and Emma, who first meet during their graduation in 1988 and proceed to keep in touch regularly. The film follows what they do on July 15 annually, usually doing something together.
1h 30m Drama Romance
A British college student falls for an American student, only to be separated from him when she's banned from the U.S. after overstaying her visa.
1h 46m Drama Romance
A man switches plane tickets with another man who dies in that plane in a crash. The man falls in love with the deceased one's wife.
1h 44m Comedy Drama Romance
Mirabelle is a disenchanted salesgirl and aspiring artist who sells gloves and accessories at a department store. She has two men in her life: wealthy divorcée Ray Porter and struggling musician Jeremy. Mirabelle falls in love with the glamorous Ray, and her life takes a magical turn, but eventually she realizes that she must empower herself and make a choice between them.
13.
Great Expectations (1998)
1h 51m Comedy Drama Romance
Loosely based on the Charles Dickens' classic novel, "Great Expectations" is a sensual tale of a young man's unforgettable passage into manhood, and the three individuals who will undeniably change his life forever. Through the surprising interactions of these vivid characters, "Great Expectations" takes a unique and contemporary look at life's great coincidences.
14.
Playing by Heart (1998)
2h 1m Drama
Eleven articulate people work through affairs of the heart in L.A. Paul produces Hannah's TV cooking show. Mark is dying of AIDS. Men have scalded Meredith so she rebuffs Trent's charm, but he persists. The trendy, prolix Joan tries to pull the solitary Keenan into her orbit. An adulterous couple meet at hotels for evening sex. Hugh tells tall tales, usually tragic, to women in bars.
15.
Falling in Love (1984)
1h 42m Drama Romance
During shopping for Christmas, Frank and Molly run into each other. This fleeting short moment will start to change their lives, when they recognize each other months later in the train home and have a good time together. Although both are married and Frank has two little kids, they meet more and more often, their friendship becoming the most precious thing in their lives.
16.
The Story of Us (1999)
1h 35m Comedy Drama Romance
Ben and Katie Jordan are a married couple who go through hard times in fifteen years of marriage.
1h 44m Drama Romance
A young girl from an affluent family rebels and becomes involved with a much older photographer.
1h 44m Comedy Drama Romance
Darius Lovehall is a young black poet in Chicago who starts dating Nina Moseley, a beautiful and talented photographer. While trying to figure out if they've got a "love thing" or are just "kicking it," they hang out with their friends, talking about love and sex. Then Nina tests the strength of Darius' feelings and sets a chain of romantic complications into motion.
1h 39m Drama Comedy Romance
A small circle of friends suffering from post-collegiate blues must confront the hard truth about life, love and the pursuit of gainful employment. As they struggle to map out survival guides for the future, the Gen-X quartet soon begins to realize that reality isn't all it's cracked up to be.
1h 33m Drama Romance
'Heights' follows five characters over 24 hours on a fall day in New York City. Isabel, a photographer, is having second thoughts about her upcoming marriage to Jonathan, a lawyer. On the same day, Isabel's mother Diana learns that her husband has a new lover and begins to re-think her life choices and her open marriage. Diana and Isabel's paths cross with Alec, a young actor, and with Peter, a journalist. As the interrelated stories proceed, the connections between the lives of the five characters begin to reveal themselves and their stories unravel. Isabel, Jonathan, Diana, Alec, and Peter must choose what kind of lives they will lead before the sun comes up on the next day.
1h 51m Drama Romance
Travis and Gabby first meet as neighbors in a small coastal town and wind up in a relationship that is tested by life's most defining events.
1h 44m Drama
Two couples disintegrate when they begin destructive adulterous affairs with each other.
23.
Eternal Sunshine of the Spotless Mind (2004)
1h 48m Science Fiction Drama Romance
Joel Barish, heartbroken that his girlfriend underwent a procedure to erase him from her memory, decides to do the same. However, as he watches his memories of her fade away, he realises that he still loves her, and may be too late to correct his mistake.
1h 28m Drama Romance
In Cairo on her own as she waits for her husband, Juliette finds herself caught in a whirlwind romance with his friend Tareq, a retired cop. As Tareq escorts Juliette around the city, they find themselves in the middle of a brief affair that catches them both unawares.
1h 35m Comedy Drama Romance
Professor Lawrence Wetherhold (Dennis Quaid) might be imperiously brilliant, monumentally self-possessed and an intellectual giant -- but when it comes to solving the conundrums of love and family, he's as downright flummoxed as the next guy.
26.
Facing Windows (2003)
1h 46m Drama Romance
Overburdened and stuck in a greying marriage, Giovanna takes to caring for a Jewish Holocaust survivor her husband brings home. As she begins to reflect on her life, she turns to the man who lives across from her.
explore
Check out more list from our community