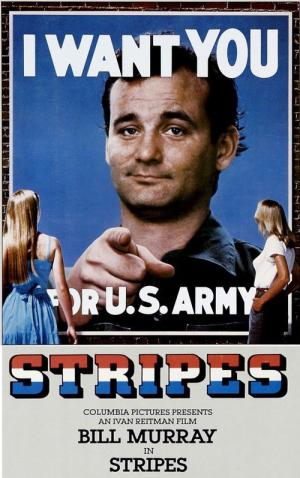 13 Best Movies Like Stripes ...
If you liked this film , you will probably love these too! In this list we highlight some of the best films that share a very similar mood to 'Stripes', and are worth checking out.
1.
Private Benjamin (1980)
1h 49m Comedy
A sheltered young high society woman joins the army on a whim and finds herself in a more difficult situation than she ever expected.
1h 27m Comedy
Jack Chester, an overworked air traffic controller, takes his family on vacation to the beach. Things immediately start to go wrong for the Chesters, and steadily get worse. Jack ends up in a feud with a local yachtsman, and has to race him to regain his pride and family's respect.
3.
Private Valentine: Blonde & Dangerous (2008)
1h 40m Comedy Drama Family
Buck Russell, a lovable but slovenly bachelor, suddenly becomes the temporary caretaker of his nephew and nieces after a family emergency. His freewheeling attitude soon causes tension with his older niece Tia, loyal girlfriend Chanice and just about everyone else who crosses his path.
1h 30m Comedy Family
The army is known for churning out lean mean fighting machines intent on protecting our great nation. Sergeant Ernie Bilko is the leader of a ragtag group of the sorriest soldiers ever to enlist in the armed forces.
6.
Military Academy (2007)
1h 30m Comedy
The movie deals with a guy who gets to join the German Bundeswehr involuntarily because a colleague loses his denial papers in order to get the chance to get down on his girlfriend. When entering the Bundeswehr he acts like a giant idiot and of course gets in one room with some of the biggest losers around. The loser turns out to be a hero and leads his loser-colleagues to win a contest with the local US army squad.
7.
The Monuments Men (2014)
1h 58m War Drama History Action
Based on the true story of the greatest treasure hunt in history, The Monuments Men is an action drama focusing on seven over-the-hill, out-of-shape museum directors, artists, architects, curators, and art historians who went to the front lines of WWII to rescue the world's artistic masterpieces from Nazi thieves and return them to their rightful owners. With the art hidden behind enemy lines, how could these guys hope to succeed?
1h 29m Comedy Crime
With the aid of his girlfriend, Phyllis Potter, and best friend, Loomis, Grimm enters a Manhattan bank dressed as a clown, creates a hostage situation and executes a flawless robbery. The only thing left for the trio to do is make their getaway out of the city and to the airport. It sounds simple enough, but it seems that fate deserts them immediately after the bank heist. One mishap after another conspires to keep these robbers from reaching freedom.
1h 58m Action Comedy War
In the days after the attack on Pearl Harbor, panic grips California, where a military officer leads a mob chasing a Japanese sub.
11.
The Great Outdoors (1988)
1h 31m Comedy
It's vacation time for outdoorsy Chicago man Chet Ripley, along with his wife, Connie, and their two kids, Buck and Ben. But a serene weekend of fishing at a Wisconsin lakeside cabin gets crashed by Connie's obnoxious brother-in-law, Roman Craig, his wife, Kate, and the couple's two daughters. As the excursion wears on, the Ripleys find themselves at odds with the stuffy Craig family.
13.
Which Way to the Front? (1970)
explore
Check out more list from our community