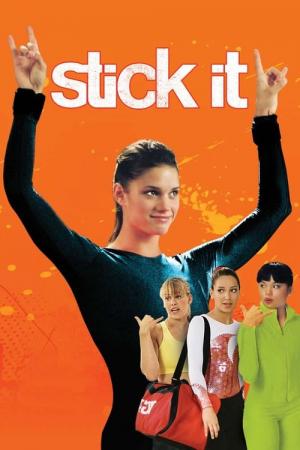 12 Best Movies Like Stick It ...
If you liked this movie , you will probably love these too! In this list we highlight some of the best films that share a very similar premise to 'Stick It', and are worth checking out.
1h 30m Action Drama Romance TV Movie
Set high atop snow-capped mountains in the adrenaline-fueled world of competitive snowboarding, the Disney Channel Original Movie "Cloud 9″ tells the inspiring story of two snowboarders who must overcome self-doubt to learn that achieving their dreams is possible.
1h 38m Comedy Drama Romance
Sixteen-year-old Poppy has everything her unlimited credit cards can buy, and a spoiled attitude to match. After a final thoughtless prank, her exasperated father ships her off to boarding school in England. There, Poppy meets her match in a stern headmistress and a class full of girls who will not tolerate her selfishness.
3.
The Hot Flashes (2013)
1h 39m Comedy
An unlikely basketball team of unappreciated middle-aged Texas women, all former high school champs, challenge the current high school girls' state champs to raise money for breast cancer prevention. Sparks fly as the women go to comic extremes to prove themselves on and off the court, become a national media sensation, and gain a new lease on life.
1h 54m Comedy Drama
As children, the introverted Smile was being bullied by a gang of kids until the brash Peco comes by and chases all of them them away. Peco then takes Smile under his wings and teaches him how to play the game of ping pong. From there a life long best friend relationship comes into existence between these two polar opposite kids. Fast forward a decade later, these two best friends try to deal with their own inner turmoils, as they move further and further into the regional ping pong tournament. Peco has to overcome a knee injury while trying to rediscover the fun aspects of the game of Ping Pong. Meanwhile, Smile now seems to have gained the killer instinct by going through a rigorous training regiment instilled by his high school coach. As the tournament progresses it becomes more likely that these two best friends will face off against each in the final match.
6.
The Gabby Douglas Story (2014)
1h 30m TV Movie Drama
The true story of Gabby Douglas who becomes the first African American to be named Individual All-Around Champion in artistic gymnastics at the Olympic Games.
1h 38m Family Drama Comedy
With the help of her coach, her mom, and the boy who drives the Zamboni machine, nothing can stop Casey from realizing her dream to be a champion figure skater.
1h 38m Comedy
The Toro cheerleading squad from Rancho Carne High School in San Diego has got spirit, spunk, sass and a killer routine that's sure to land them the national championship trophy for the sixth year in a row. But for newly-elected team captain Torrance, the Toros' road to total cheer glory takes a shady turn when she discovers that their perfectly-choreographed routines were in fact stolen.
1h 46m Comedy
Molly is a high school track coach who knows just as much about football as anyone else on the planet. When a football coach's position becomes vacant, she applies for the job, despite snickers from fellow staff members and her former husband.
10.
The Mighty Ducks (1992)
1h 41m Comedy Family Drama
After reckless young lawyer Gordon Bombay gets arrested for drunk driving, he must coach a kids hockey team for his community service. Gordon has experience on the ice, but isn't eager to return to hockey, a point hit home by his tense dealings with his own former coach, Jack Reilly. The reluctant Gordon eventually grows to appreciate his team, which includes promising young Charlie Conway, and leads them to take on Reilly's tough players.
11.
Balls Out: Gary the Tennis Coach (2009)
1h 27m Comedy
An overenthusiastic high-school maintenance man attempts to lead an unlikely group of misfits to the Nebraska state tennis championship in Balls Out: The Gary Houseman Story? director Danny Leiner's underdog sports comedy. American Pie star Seann William Scott stars as the ambitious janitor who believes he has what it takes to coach the winning team.
12.
Bring It on Again (2004)
1h 30m Comedy
When new students can't get onto their college cheerleading team, they form their own squad and prepare for a cheer off.
explore
Check out more list from our community