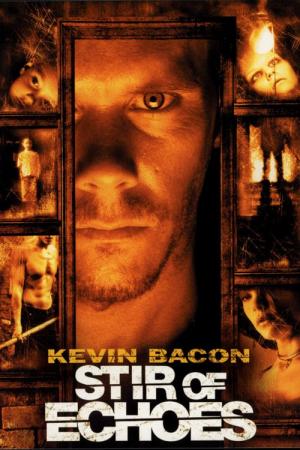 14 Best Movies Like Stir Of Echoes ...
If you liked this film , you will definitely love these too! In this list we highlight some of the best films that share a very similar mood to 'Stir of Echoes', and are worth checking out.
1h 38m Drama Horror Thriller
Violinist Sydney Wells was accidentally blinded by her sister Helen when she was five years old. She submits to a cornea transplantation, and while recovering from the operation, she realizes that she is seeing dead people.
1h 32m Horror Mystery Thriller
An American nurse living and working in Tokyo is exposed to a mysterious supernatural curse, one that locks a person in a powerful rage before claiming their life and spreading to another victim.
1h 38m Horror Thriller
After a car crash, a criminal psychologist regains consciousness only to find that she's a patient in the same mental institution that currently employs her. It seems she's been accused of murdering her husband—but she has no memory of committing the crime. As she tries to regain her memory and convince her co-workers of her innocence, a vengeful spirit uses her as an earthly pawn, which further convinces everyone of her guilt.
4.
What Lies Beneath (2000)
2h 10m Drama Horror Mystery Thriller
When Claire Spencer starts hearing ghostly voices and seeing spooky images, she wonders if an otherworldly spirit is trying to contact her. All the while, her husband tries to reassure her by telling her it's all in her head. But as Claire investigates, she discovers that the man she loves might know more than he's letting on.
1h 24m Horror Mystery Thriller
A college freshman involved in a fatal car crash discovers she may not have survived after all when she becomes caught between the worlds of the living and the dead.
1h 52m Horror Thriller
Paranormal investigators Ed and Lorraine Warren work to help a family terrorized by a dark presence in their farmhouse. Forced to confront a powerful entity, the Warrens find themselves caught in the most terrifying case of their lives.
1h 51m Horror Drama Thriller Mystery
When a local woman disappears and the police can't seem to find any leads, her father turns to a poor young woman with psychic powers. Slowly she starts having visions of the woman chained and in a pond. Her visions lead to the body and the arrest of an abusive husband, but did he really do it?
1h 55m Horror Mystery
It sounded like just another urban legend: A videotape filled with nightmarish images, leading to a phone call foretelling the viewer's death in exactly seven days. As a newspaper reporter, Rachel Keller was naturally skeptical of the story, until four teenagers all met with mysterious deaths exactly one week after watching just such a tape. Allowing her investigative curiosity to get the better of her, Rachel tracks down the video... and watches it. Now she has just seven days to unravel the mystery of the Ring.
1h 43m Horror Thriller
A family discovers that dark spirits have invaded their home after their son inexplicably falls into an endless sleep. When they reach out to a professional for help, they learn things are a lot more personal than they thought.
10.
The Sixth Sense (1999)
1h 47m Mystery Thriller Drama
Following an unexpected tragedy, a child psychologist named Malcolm Crowe meets an eight year old boy named Cole Sear, who is hiding a dark secret.
1h 47m Horror Thriller Mystery
1921 England is overwhelmed by the loss and grief of World War I. Hoax exposer Florence Cathcart (Hall) visits a boarding school to explain sightings of a child ghost.
1h 37m Horror Thriller Mystery
An American nanny is shocked that her new English family's boy is actually a life-sized doll. After she violates a list of strict rules, disturbing events make her believe that the doll is really alive.
1h 50m Mystery Thriller Drama Horror
Rachel Carson, a best-selling crime novelist, is devastated and filled with guilt over the accidental death of her son. Hoping that a change of scenery will help alleviate her suffering, she leaves her home in the city and moves into a vacant country house owned by a friend and begins a relationship with charming local Angus. But, just as her life is taking a turn for the better, Rachel realizes she's being romanced by a ghost, leading her to doubt her own sanity.
14.
House on Haunted Hill (1999)
1h 33m Horror Mystery Thriller
A remake of the 1959 film of the same name. A millionaire offers a group of diverse people $1,000,000 to spend the night in a haunted house with a horrifying past.
explore
Check out more list from our community