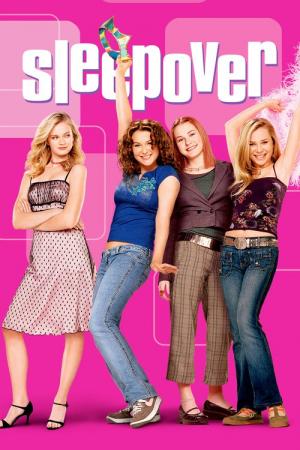 13 Best Movies Like Sleepover ...
If you liked this one , you will probably love these too! In this list we highlight some of the best films that share a very similar premise to 'Sleepover', and are worth checking out.
1h 31m Drama Comedy Romance Family
Nicole and Chase live next door to each other but are worlds apart. However, they plot a scheme to date each other in order to attract the interest and jealousy of their respective romantic prey. But in the mist of planning a gala centennial celebration, Nicole and Chase find that the one they always wanted was closer than they ever thought.
1h 30m Comedy Drama Family TV Movie
High school senior Tara is so painfully shy that she dreads speaking to anyone in the hallways or getting called on in class. But in the privacy of her bedroom with her iPod in hand, she rocks out -- doing mock broadcasts for Miami's hottest FM radio station, which happens to be owned by her stepfather. When a slot opens up at The SLAM, Tara surprises herself by blossoming behind the mike into confident, "Radio Rebel" -- and to everyone's shock, she's a hit!
3.
The Princess Diaries (2001)
1h 55m Comedy Family Romance
A socially awkward but very bright 15-year-old girl being raised by a single mom discovers that she is the princess of a small European country because of the recent death of her long-absent father, who, unknown to her, was the crown prince of Genovia. She must make a choice between continuing the life of a San Francisco teen or stepping up to the throne.
4.
Another Cinderella Story (2008)
1h 30m Music Comedy
A guy who danced with what could be the girl of his dreams at a costume ball only has one hint at her identity: the Zune she left behind as she rushed home in order to make her curfew. And with a once-in-a-lifetime opportunity in front of him, he sets out to find his masked beauty.
5.
License to Drive (1988)
1h 30m Comedy Family
Teenager Les Anderson thinks his life can't get any worse after he flunks his driver's exam, but he's wrong. Even though he didn't receive his license, Les refuses to break his date with the cool Mercedes Lane, and he decides to lift his family's prize luxury car for the occasion. Unfortunately, Mercedes sneaks some booze along and passes out drunk, and a confused Les makes the bad decision of enlisting his rebellious friend, Dean, to help.
1h 44m Fantasy Romance Family Comedy
Two teenage girls discover that mermaids really do exist after a violent storm washes one ashore. The mermaid, a sassy creature named Aquamarine, is determined to prove to her father that real love exists, and enlists the girls' help in winning the heart of a handsome lifeguard.
1h 33m Comedy
Olive, an average high school student, sees her below-the-radar existence turn around overnight once she decides to use the school's gossip grapevine to advance her social standing. Now her classmates are turning against her and the school board is becoming concerned, including her favorite teacher and the distracted guidance counselor. With the support of her hilariously idiosyncratic parents and a little help from a long-time crush, Olive attempts to take on her notorious new identity and crush the rumor mill once and for all.
8.
Confessions of a Teenage Drama Queen (2004)
1h 29m Comedy
When the teenager Mary Elizabeth Steppe, a.k.a. Lola, moves with her mother and two younger twin sisters from New York to the suburb of Dellwood, New Jersey, she has the feeling that her cultural and entertaining world ended. While in school, the displaced Lola becomes close friend of the unpopular Ella, who is also a great fan of the her favorite rock band Sidarthur. However, the most popular girl in the school, Carla Santini, disputes the lead role in an adaptation of Pygmalion with Lola and also the leadership of their mates. When the last concert of Sidarthur is sold-out, Lola plans with Ella to travel to New York and buy the tickets from scalpers. However, the girls get into trouble while helping the lead singer and Lola's idol Stu Wolf, changing their lives forever.
1h 37m Comedy
Cady Heron is a hit with The Plastics, the A-list girl clique at her new school, until she makes the mistake of falling for Aaron Samuels, the ex-boyfriend of alpha Plastic Regina George.
1h 45m Comedy Drama Family Romance
Viola Hastings is in a real jam. Complications threaten her scheme to pose as her twin brother, Sebastian, and take his place at a new boarding school. She falls in love with her handsome roommate, Duke, who loves beautiful Olivia, who has fallen for Sebastian! As if that were not enough, Viola's twin returns from London ahead of schedule but has no idea that his sister has already replaced him on campus.
1h 38m Family Music Comedy Drama TV Movie Romance
When Mitchie gets a chance to attend Camp Rock, her life takes an unpredictable twist, and she learns just how important it is to be true to yourself.
1h 37m Comedy Drama Family TV Movie
Dylan Schoenfield is the pink princess of the upscale Los Angeles Woodlands Academy. She has the coolest boyfriend, the most popular friends, and a brand-new it bag that everyone covets. But when she accidentally tosses her Serge Sanchez bag into a fountain, this princess comes face-to-face with her own personal frog, self-professed film geek Josh Rosen. In return for rescuing Dylan's bag, Josh convinces Dylan to let him film her for his documentary on high school popularity. Reluctantly, Dylan lets F-list Josh into her A-list world, and is shocked to realize that sometimes nerds can be pretty cool. But when Dylan's so-called prince charming of a boyfriend dumps her flat, her life and her social status comes to a crashing halt. Can Dylan win the Woodlands Academy Fall Formal Blossom Queen crown? Can Josh win the Woodlands Academy 10th Annual Film Festival? Can Dylan, with Josh's help, pull the pieces together to create her own happily-ever-after?
13.
She's All That (1999)
1h 35m Comedy Romance
High school hotshot Zach Siler is the envy of his peers. But his popularity declines sharply when his cheerleader girlfriend, Taylor, leaves him for sleazy reality-television star Brock Hudson. Desperate to revive his fading reputation, Siler agrees to a seemingly impossible challenge. He has six weeks to gain the trust of nerdy outcast Laney Boggs -- and help her to become the school's next prom queen.
explore
Check out more list from our community