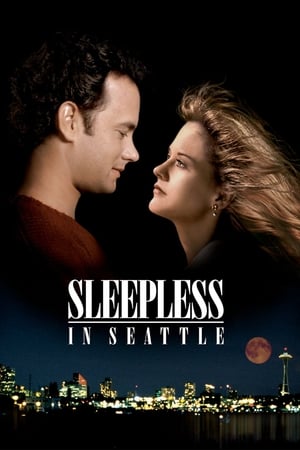 13 Best Movies Like Sleepless In Seattle ...
If you liked this film , you will definitely love these too! In this selection we highlight some of the best films that share a very similar premise to 'Sleepless in Seattle', and are worth checking out.
1h 55m Comedy Drama Romance
Renata Bella feels like a failure at life and career. But when Renata attends a seminar on selling real estate, she finally finds True Love. Sam Sharpe, while a top-notch, successful salesman, is much older than Renata. She is swept away by his excessively flamboyant style and irrepressible nature. The very traits she finds romantic, however, lead to repeated conflict with her family, especially her beloved father Joe, leaving Renata trapped in the middle.
1h 44m Comedy Drama Romance
Three teenage girls come of age while working at a pizza parlor in Mystic, Connecticut.
1h 30m Comedy Romance Drama
Although strangers Sara and Jonathan are both already in relationships, they realize they have genuine chemistry after a chance encounter – but part company soon after. Years later, they each yearn to reunite, despite being destined for the altar. But to give true love a chance, they have to find one another again.
1h 42m Comedy Drama Romance
No sooner does Italian-American widow Loretta accept a marriage proposal from her doltish boyfriend, Johnny, than she finds herself falling for his younger brother, Ronny. She tries to resist, but Ronny lost his hand in an accident he blames on his brother, and has no scruples about aggressively pursuing her while Johnny is out of the country. As Loretta falls deeper in love, she comes to learn that she's not the only one in her family with a secret romance.
5.
Breakfast at Tiffany's (1961)
1h 54m Comedy Drama Romance
Holly Golightly is an eccentric New York City playgirl determined to marry a Brazilian millionaire. But when young writer Paul Varjak moves into her apartment building, her past threatens to get in their way.
1h 48m Comedy Romance
Melanie Parker, an architect and mother of Sammy, and Jack Taylor, a newspaper columnist and father of Maggie, are both divorced. They meet one morning when overwhelmed Jack is left unexpectedly with Maggie and forgets that Melanie was to take her to school. As a result, both children miss their school field trip and are stuck with the parents. The two adults project their negative stereotypes of ex-spouses on each other, but end up needing to rely on each other to watch the children as each must save his job. Humor is added by Sammy's propensity for lodging objects in his nose and Maggie's tendency to wander.
7.
While You Were Sleeping (1995)
1h 43m Comedy Romance
A transit worker pulls commuter Peter off railway tracks after he's mugged, but—while he's in a coma—his family mistakenly thinks she's Peter's fiancée, and she doesn't correct them. Things get more complicated when she falls for his brother, who's not quite sure that she's who she claims to be.
8.
The Mirror Has Two Faces (1996)
2h 6m Comedy Drama Romance
Rose Morgan, who still lives with her mother, is a professor of Romantic Literature who desperately longs for passion in her life. Gregory Larkin, a mathematics professor, has been burned by passionate relationships and longs for a sexless union based on friendship and respect.
1h 41m Comedy Drama Family Romance
Bill Dancer and his young companion Curly Sue are the classic homeless folks with hearts of gold. Their scams are aimed not at turning a profit, but at getting enough to eat. When they scam the rich and beautiful Grey Ellison into believing she backed her Mercedes into Bill, they're only hoping for a free meal. But Grey is touched, and over the objections of her snotty fiancé.
1h 57m Comedy Drama Romance
Failed London banker Max Skinner inherits his uncle's vineyard in Provence, where he spent many childhood holidays. Upon his arrival, he meets a woman from California who tells Max she is his long-lost cousin and that the property is hers.
11.
Murphy's Romance (1985)
1h 47m Comedy Romance
Emma is a divorced woman with a teen aged boy who moves into a small town and tries to make a go of a horse ranch. Murphy is the town druggist who steers business her way. Things are going along predictably until her ex husband shows up, needing a place to stay. The three of them form an intricate circle, Emma's son liking Murphy, but desperately wanting his father back.
2h 16m Comedy Romance
Two women, one from the United States and one from the United Kingdom, swap homes at Christmastime after bad breakups with their boyfriends. Each woman finds romance with a local man but realizes that the imminent return home may end the relationship.
1h 40m Comedy Drama Romance
Albert Einstein helps a young man who's in love with Einstein's niece to catch her attention by pretending temporarily to be a great physicist.
explore
Check out more list from our community