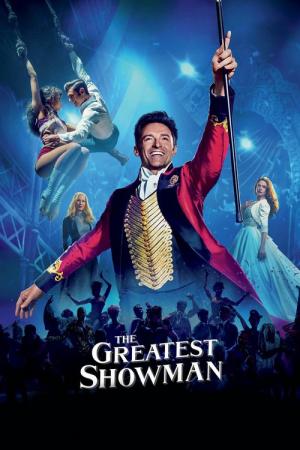 14 Best Movies Like The Greatest Showman ...
If you liked this one , you will definitely love these too! In this list we highlight some of the best films that share a very similar mood to 'The Greatest Showman', and are worth checking out.
In 1964, a brash, new pro boxer, fresh from his Olympic gold medal victory, explodes onto the scene: Cassius Clay. Bold and outspoken, he cuts an entirely new image for African Americans in sport with his proud public self-confidence and his unapologetic belief that he is the greatest boxer of all time. Yet at the top of his game, both Ali's personal and professional lives face the ultimate test.
2h 37m
Director, Screenplay: Michael Mann
Screenplay: Eric Roth
Screenplay: Stephen J. Rivele
Screenplay: Christopher Wilkinson
Story: Gregory Allen Howard
Drama
In this biographical drama, Selena Quintanilla is born into a musical Mexican-American family in Texas. Her father, Abraham, realizes that his young daughter is talented and begins performing with her at small venues. She finds success and falls for her guitarist, Chris Perez, who draws the ire of her father. Seeking mainstream stardom, Selena begins recording an English-language album which, tragically, she would never complete.
2h 7m
Director, Screenplay: Gregory Nava
Music Drama History
From Paris to Venice to Broadway to Hollywood, the lives of Cole Porter and his wife, Linda were never less than glamorous and wildly unconventional. And though Cole's thirst for life strained their marriage, Linda never stopped being his muse, inspiring some of the greatest sons of the twentieth century.
2h 5m
Author: Jay Cocks
Director: Irwin Winkler
Drama Music
A boy with a massive facial skull deformity and biker gang mother attempts to live as normal a life as possible under the circumstances.
2h
Director: Peter Bogdanovich
Screenplay: Anna Hamilton Phelan
Drama
The true story of Harvey Milk, the first openly gay man ever elected to public office. In San Francisco in the late 1970s, Harvey Milk becomes an activist for gay rights and inspires others to join him in his fight for equal rights that should be available to all Americans.
2h 8m
Director: Gus Van Sant
Writer: Dustin Lance Black
History Drama
Story of Linda Lovelace, who is used and abused by the porn industry at the behest of her coercive husband, before taking control of her life.
1h 32m
Director: Jeffrey Friedman
Director: Rob Epstein
Writer: Andy Bellin
Drama
Ayiva recently left his home in Burkina Faso in search of a way to provide for his sister and his daughter. He takes advantage of his position in an illegal smuggling operation to get himself and his best friend Abas off of the continent. Ayiva adapts to life in Italy, but when tensions with the local community rise, things become increasingly dangerous. Determined to make his new situation work he attempts to weather the storm, but it has its costs.
1h 47m
Director, Writer: Jonas Carpignano
Drama
The story of Rudolf Nureyev, whose escape to the West stunned the world at the height of the Cold War. With his magnetic presence, Nureyev emerged as ballet's most famous star, a wild and beautiful dancer limited by the world of 1950s Leningrad. His flirtation with Western artists and ideas led him into a high-stakes game of cat and mouse with the KGB.
2h 7m
Director: Ralph Fiennes
Writer: David Hare
Drama
9.
Coal Miner's Daughter (1980)
Biography of Loretta Lynn, a country and western singer that came from poverty to fame.
2h 5m
Director: Michael Apted
Writer: Tom Rickman
Drama Music
The story of Patsy Cline, the velvet-voiced country music singer who died in a tragic plane crash at the height of her fame.
1h 55m
Director: Karel Reisz
Writer: Robert Getchell
Drama Music Romance
11.
The Prize Winner of Defiance, Ohio (2005)
Based on the true story of Evelyn Ryan, a midwestern housewife who managed to rescue her family from debt by entering contests for ad slogans sponsored by consumer product companies.
1h 39m
Director, Screenplay: Jane Anderson
Novel: Terry Ryan
Drama
Carmen is a good student with a bad attitude who lives for dancing in the underground clubs of Chicago. She yearns to be 'somebody' but is afraid to believe in herself. Her immigrant Mexican, working-class parents want her to stay in school and get an education, so she attends junior college while working at a grocery store. Carmen's professor catches her performing one day in the neighborhood and challenges her to audition to a formal dance school in California. She gets into a fight with her chaotic family and runs away to her best friend Gina's place only to find out Gina's been getting beat up by her boyfriend. Meanwhile, Carmen's boyfriend, Jared wants her to commit and move in with him. Pulled apart in every direction, her dream of dancing fades. Can Carmen overcome her fears and take the biggest chance of her life, or will she succumb to her self-doubt?
1h 45m
Drama Family
13.
Entertaining Angels: The Dorothy Day Story (1996)
The firebrand reporter, feminist and philanthropist Dorothy Day co-founds The Catholic Worker with Peter Maurin, an eccentric philosopher.
1h 52m
Director: Michael Ray Rhodes
Screenplay: John Wells
Drama
14.
Gods and Monsters (1998)
It's 1957, and James Whale's heyday as the director of "Frankenstein," "Bride of Frankenstein" and "The Invisible Man" is long behind him. Retired and a semi-recluse, he lives his days accompanied only by images from his past. When his dour housekeeper, Hannah, hires a handsome young gardener, the flamboyant director and simple yard man develop an unlikely friendship, which will change them forever.
1h 45m
Director, Screenplay: Bill Condon
Novel: Christopher Bram
Drama
explore
Check out more list from our community