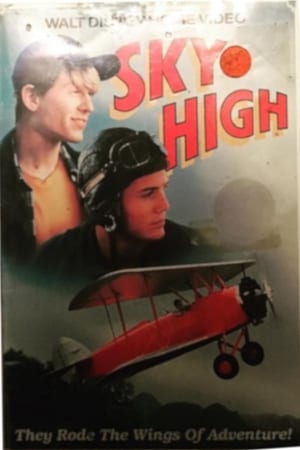 11 Best Movies Like Sky High ...
Four very different high school teenagers battle trolls, ghouls and a dark leader of them named Maldark in a video game that goes haywire and releases the battle into the real world.
⏱ 1h 30m
Director: Peter Lauer
Writer: Derek Guiley
Writer: David Schneiderman
TV Movie Comedy Family Fantasy
Jack Shepard is an out-of-shape auto shop owner, far removed from the man who once protected the world's freedom. Reluctantly called back into action by the government, Jack is tasked with turning a ragtag group of kids with special powers into a new generation of superheroes to save the world from certain destruction.
⏱ 1h 23m
Director: Peter Hewitt
Novel: Jason Lethcoe
Screenplay: Adam Rifkin
Screenplay: David Berenbaum
Family Comedy Adventure Action Science Fiction
When 13-year-old Henry Hart lands a job as Danger, the sidekick-in-training to superhero Captain Man, he must learn to navigate a double life balancing the challenges of 8th grade with the crazy adventures of a real-life crime fighter!
⏱ 22m
Creator: Dana Olsen
Creator: Dan Schneider
Comedy Family Action & Adventure Sci-Fi & Fantasy Mystery Drama
5.
The Ewok Adventure (1984)
The Towani family civilian shuttlecraft crashes on the forest moon of Endor. The four Towani's are separated. Jermitt and Catarine, the mother and father are captured by the giant Gorax, and Mace and Cindel, the son and daughter, are missing when they are captured. The next day, the Ewok Deej is looking for his two sons when they find Cindel all alone in the shuttle (Mace and Cindel were looking for the transmitter to send a distress call), when Mace appears with his emergency blaster. Eventually, the four-year old Cindel is able to convince the teenage Mace that the Ewoks are nice. Then, the Ewoks and the Towani's go on an adventure to find the elder Towanis.
⏱ 1h 36m
Director: John Korty
Story: George Lucas
Teleplay: Bob Carrau
Adventure Family Fantasy Science Fiction TV Movie
6.
High School Musical 3: Senior Year (2008)
It's almost graduation day for high school seniors Troy, Gabriella, Sharpay, Chad, Ryan and Taylor ― and the thought of heading off in separate directions after leaving East High has these Wildcats thinking they need to do something they'll remember forever. Together with the rest of the Wildcats, they stage a spring musical reflecting their hopes and fears about the future and their unforgettable experiences growing up together. Will their final show break them apart or bring them together for the greatest moment in Wildcat history?
⏱ 1h 57m
Director: Kenny Ortega
Writer: Peter Barsocchini
Comedy Drama Family Music Romance
Fourteen-year-old Jason Shepherd has a reputation for stretching the truth. So, when big-time Hollywood producer Marty Wolf steals his class paper and turns it into a smash movie, no one believes Jason's latest tall tale! On a cross-country adventure to set the record straight, Jason and best friend Kaylee devise a high-tech plan to squeeze the truth out of Wolf.
⏱ 1h 28m
Director: Shawn Levy
Screenplay: Dan Schneider
Screenplay: Brian Robbins
Family Comedy Adventure
8.
Percy Jackson: Sea of Monsters (2013)
In their quest to confront the ultimate evil, Percy and his friends battle swarms of mythical creatures to find the mythical Golden Fleece and to stop an ancient evil from rising.
⏱ 1h 46m
Director: Thor Freudenthal
Novel: Rick Riordan
Screenplay: Marc Guggenheim
Adventure Family Fantasy
Carmen and Juni think their parents are boring. Little do they know that in their day, Gregorio and Ingrid Cortez were the top secret agents from their respective countries. They gave up that life to raise their children. Now, the disappearances of several of their old colleagues forces the Cortez' return from retirement. What they didn't count on was Carmen and Juni joining the "family business."
⏱ 1h 28m
Director, Writer: Robert Rodriguez
Action Comedy Family Adventure
10.
The Thundermans (2013)
Meet The Thundermans, a typical suburban family that happens to have astounding superpowers. At the center of the action are the 14-year-old Thunderman twins, who share the same bathroom, the same school, and the same annoying little siblings. Their only difference? The sister is a super student with a super sunny disposition who super looks forward to being a superhero someday, and her twin brother is a super villain.
⏱ 30m
Action & Adventure Comedy Family Sci-Fi & Fantasy
11.
The Neverending Story III (1994)
A young boy must restore order when a group of bullies steal the magical book that acts as a portal between Earth and the imaginary world of Fantasia.
⏱ 1h 35m
Characters: Michael Ende
Director: Peter MacDonald
Screenplay: Jeff Lieberman
Story: Karin Howard
Fantasy Family
explore
Check out more list from our community