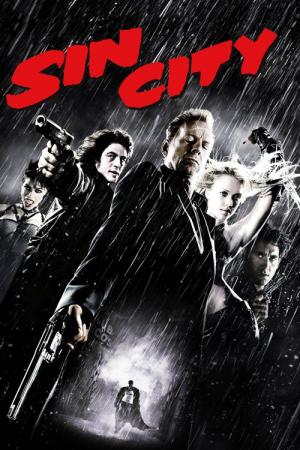 31 Best Movies Like Sin City ...
If you liked this one , you will for sure love these too! In this selection we highlight some of the best films that share a very similar mood to '', and are worth checking out.
1.
Sin City: A Dame to Kill For (2014)
1h 42m Crime Action Thriller
Some of Sin City's most hard-boiled citizens cross paths with a few of its more reviled inhabitants.
2h 34m Thriller Crime
A burger-loving hit man, his philosophical partner, a drug-addled gangster's moll and a washed-up boxer converge in this sprawling, comedic crime caper. Their adventures unfurl in three stories that ingeniously trip back and forth in time.
3.
Once Upon a Time in Mexico (2003)
1h 42m Action Drama Mystery
Hitman "El Mariachi" becomes involved in international espionage involving a psychotic CIA agent and a corrupt Mexican general.
1h 40m Crime Action Drama Thriller
A DEA agent whose family was slain as part of a conspiracy, and an assassin out to avenge her sister's death, join forces to solve a series of murders in New York City.
2h 7m Crime Mystery Thriller
Two homicide detectives are on a desperate hunt for a serial killer whose crimes are based on the "seven deadly sins" in this dark and haunting film that takes viewers from the tortured remains of one victim to the next. The seasoned Det. Sommerset researches each sin in an effort to get inside the killer's mind, while his novice partner, Mills, scoffs at his efforts to unravel the case.
6.
Punisher: War Zone (2008)
1h 42m Action Crime
Waging his one-man war on the world of organized crime, ruthless vigilante-hero Frank Castle sets his sights on overeager mob boss Billy Russoti. After Russoti is left horribly disfigured by Castle, he sets out for vengeance under his new alias: Jigsaw. With the "Punisher Task Force" hot on his trail and the FBI unable to take Jigsaw in, Frank must stand up to the formidable army that Jigsaw has recruited before more of his evil deeds go unpunished.
7.
Kill Bill: Vol. 1 (2003)
1h 51m Action Crime
An assassin is shot by her ruthless employer, Bill, and other members of their assassination circle – but she lives to plot her vengeance.
1h 39m Crime Thriller
A botched robbery indicates a police informant, and the pressure mounts in the aftermath at a warehouse. Crime begets violence as the survivors -- veteran Mr. White, newcomer Mr. Orange, psychopathic parolee Mr. Blonde, bickering weasel Mr. Pink and Nice Guy Eddie -- unravel.
1h 42m Action Crime Thriller
When a madman dubbed 'Scorpio' terrorizes San Francisco, hard-nosed cop, Harry Callahan – famous for his take-no-prisoners approach to law enforcement – is tasked with hunting down the psychopath. Harry eventually collars Scorpio in the process of rescuing a kidnap victim, only to see him walk on technicalities. Now, the maverick detective is determined to nail the maniac himself.
10.
Kill Bill: Vol. 2 (2004)
2h 16m Action Crime Thriller
The Bride unwaveringly continues on her roaring rampage of revenge against the band of assassins who had tried to kill her and her unborn child. She visits each of her former associates one-by-one, checking off the victims on her Death List Five until there's nothing left to do … but kill Bill.
1h 41m Action Thriller
Ex-hitman John Wick comes out of retirement to track down the gangsters that took everything from him.
1h 21m Action Crime Thriller
El Mariachi just wants to play his guitar and carry on the family tradition. Unfortunately, the town he tries to find work in has another visitor, a killer who carries his guns in a guitar case. The drug lord and his henchmen mistake el Mariachi for the killer, Azul, and chase him around town trying to kill him and get his guitar case.
13.
Shoot 'Em Up (2007)
23m Comedy Drama
"Les étoiles filantes" is the story of two friends in their late thirties whose lives have taken very different paths. Twenty years after their band broke up and all dreams of that elusive recording contract had faded away, the two men meet up once again. They now live in very different worlds, worlds that are destined to clash from the moment that the incorrigible, free-spirited Daniel turns up on Jacques the math teacher's doorstep. Daniel calmly tells his old friend that he has only six months left to live. The nomad parks his trailer in Jacques' yard and proceeds to carve himself a place in the household's well organized routine. However, he mischievously makes the most of every opportunity to shake up the family's tidy world. This series tells a tale of friendship – albeit a frequently strained one – where values of stability and freedom humorously polarize and keep us smiling throughout.
1h 44m Thriller Action Crime
El Mariachi, a musician, arrives in a Mexican town and is mistaken as a hit-man. He runs into trouble with a local drug lord and seeks to avenge the death of his lover.
15.
Fire with Fire (2012)
1h 37m Action Crime Drama Thriller
A fireman takes an unexpected course of action when a man whom he's been ordered to testify against—after being held up at a local convenience store—threatens him.
1h 31m Crime Thriller
When the quiet life of a beach bum is upended by dreadful news, he sets off for his childhood home to carry out an act of vengeance. However, he proves an inept assassin and finds himself in a brutal fight to protect his estranged family.
17.
I'll Sleep When I'm Dead (2003)
1h 30m Thriller Action Crime
After her younger sister gets involved in drugs and is severely injured by contaminated heroin, a nurse sets out on a mission of vengeance and vigilante justice, killing drug dealers, pimps, and mobsters who cross her path.
19.
Last Man Standing (1996)
1h 41m Action Crime Drama Thriller Mystery
John Smith is a mysterious stranger who is drawn into a vicious war between two Prohibition-era gangs. In a dangerous game, he switches allegiances from one to another, offering his services to the highest bidder. As the death toll mounts, Smith takes the law into his own hands in a deadly race to stay alive.
1h 49m Drama Thriller
While investigating noises in his house one balmy Texas night in 1989, Richard Dane puts a bullet in the brain of a low-life burglar. Although he's hailed as a small-town hero, Dane soon finds himself fearing for his family's safety when Freddy's ex-con father rolls into town, hell-bent on revenge.
21.
The Last Boy Scout (1991)
1h 45m Action Thriller
When the girl that detective Joe Hallenback is protecting gets murdered, the boyfriend of the murdered girl attempts to investigate and solve the case. What they discover is that there is deep seated corruption going on between a crooked politician and the owner of a pro football team.
22.
King of New York (1990)
1h 43m Thriller Crime
A former drug lord returns from prison determined to wipe out all his competition and distribute the profits of his operations to New York's poor and lower classes in this stylish and ultra violent modern twist on Robin Hood.
2h 30m Action Crime Thriller
After fighting his way through an apartment building populated by an army of dangerous criminals and escaping with his life, SWAT team member Rama goes undercover, joining a powerful Indonesian crime syndicate to protect his family and uncover corrupt members of his own force.
24.
Year of the Dragon (1985)
2h 14m Action Crime Drama Thriller
In New York, racist Capt. Stanley White becomes obsessed with destroying a Chinese-American drug ring run by Joey Tai, an up-and-coming young gangster as ambitious as he is ruthless. While pursuing an unauthorized investigation, White grows increasingly willing to violate police protocol, resorting to progressively violent measures -- even as his concerned wife, Connie, and his superiors beg him to consider the consequences of his actions.
25.
The Crow: City of Angels (1996)
1h 24m Action Fantasy Thriller
After Ashe and his little son are murdered violently for no reason by Judah's men, he returns from the dead to take revenge. One after one, Judah's people face the power of the dark angel. The second film based on James O'Barr's cult comic.
26.
The Dark Knight (2008)
2h 32m Drama Action Crime Thriller
Batman raises the stakes in his war on crime. With the help of Lt. Jim Gordon and District Attorney Harvey Dent, Batman sets out to dismantle the remaining criminal organizations that plague the streets. The partnership proves to be effective, but they soon find themselves prey to a reign of chaos unleashed by a rising criminal mastermind known to the terrified citizens of Gotham as the Joker.
1h 45m Action Comedy Thriller
After being set-up and betrayed by the man who hired him to assassinate a Texas Senator, an ex-Federale launches a brutal rampage of revenge against his former boss.
28.
Bullet to the Head (2012)
29.
Johnny Handsome (1989)
1h 34m Crime Drama
A career criminal who has been deformed since birth is given a new face by a kindly doctor and paroled from prison. It appears that he has gone straight, but he is really planning his revenge on the man who killed his mentor and sent him to prison.
30.
Rolling Thunder (1977)
1h 35m Action Crime Drama Thriller
A Vietnam veteran, Charles Rane, returns home after years in a POW camp and is treated as a hero. When thugs invade his home to steal the silver coins he received for his service, they mangle his hand and leave him and his family for dead. Rane survives and becomes obsessed with getting revenge. Aided by his loyal friend Johnny Vohden, Rane, now wielding a hook for a hand, sets out on his mission of vengeance.
explore
Check out more list from our community