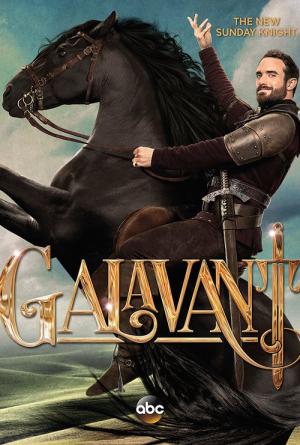 20 Best Shows Like Galavant ...
If you liked this movie , you will definitely love these too! In this collection we highlight some of the best films that share a very similar premise to '', and are worth checking out.
1.
Robin Hood: Men in Tights (1993)
1h 44m Comedy
Robin Hood comes home after fighting in the Crusades to learn that the noble King Richard is in exile and that the despotic King John now rules England, with the help of the Sheriff of Rottingham. Robin Hood assembles a band of fellow patriots to do battle with King John and the Sheriff.
2.
The Color of Magic (2008)
3h 9m Action & Adventure Sci-Fi & Fantasy Comedy
As Rincewind involuntarily becomes a guide to the naive tourist Twoflower, they find themselves forced to flee the city of Ankh-Morpork to escape a terrible fire, and begin on a journey across the Disc. Unknown to them, their journey and fate is being decided by the Gods playing a board game the whole time.
1h 45m Fantasy Comedy
A medieval tale with Pythonesque humour: After the death of his father the young Dennis Cooper goes to town where he has to pass several adventures. The town and the whole kingdom is threatened by a terrible monster called 'Jabberwocky'. Will Dennis make his fortune? Is anyone brave enough to defeat the monster?
4.
Miss Castaway and the Island Girls (2004)
1h 30m Comedy
A plane carrying beauty contestants crash lands on a deserted island. Captain Maximus Powers and co-pilot Mike Saunders have to take care of their passengers, while avoiding the dangers of Jurassic Pork (a giant prehistoric pig) and a group of apes busy trying to relaunch Noah's Ark.
5.
Merlin's Apprentice (2006)
3h Sci-Fi & Fantasy
Merlin's Apprentice is a British miniseries that aired on Channel 4 in 2006. The series is a sequel to the 1998 miniseries Merlin starring Sam Neill and Miranda Richardson. In this sequel, Merlin awakes after a nap of fifty years.
1h 42m Comedy Adventure Fantasy
A fantasy movie about an arrogant, lazy prince and his more heroic brother who must complete a quest in order to save their father's kingdom.
1h 26m Action Adventure Comedy
When Edward, Peter, Lucy and Susan each follow their own path, they end up finding themselves at Willy's Chocolate factory. Walking through a wardrobe, they discover the world of Gnarnia, which is ruled by the White Bitch. Meeting up with characters such as Harry Potter and Captain Jack Swallows, the newly reunited family must team up with Aslo, a wise-but-horny lion to stop the white bitch's army
8.
A Knight in Camelot (1998)
1h 30m Adventure Fantasy Comedy Science Fiction Family TV Movie
Yet another variation on Mark Twain's "A Connecticut Yankee At King Arthur's Court." Here, a computer malfunction causes a science researcher to be sent back in time with her laptop, which she uses to amaze the court.
2h 7m Science Fiction Fantasy Comedy
Commander Logar fools Arif and sends him 1.000.000 years back in the time. He must civilize people from past to reach today.
10.
Dawn of the Dragonslayer (2011)
1h 37m Adventure Fantasy Action
Dawn of the Dragonslayer tells the story of Will (Richard McWilliams), a shepherd's son whose land is ravaged by a dragon.
11.
The Shannara Chronicles (2016)
45m Action & Adventure Sci-Fi & Fantasy
A young Healer armed with an unpredictable magic guides a runaway Elf in her perilous quest to save the peoples of the Four Lands from an age-old Demon scourge.
12.
The Letter for the King (2020)
47m Sci-Fi & Fantasy Action & Adventure Family
A young boy holds the fate of the kingdom in his hands when he embarks on a quest to deliver a secret message in this sweeping fantasy series.
1h 35m Comedy Fantasy Adventure
Martin Lawrence plays Jamal, an employee in Medieval World amusement park. After nearly drowning in the moat, he awakens to find himself in 14th century England.
14.
Jack and the Beanstalk: The Real Story (2001)
3h 6m Action & Adventure Sci-Fi & Fantasy Drama
Jack and the Beanstalk: The Real Story is a 2001 American television miniseries. It was directed by Brian Henson and was a co-production of CBS and Jim Henson Television. It is an alternative version of the classic English fairy tale Jack and the Beanstalk. The story was considerably reworked to reflect what Henson believed to be a more ethical, humanist view. The cast includes Matthew Modine, Mia Sara, Jon Voight, and Vanessa Redgrave. Richard Attenborough, Daryl Hannah, and a young James Corden play giants. Among the other giants in the film are beings from the mythology of various cultures, including Hebrew, Buddhist, and Nordic.
50m Drama Sci-Fi & Fantasy
Camelot is a historical-fantasy-drama television series based on the Arthurian legend, was produced by Graham King, Morgan O'Sullivan and Michael Hirst.
16.
Dungeons & Dragons: Wrath of the Dragon God (2005)
1h 45m Action Adventure Fantasy
Due to a curse from his former master Profion, Damodar survived his death by Ridley Freeborn as an undead entity in pursuit of an evil artifact for some hundred years, so that he might be capable of unleashing unstoppable destruction on Izmir and the descendants of those who caused his demise.
1h 30m Drama
Irish construction workers built New York City and had a grand time doing it. Each guy on the Emerald City crew is struggling with something: drinking, gambling, loss, the burden of a family legacy, and facing a city that doesn't need them anymore.
23m Comedy Sci-Fi & Fantasy
A bored young mum steps through a portal and discovers a world of incompetent knights, monks who are incapable of lying, and a race of people intent on firing the cleverest amongst them into the sun.
19.
Age of the Dragons (2011)
1h 31m Adventure Action Fantasy
Age of the Dragons is an adaptation of Herman Melville's classic novel Moby Dick. Set in a medieval realm where Captain Ahab and crew hunt dragons for the vitriol that powers their world, Ishmael, a charismatic harpooner and his friend Queequeg join their quest. Ahab's adopted daughter Rachel, beautiful and tough, runs the hunting vessel. Ahab's obsession to seek revenge on a great White Dragon that slaughtered his family when he was young and left his body scarred and mauled, drives the crew deeper into the heart of darkness. In the White Dragon's lair Ahab's secrets are revealed and Rachel must choose between following him on his dark quest or escaping to a new life with Ishmael.
explore
Check out more list from our community