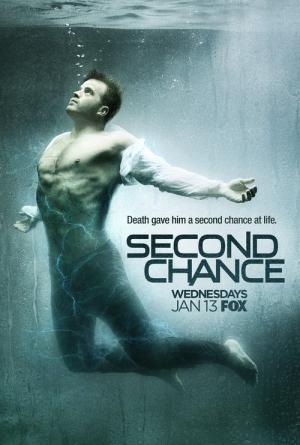 23 Best Shows Like Second Chance ...
If you liked this one , you will probably love these too! In this collection we highlight some of the best films that share a very similar mood to '', and are worth checking out.
44m Sci-Fi & Fantasy Comedy Drama
The sleepy Pacific Northwest town of Eureka is hiding a mysterious secret. The government has been relocating the world's geniuses and their families to this rustic town for years where innovation and chaos have lived hand in hand. U.S. Marshal Jack Carter stumbles upon this odd town after wrecking his car and becoming stranded there. When the denizens of the town unleash an unknown scientific creation, Carter jumps in to try to restore order and consequently learns of one of the country's best kept secrets.
45m Drama Action & Adventure Sci-Fi & Fantasy
In the year 2517, after the arrival of humans in a new star system, follow the adventures of the renegade crew of Serenity, a "Firefly-class" spaceship. The ensemble cast portrays the nine characters who live on Serenity.
43m Science Fiction Drama
In the near future a family must make difficult decisions as they balance staying together with trying to survive. They live in Los Angeles, which has been occupied by a force of outside intruders. While some people have chosen to collaborate with the authorities and benefit from the new order, others have rebelled — and suffer the consequences.
50m Sci-Fi & Fantasy
After 250 years on ice, a prisoner returns to life in a new body with one chance to win his freedom: by solving a mind-bending murder.
43m Drama Sci-Fi & Fantasy
In the near future, planet Earth is permanently altered following the sudden—and tumultuous—arrival of seven unique alien races. In the boom-town of Defiance, the newly-formed civilization of humans and aliens must learn to co-exist peacefully.
42m Sci-Fi & Fantasy Drama
An astronaut returns home from a year long solo mission in space. She tries to reconnect with her husband and son in their everyday life. Her experiences in space and home lead to events that ultimately will change the course of human history.
46m Drama Mystery Sci-Fi & Fantasy
In a parallel present where the latest must-have gadget for any busy family is a 'Synth' - a highly-developed robotic servant that's so similar to a real human it's transforming the way we live.
43m Sci-Fi & Fantasy Drama Action & Adventure
Five ordinary people with superhuman physical and mental abilities are brought together to form one extraordinary team of Alphas. Operating within the U.S. Department of Defense, the team investigates cases that point to others with Alpha abilities.
45m Action & Adventure Drama Sci-Fi & Fantasy
Michael Long, an undercover police officer, is shot while investigating a case and left for dead by his assailants. He is rescued by Wilton Knight, a wealthy, dying millionaire and inventor who arranges life-saving surgery, including a new face and a new identity--that of Michael Knight. Michael is then given a special computerized and indestructible car called the Knight Industries Two Thousand (nicknamed KITT), and a mission: apprehend criminals who are beyond the reach of the law. The series depicts Michael's exploits as he and KITT battle the forces of evil on behalf of the Foundation for Law and Government.
1h 33m Drama Comedy
Desperate, broke, and out of ideas, four college seniors start a fake charity to embezzle money for tuition.
43m Drama Sci-Fi & Fantasy
Cassie Bedford has visions... whether she likes it or not. Sometimes she encounters unsettled spirits who need her help. When her father, Detective Tom Hackett, and his new partner, former FBI agent Damien Asante, need assistance, Cassie reluctantly uses her abilities and helps solve some of the city's most challenging cases.
35m Sci-Fi & Fantasy War & Politics Drama
Pioneer One is a 2010 American web series produced by Josh Bernhard and Bracey Smith. It has been funded purely through donations, and is the first series created for and released on BitTorrent networks.
13.
Marvel's Cloak & Dagger (2018)
4m Animation Action & Adventure
Gwen Stacy AKA Ghost-Spider, wrongly accused of a crime she didn't commit, seeks to clear her name and deliver justice. Unfortunately, her dad is not only Captain of the NYPD, but spearheading the manhunt! To make matters worse, other young heroes—Ms. Marvel, Squirrel Girl, Quake and Patriot—are after Ghost Spider as well. But, as the chase to uncover the truth winds down, a darker threat looms along the horizon, and very soon, these heroes will need to put aside their differences and work together as a team.
14.
SGU Stargate Universe (2009)
45m Action & Adventure Drama Sci-Fi & Fantasy
The adventures of a present-day, multinational exploration team traveling on the Ancient spaceship Destiny many billions of light years distant from the Milky Way Galaxy. They evacuated there and are now trying to figure out a way to return to Earth, while simultaneously trying to explore and to survive in their unknown area of the universe.
44m Sci-Fi & Fantasy Action & Adventure
Refugees from a war-torn country start showing up to seek asylum in an American town. Only the country these people are from is America and the war they are fleeing is 250 years in the future. The local sheriff with a past, a federal agent and a mother in search of her missing refugee daughter drive this allegory with a surprising conspiracy at the center.
43m Drama Mystery Sci-Fi & Fantasy
A thriller set two hundred years in the future following the case of a missing young woman who brings a hardened detective and a rogue ship's captain together in a race across the solar system to expose the greatest conspiracy in human history.
2h 2m Action Adventure Science Fiction
The USS Enterprise crew explores the furthest reaches of uncharted space, where they encounter a mysterious new enemy who puts them and everything the Federation stands for to the test.
18.
Don't Look Deeper (2020)
10m Sci-Fi & Fantasy Drama
In near-future California, high school senior Aisha learns a dark secret about herself. She goes from dreams of graduation and college...to suddenly running for her life.
43m Drama Mystery Sci-Fi & Fantasy
Imagine the perfect American town... beautiful homes, manicured lawns, children playing safely in the streets. Now imagine never being able to leave. You have no communication with the outside world. You think you're going insane. You must be in Wayward Pines.
43m Drama Mystery Sci-Fi & Fantasy
Raised in a secret facility built for experimenting on children, Jarod is a genius who can master any profession and become anyone he has to be. When he realizes as an adult that he's actually a prisoner and his captors are not as benevolent as he's been told, he breaks out. While trying to find his real identity, Jarod helps those he encounters and tries to avoid the woman sent to retrieve him.
21.
The Tomorrow People (2013)
1h Drama Sci-Fi & Fantasy
The story of several young people from around the world who represent the next stage in human evolution, possessing special powers, including the ability to teleport and communicate with each other telepathically. Together they work to defeat the forces of evil.
22.
Minority Report (2015)
43m Crime Drama Sci-Fi & Fantasy
Ten years after the demise of Precrime, crime-solving is different and justice leans more on sophisticated and trusted technology than on the instincts of the precogs—individuals who able to see the future. In Washington, D.C., a man haunted by the future and a cop haunted by her past race to stop the worst crimes of the year 2065 before they happen.
explore
Check out more list from our community