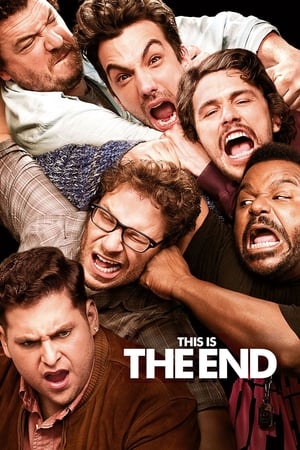 12 Best Movies Like This Is The End ...
If you liked this one , you will probably love these too! In this collection we highlight some of the best films that share a very similar premise to 'This Is the End', and are worth checking out.
1.
My Man Is a Loser (2014)
1h 35m Comedy
When it comes to women, playboy Mike has all the right moves. So when Mike's buddies ask for advice on how to reconnect with their wives, Mike figures he'll share some secrets and help the guys regain their marriage mojo. But when Mike's lessons start backfiring with hilarious results, it takes a beautiful, no-nonsense friend to show Mike he still has a thing or two to learn about relationships.
2.
Pineapple Express (2008)
1h 51m Action Comedy Crime
A stoner and his dealer are forced to go on the run from the police after the pothead witnesses a cop commit a murder.
1h 23m Comedy
The heroic story of a dictator who risks his life to ensure that democracy would never come to the country he so lovingly oppressed.
4.
Pauly Shore Is Dead (2003)
1h 22m Comedy
Hollywood comedian/actor Pauly Shore loses everything: his house, nobody in Hollywood wants to represent him, he moves back home with his mom and is now parking cars at the Comedy Store. Then one night when he's up in his mom's loft, a dead famous comedian appears who tells Pauly to kill himself cause he'll go down as a comedic genius who died before his time. Pauly then fakes his own death, and the media goes crazy.
1h 53m Comedy
Two co-dependent high school seniors are forced to deal with separation anxiety after their plan to stage a booze-soaked party goes awry.
1h 49m Action Comedy Crime
In high school, Schmidt was a dork and Jenko was the popular jock. After graduation, both of them joined the police force and ended up as partners riding bicycles in the city park. Since they are young and look like high school students, they are assigned to an undercover unit to infiltrate a drug ring that is supplying high school students synthetic drugs.
7.
The Hungover Games (2014)
1h 26m Comedy
It's a movie about Hungover guys that get lost in a death match game: Each year, drunk people are selected to participate in torturous games the morning after a big night out. There's no sunglasses, no water, and no headache medicine. "The Hungover Games," a film that manages to merge the premises of both "The Hunger Games" and "The Hangover" ... and throw in references to "Ted," "Django Unchained," "The Lord of the Rings," "Carrie," "The Real Housewives of Beverly Hills" and whatever else crossed the writers' fevered brains during the probably very drunken "development process."
8.
House Party: Tonight's the Night (2013)
1h 20m Comedy
A pair of high school rappers have two major goals - make music and get hot girls. The best way to get both is to throw the biggest and best house party ever! The night of the party, one of the boys is grounded by his parents, so it's up to his best friend to break him out of his house confinement and get the party started.
1h 42m Comedy Action Science Fiction Mystery
Four everyday suburban guys come together as an excuse to escape their humdrum lives one night a week. But when they accidentally discover that their town has become overrun with aliens posing as ordinary suburbanites, they have no choice but to save their neighborhood - and the world - from total extermination.
10.
The World's End (2013)
1h 52m Action Adventure Fantasy
Thor fights to restore order across the cosmos… but an ancient race led by the vengeful Malekith returns to plunge the universe back into darkness. Faced with an enemy that even Odin and Asgard cannot withstand, Thor must embark on his most perilous and personal journey yet, one that will reunite him with Jane Foster and force him to sacrifice everything to save us all.
11.
Borat: Cultural Learnings of America for Make Benefit Glorious Nation of Kazakhstan (2006)
1h 24m Comedy
Kazakh journalist Borat Sagdiyev travels to America to make a documentary. As he zigzags across the nation, Borat meets real people in real situations with hysterical consequences. His backwards behavior generates strong reactions around him exposing prejudices and hypocrisies in American culture.
12.
Where the #$&% Is Santa? (2008)
1h 33m Comedy
In the midst of a trip to Finland to find the perfect Christmas gift for his wife, Missy, skateboarding superstar MTV personality Bam Margera is struck by inspiration to find the elusive Santa clause.
explore
Check out more list from our community