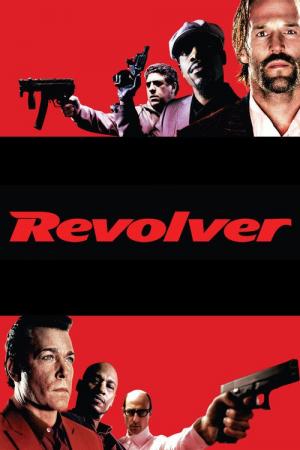 26 Best Movies Like Revolver ...
If you liked this movie , you will definitely love these too! In this list we highlight some of the best films that share a very similar mood to '', and are worth checking out.
1h 54m Action Crime Thriller
When a Russian mobster sets up a real estate scam that generates millions of pounds, various members of London's criminal underworld pursue their share of the fortune. Various shady characters, including Mr One-Two, Stella the accountant, and Johnny Quid, a druggie rock-star, try to claim their slice.
1h 41m Thriller Crime Drama Mystery
A violent gang enlists the help of a hypnotherapist in an attempt to locate a painting which somehow vanished in the middle of a heist.
1h 44m Crime Comedy
Unscrupulous boxing promoters, violent bookmakers, a Russian gangster, incompetent amateur robbers and supposedly Jewish jewelers fight to track down a priceless stolen diamond.
4.
Lucky Number Slevin (2006)
1h 50m Drama Thriller Crime Mystery
Slevin is mistakenly put in the middle of a personal war between the city's biggest criminal bosses. Under constant watch, Slevin must try not to get killed by an infamous assassin and come up with an idea of how to get out of his current dilemma. A film with many twists and turns.
5.
Smokin' Aces (2006)
1h 49m Action Comedy Crime Thriller
When a Las Vegas performer-turned-snitch named Buddy Israel decides to turn state's evidence and testify against the mob, it seems that a whole lot of people would like to make sure he's no longer breathing.
2h 19m Drama
A ticking-time-bomb insomniac and a slippery soap salesman channel primal male aggression into a shocking new form of therapy. Their concept catches on, with underground "fight clubs" forming in every town, until an eccentric gets in the way and ignites an out-of-control spiral toward oblivion.
1h 43m Action Drama Thriller
An old gangster is advised that Freddie Mays would leave jail after thirty years in prison. His mood changes and he recalls when he was a young punk and who joined Freddie's gang—a man he both envied and ultimately betrayed.
1h 32m Thriller Crime Action
When a Las Vegas bodyguard with lethal skills and a gambling problem gets in trouble with the mob, he has one last play… and it's all or nothing.
1h 58m Action Crime
A thief with a unique code of professional ethics is double-crossed by his crew and left for dead. Assuming a new disguise and forming an unlikely alliance with a woman on the inside, he looks to hijack the score of the crew's latest heist.
1h 46m Drama Action Crime
In Seattle, detective Quentin Conners is unfairly suspended and his partner Jason York leaves the police force after a tragic shooting on Pearl Street Bridge, when the hostage and the criminal die. During a bank heist with a hostage situation, Conners is assigned in charge of the operation with the rookie Shane Dekker as his partner. The thieves, lead by Lorenz, apparently do not steal a penny from the bank. While chasing the gangsters, the police team disclose that they planted a virus in the system, stealing one billion dollars from the different accounts, using the principle of the Chaos Theory. Further, they find that Lorenz is killing his accomplices.
11.
Lock, Stock and Two Smoking Barrels (1998)
1h 45m Comedy Crime
A card shark and his unwillingly-enlisted friends need to make a lot of cash quick after losing a sketchy poker match. To do this they decide to pull a heist on a small-time gang who happen to be operating out of the flat next door.
1h 47m Action Crime Drama Thriller
Joe Moore has a job he loves. He's a thief. His job goes sour when he gets caught on security camera tape. His fence, Bergman, reneges on the money he's owed, and his wife may be betraying him with the fence's young lieutenant. Moore and his partner, Bobby Blane, and their utility man, Pinky Pincus, find themselves broke, betrayed, and blackmailed. Moore is forced to commit his crew to do one last big job.
1h 57m Drama Action Thriller Crime
Hoping to raise enough capital to finance a legitimate business and leave behind his life of crime, Liverpool underworld boss Ged Brennan sends his brother Ratter and a crew to pull a daring final heist. But when Ratter kills a drug kingpin during the job, Brennan must turn to rival crook Franner to avert an all-out gangland war.
15.
The Long Good Friday (1980)
1h 54m Crime Drama Mystery
In the late 1970s, Cockney crime boss Harold Shand, a gangster trying to become a legitimate property mogul, has big plans to get the American Mafia to bankroll his transformation of a derelict area of London into the possible venue for a future Olympic Games. However, a series of bombings targets his empire on the very weekend the Americans are in town. Shand is convinced there is a traitor in his organization, and sets out to eliminate the rat in typically ruthless fashion.
16.
Easy Money II: Hard to Kill (2012)
1h 49m Thriller Action Drama Crime
When his brother-in-law runs afoul of a drug lord, family man Chris Farraday turns to a skill he abandoned long ago—smuggling—to repay the debt. But the job goes wrong, and Farraday finds himself wanted by cops, crooks and killers alike.
18.
Reindeer Games (2000)
2h 4m Thriller Action Crime Drama
After assuming his dead cellmate's identity to get with his girlfriend, an ex-con finds himself the reluctant participant in a casino heist.
1h 42m Action Drama Thriller Crime
Remake of the British classic. Jack Carter, a mob enforcer living in Las Vegas, travels back to his hometown of Seattle for his brother's funeral. During this visit, Carter realizes that the death of his brother was not accidental, but a murder. With this knowledge, Carter sets out to kill all those responsible.
20.
Mesrine Part 2: Public Enemy #1 (2008)
1h 45m Drama Thriller Crime
When a seemingly straight-forward drug deal goes awry, XXXX has to break his die-hard rules and turn up the heat, not only to outwit the old regime and come out on top, but to save his own skin...
1h 37m Crime Action Thriller
A tough cop is dispatched to take down a serial killer who has been targeting police officers.
1h 43m Action Thriller
FBI agent Jack Crawford is out for revenge when his partner is killed and all clues point to the mysterious assassin Rogue. But when Rogue turns up years later to take care of some unfinished business, he triggers a violent clash of rival gangs. Will the truth come out before it's too late? And when the dust settles, who will remain standing?
24.
Eastern Promises (2007)
1h 40m Thriller Crime Mystery
A Russian teenager, living in London, dies during childbirth but leaves clues to a midwife in her journal, that could tie her child to a rape involving a violent Russian mob family.
25.
La Linea - The Line (2009)
explore
Check out more list from our community