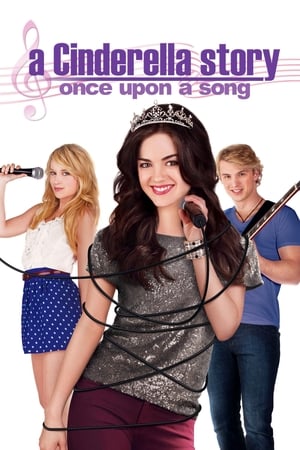 25 Best Movies Like Rags ...
If you liked this film , you will definitely love these too! In this selection we highlight some of the best films that share a very similar mood to '', and are worth checking out.
1.
A Cinderella Story (2004)
1h 35m Comedy
Routinely exploited by her wicked stepmother, the downtrodden Samantha Montgomery is excited about the prospect of meeting her Internet beau at the school's Halloween dance.
1h 38m Family Music Comedy Drama TV Movie Romance
When Mitchie gets a chance to attend Camp Rock, her life takes an unpredictable twist, and she learns just how important it is to be true to yourself.
3.
Another Cinderella Story (2008)
1h 30m Music Comedy
A guy who danced with what could be the girl of his dreams at a costume ball only has one hint at her identity: the Zune she left behind as she rushed home in order to make her curfew. And with a once-in-a-lifetime opportunity in front of him, he sets out to find his masked beauty.
4.
Elle: A Modern Cinderella Tale (2010)
1h 30m Fantasy Drama Science Fiction Family
Elle wants to be a singer/songwriter, but her dreams are cut short by the sudden death of her parents. She moves in with her adoptive uncle, who runs a small independent record label whose biggest act, Sensation, is also Elle's biggest pain.
1h 30m Family Music TV Movie
The film follows a shy, talented musician who pens romantic hip-hop verses only to stand idly by as they're delivered to the girl of his dreams by a proxy, his best friend. Disney Channel original movie.
6.
Camp Rock 2: The Final Jam (2010)
1h 44m Comedy Music TV Movie
Mitchie can't wait to go back to Camp Rock and spend the summer making new music with her friends and superstar Shane Gray. But the slick new camp across the lake, Camp Star, has drummed up some serious competition — featuring newcomers Luke and Dana. In a sensational battle of the bands, with Camp Rock's future at stake, will Camp Star's flashy production and over-the-top antics win out, or will Camp Rockers prove that music, teamwork, and spirit are what truly matter?
1h 38m Drama Music Comedy Family TV Movie
A high school choir is fading in popularity, as it continues to lose most of its' members one by one. A wannabe rock singer is convinced to join the choir, in hopes of winning the upcoming competition and cash prize.
1h 21m Romance Comedy TV Movie Music
Pop star Christopher Wilde has fame, fortune and a big-budget Hollywood movie awaiting him. But after meeting Jessica Olson, a down-to-earth girl from the Midwest, he is faced with following his heart or doing what's best for his career.
9.
Sharpay's Fabulous Adventure (2011)
1h 30m Family Music
After a talent scout spots her performing with her dog Boi at a charity gala, Sharpay Evans sets off for the bright lights of NYC, convinced instant fame and fortune are in the bag. But theatre's a dog-eat-dog world. Fortunately, Sharpay also meets Peyton, a handsome student filmmaker who finds Sharpay nearly as fascinating as she finds herself.
10.
High School Musical (2006)
1h 38m Comedy Drama Family Music Romance TV Movie
Troy, the popular captain of the basketball team, and Gabriella, the brainy and beautiful member of the academic club, break all the rules of East High society when they secretly audition for the leads in the school's musical. As they reach for the stars and follow their dreams, everyone learns about acceptance, teamwork, and being yourself.
11.
The Cheetah Girls (2003)
1h 33m Comedy Drama Family Music TV Movie
A four-member teen girl group named the Cheetah Girls go to a Manhattan High School for the Performing Arts and try to become the first freshmen to win the talent show in the school's history. During the talent show auditions, they meet a big-time producer named Jackal Johnson, who tries to make the group into superstars, but the girls run into many problems.
1h 57m Comedy Music
G.G. Sparrow faces off with her choir's newly appointed director, Vi Rose Hill, over the group's direction as they head into a national competition.
13.
High School Musical 2 (2007)
1h 51m Comedy Drama Family Music Romance TV Movie
The East High Wildcats are gearing up for big fun as they land the coolest summer jobs imaginable. Troy, Gabriella, Chad, and Taylor have scored sweet gigs at the Lava Springs Country Club owned by Sharpay and Ryan's family. Sharpay's first rule of business: Get Troy. As Troy experiences a life of privilege he's never known, will he give up the Wildcats and Gabriella to rise to the top?
1h 37m Comedy Drama Family TV Movie
Dylan Schoenfield is the pink princess of the upscale Los Angeles Woodlands Academy. She has the coolest boyfriend, the most popular friends, and a brand-new it bag that everyone covets. But when she accidentally tosses her Serge Sanchez bag into a fountain, this princess comes face-to-face with her own personal frog, self-professed film geek Josh Rosen. In return for rescuing Dylan's bag, Josh convinces Dylan to let him film her for his documentary on high school popularity. Reluctantly, Dylan lets F-list Josh into her A-list world, and is shocked to realize that sometimes nerds can be pretty cool. But when Dylan's so-called prince charming of a boyfriend dumps her flat, her life and her social status comes to a crashing halt. Can Dylan win the Woodlands Academy Fall Formal Blossom Queen crown? Can Josh win the Woodlands Academy 10th Annual Film Festival? Can Dylan, with Josh's help, pull the pieces together to create her own happily-ever-after?
15.
Lemonade Mouth (2011)
1h 46m Drama Comedy
The story follows five disparate high school students - Olivia, Mo, Charlie, Stella, and Wen who meet in detention. They realize they are destined to rock, and ultimately form a band that becomes a champion for students sidelined by the high school elite.
16.
What a Girl Wants (2003)
1h 45m Comedy Romance Drama Family
An American girl, Daphne, heads to Europe in search of the father she's never met. But instead of finding a British version of her bohemian mother, she learns the love of her mom's life is an uptight politician. The only problem now is that her long-lost dad is engaged to a fiercely territorial social climber with a daughter who makes Daphne's life miserable.
1h 47m Music Comedy Drama Romance
An updated version of the 1980 musical, which centered on the students of the New York Academy of Performing Arts.
18.
High School Musical 3: Senior Year (2008)
1h 57m Comedy Drama Family Music Romance
It's almost graduation day for high school seniors Troy, Gabriella, Sharpay, Chad, Ryan and Taylor ― and the thought of heading off in separate directions after leaving East High has these Wildcats thinking they need to do something they'll remember forever. Together with the rest of the Wildcats, they stage a spring musical reflecting their hopes and fears about the future and their unforgettable experiences growing up together. Will their final show break them apart or bring them together for the greatest moment in Wildcat history?
23m Action & Adventure Comedy
The show follows the Jonas Brothers through fun and unusual situations as they try to live ordinary lives.
20.
The Cheetah Girls: One World (2008)
1h 30m Comedy Drama Family Music TV Movie
Chanel, Dorinda, and Aqua, are off to India to star in a Bollywood movie. But when there they discover that they will have to compete against each other to get the role in the movie. Will the Cheetah's break up again?
1h 25m Drama Comedy Romance
Story revolves around a young boxer, Izzy Daniels, who trains to follow in his father's footsteps by winning the Golden Glove. When his friend, Mary, however, asks him to substitute for a team member in a Double Dutch tournament, the young man discovers a hidden passion for jump roping
22.
King of the Camp (2008)
1h 51m Comedy Drama Family Music Romance
A high school social outcast and the popular girl bond through a shared love of music.
1h 30m Comedy Family
At 104 pounds dripping wet, baby-faced sophomore Michael Peck (age 15) is not exactly the coolest guy at American High. Peck's teachers make him feel like an idiot, his classmates make him feel like a geek and his home life is just as bad, with parents who schedule family time in their planners and require him to sign contracts with them about his extra-curricular activities.
explore
Check out more list from our community