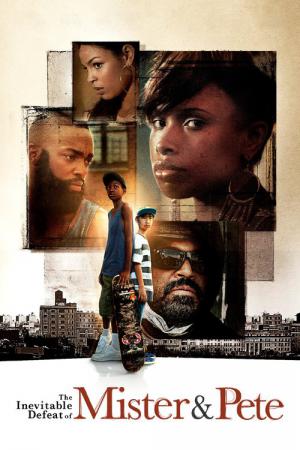 14 Best Movies Like Mister And Pete ...
If you liked this film , you will for sure love these too! In this collection we highlight some of the best films that share a very similar mood to 'The Inevitable Defeat of Mister & Pete', and are worth checking out.
1.
Red Hook Summer (2012)
When his mom deposits him at the Red Hook housing project in Brooklyn to spend the summer with the grandfather he's never met, young Flik may as well have landed on Mars. Fresh from his cushy life in Atlanta, he's bored and friendless, and his strict grandfather, Enoch, a firebrand preacher, is bent on getting him to accept Jesus Christ as his personal savior. Only Chazz, the feisty girl from church, provides a diversion from the drudgery. As hot summer simmers and Sunday mornings brim with Enoch's operatic sermons, things turn anything but dull as people's conflicting agendas collide.
2h 5m
Director, Screenplay: Spike Lee
Screenplay: James McBride
Drama
2.
Just Another Girl on the I.R.T. (1992)
We don't have an overview translated in English. Help us expand our database by adding one.
1h
Documentary
After Davey's father is killed in a hold-up, she and her mother and younger brother visit relatives in New Mexico. Here Davey is befriended by a young man who helps her find the strength to carry on and conquer her fears.
1h 32m
Director, Screenplay: Lawrence Blume
Novel: Judy Blume
Drama
Focusing on the bonding between three female (an African American female, a half African American half Latino American female, and a Latino American female) high school members of Brooklyn's "Jackie Robinson Steppers Marching Band" and the choices the girls face once their school closes down because of the need for asbestos removal. This film is about a host of topics, not least of which is the hard-work involved in maintaining
1h 35m
Director, Writer: Jim McKay
Drama
9.
Just Like the Son (2006)
A petty thief's mentoring of an apparent orphan takes a profound turn when he kidnaps the boy from a foster home and drives him cross-country to his sister's house in Texas.
1h 26m
Director, Writer: Morgan J. Freeman
Drama
10.
Nothing in Return (2015)
Two young boys, Victor and Rainer, take the commuter train to spend the evening in Paris. In a nightclub on the banks of the Seine they go from one disappointment to another, from failed chat ups to street brawls. But as they get carried away by the night, they leave the city for the forest. In the silence of the moonlight nature, the desire between the two friends becomes increasingly vibrant. A new day is born from their friendship.
1h 7m
Director, Writer: Héléna Klotz
Drama
13.
Buddha Mountain (2010)
14.
The Incredible Mrs. Ritchie (2003)
explore
Check out more list from our community