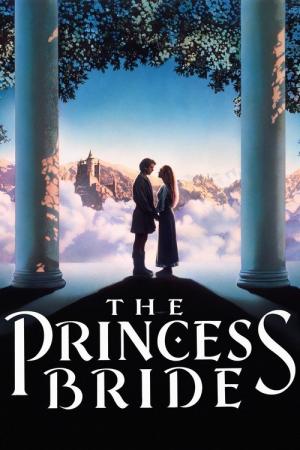 29 Best Movies Like Princess Bride ...
If you liked this one , you will definitely love these too! In this list we highlight some of the best films that share a very similar premise to '', and are worth checking out.
2h 7m Adventure Fantasy Romance Family
In a countryside town bordering on a magical land, a young man makes a promise to his beloved that he'll retrieve a fallen star by venturing into the magical realm. His journey takes him into a world beyond his wildest dreams and reveals his true identity.
1h 42m Adventure Family Fantasy
When teen Sarah is forced to babysit Toby, her baby stepbrother, she summons Jareth the Goblin King to take him away. When he is actually kidnapped, Sarah is given just thirteen hours to solve a labyrinth and rescue him.
2h 6m Action Adventure Fantasy
The evil Queen Bavmorda hunts the newborn princess Elora Danan, a child prophesied to bring about her downfall. When the royal infant is found by Willow, a timid farmer and aspiring sorcerer, he's entrusted with delivering her from evil.
1h 36m Family Fantasy Comedy
Ella lives in a magical world in which each child, at the moment of their birth, is given a virtuous "gift" from a fairy godmother. Ella's so-called gift, however, is obedience. This birthright proves itself to be quite the curse once Ella finds herself in the hands of several unscrupulous characters whom she quite literally cannot disobey. Determined to gain control of her life and decisions, Ella sets off on a journey to find her fairy godmother who she hopes will lift the curse. The path, however, isn't easy -- Ella must outwit a slew of unpleasant obstacles including ogres, giants, wicked stepsisters, elves and Prince Charmont's evil uncle, who wants to take over the crown and rule the kingdom.
1h 43m Fantasy Action Adventure
In an ancient time when majestic fire-breathers soared through the skies, a knight named Bowen comes face to face and heart to heart with the last dragon on Earth, Draco. Taking up arms to suppress a tyrant king, Bowen soon realizes his task will be harder than he'd imagined: If he kills the king, Draco will die as well.
2h 22m Adventure Fantasy Comedy Family
The boy who wasn't supposed grow up—Peter Pan—does just that, becoming a soulless corporate lawyer whose workaholism could cost him his wife and kids. During his trip to see Granny Wendy in London, the vengeful Capt. Hook kidnaps Peter's kids and forces Peter to return to Neverland.
7.
The NeverEnding Story (1984)
1h 42m Drama Family Fantasy Adventure
While hiding from bullies in his school's attic, a young boy discovers the extraordinary land of Fantasia, through a magical book called The Neverending Story. The book tells the tale of Atreyu, a young warrior who, with the help of a luck dragon named Falkor, must save Fantasia from the destruction of The Nothing.
1h 34m Adventure Fantasy
Set in a timeless mythical forest inhabited by fairies, goblins, unicorns and mortals, this fantastic story follows a mystical forest dweller, chosen by fate, to undertake a heroic quest. He must save the beautiful Princess Lili and defeat the demonic Lord of Darkness, or the world will be plunged into a never-ending ice age.
1h 42m Comedy Adventure Fantasy
A fantasy movie about an arrogant, lazy prince and his more heroic brother who must complete a quest in order to save their father's kingdom.
1h 46m Adventure Comedy Drama Family Fantasy
After she spends all her money, an evil enchantress queen schemes to marry a handsome, wealthy prince. There's just one problem - he's in love with a beautiful princess, Snow White. Now, joined by seven rebellious dwarves, Snow White launches an epic battle of good vs. evil...
11.
The Chronicles of Narnia: Prince Caspian (2008)
2h 30m Adventure Family Fantasy
One year after their incredible adventures in the Lion, the Witch and the Wardrobe, Peter, Edmund, Lucy and Susan Pevensie return to Narnia to aid a young prince whose life has been threatened by the evil King Miraz. Now, with the help of a colorful cast of new characters, including Trufflehunter the badger and Nikabrik the dwarf, the Pevensie clan embarks on an incredible quest to ensure that Narnia is returned to its rightful heir.
12.
The Chronicles of Narnia: The Lion, the Witch and the Wardrobe (2005)
2h 23m Adventure Family Fantasy
Siblings Lucy, Edmund, Susan and Peter step through a magical wardrobe and find the land of Narnia. There, they discover a charming, once peaceful kingdom that has been plunged into eternal winter by the evil White Witch, Jadis. Aided by the wise and magnificent lion, Aslan, the children lead Narnia into a spectacular, climactic battle to be free of the Witch's glacial powers forever.
13.
Once Upon a Time (2011)
43m Drama Sci-Fi & Fantasy
There is a town in Maine where every story book character you've ever known is trapped between two worlds, victims of a powerful curse. Only one knows the truth and only one can break the spell.Emma Swan is a 28-year-old bail bonds collector who has been supporting herself since she was abandoned as a baby. Things change for her when her son Henry, whom she abandoned years ago, finds her and asks for her help explaining that she is from a different world where she is Snow White's missing daughter.
2h 1m Adventure Comedy Drama Fantasy
Captain Etienne Navarre is a man on whose shoulders lies a cruel curse. Punished for loving each other, Navarre must become a wolf by night whilst his lover, Lady Isabeau, takes the form of a hawk by day. Together, with the thief Philippe Gaston, they must try to overthrow the corrupt Bishop and in doing so break the spell.
1h 44m Fantasy Action Adventure Family
In his homeland of Alagaesia, a farm boy happens upon a dragon's egg -- a discovery that leads him on a predestined journey where he realized he's the one person who can defend his home against an evil king.
16.
Beauty and the Beast (2017)
2h 9m Family Fantasy Romance
A live-action adaptation of Disney's version of the classic tale of a cursed prince and a beautiful young woman who helps him break the spell.
17.
Robin Hood: Men in Tights (1993)
1h 44m Comedy
Robin Hood comes home after fighting in the Crusades to learn that the noble King Richard is in exile and that the despotic King John now rules England, with the help of the Sheriff of Rottingham. Robin Hood assembles a band of fellow patriots to do battle with King John and the Sheriff.
18.
The Secret of Moonacre (2008)
1h 43m Adventure Fantasy Drama Science Fiction Romance Family
When 13 year old Maria Merryweather's father dies, leaving her orphaned and homeless, she is forced to leave her luxurious London life to go and live with Sir Benjamin, an eccentric uncle she didn't know she had, at the mysterious Moonacre Manor.
1h 37m Fantasy Adventure Action Family Romance
A beautiful, pure-hearted young woman, Maleficent has an idyllic life growing up in a peaceable forest kingdom, until one day when an invading army threatens the harmony of the land. Maleficent rises to be the land's fiercest protector, but she ultimately suffers a ruthless betrayal – an act that begins to turn her heart into stone. Bent on revenge, Maleficent faces an epic battle with the invading King's successor and, as a result, places a curse upon his newborn infant Aurora. As the child grows, Maleficent realizes that Aurora holds the key to peace in the kingdom – and to Maleficent's true happiness as well.
20.
The Chronicles of Narnia: The Voyage of the Dawn Treader (2010)
1h 53m Adventure Family Fantasy
This time around Edmund and Lucy Pevensie, along with their pesky cousin Eustace Scrubb find themselves swallowed into a painting and on to a fantastic Narnian ship headed for the very edges of the world.
21.
The Magical Legend of the Leprechauns (1999)
1h 25m Drama Family Sci-Fi & Fantasy
In a land of myth and magic, a forbidden love affair ignites an ancient war between the leprechauns and the trooping fairies. Jack Woods is appointed to restore harmony...but will peace prevail before the unthinkable happens?
1h 41m Fantasy Drama
In a fantasy world of opposing kingdoms, a 15-year old girl must find the fabled MirrorMask in order to save the kingdom and get home
23.
Maleficent: Mistress of Evil (2019)
1h 59m Family Fantasy Adventure
Maleficent and her goddaughter Aurora begin to question the complex family ties that bind them as they are pulled in different directions by impending nuptials, unexpected allies, and dark new forces at play.
24.
The Three Musketeers (1993)
1h 45m Action Adventure Comedy
D'Artagnan travels to Paris hoping to become a musketeer, one of the French king's elite bodyguards, only to discover that the corps has been disbanded by conniving Cardinal Richelieu, who secretly hopes to usurp the throne. Fortunately, Athos, Porthos and Aramis have refused to lay down their weapons and continue to protect their king. D'Artagnan joins with the rogues to expose Richelieu's plot against the crown.
25.
Three Wishes for Cinderella (1973)
1h 22m Fantasy Drama Family Adventure Romance
Popelka, a resourceful and independent young girl, is a servant in her stepmother's house and confides her closest friend the owl. When she comes across three magical acorns, she's granted a single wish for each one of them.
26.
The Jungle Book (1994)
1h 51m Family Adventure Drama
Raised by wild animals since childhood, Mowgli is drawn away from the jungle by the beautiful Kitty. But Mowgli must eventually face corrupt Capt. Boone, who wants both Kitty's hand and the treasures of Monkey City – a place only Mowgli can find.
1h 38m Adventure Family Western
A young boy draws on the inspiration of legendary western characters to find the strength to fight an evil land baron in the old west who wants to steal his family's farm and destroy their idyllic community. When Daniel Hackett sees his father Jonas gravely wounded by the villainous Stiles, his first urge is for his family to flee the danger, and give up their life on a farm which Daniel has come to despise anyway. Going alone to a lake to try to decide what to do, he falls asleep on a boat and wakes to find himself in the wild west, in the company of such "tall tale" legends as Pecos Bill, Paul Bunyan, John Henry and Calamity Jane. Together, they battle the same villains Daniel is facing in his "real" world, ending with a heroic confrontation in which the boy stands up to Stiles and his henchmen, and rallies his neighbors to fight back against land grabbers who want to destroy their town.
28.
Oz the Great and Powerful (2013)
2h 10m Fantasy Adventure Family
Oscar Diggs, a small-time circus illusionist and con-artist, is whisked from Kansas to the Land of Oz where the inhabitants assume he's the great wizard of prophecy, there to save Oz from the clutches of evil.
explore
Check out more list from our community