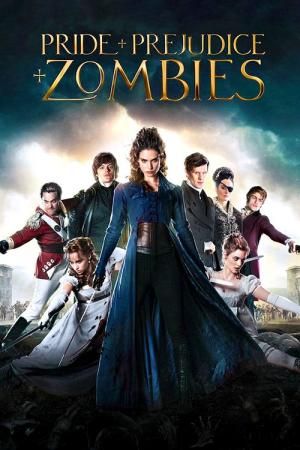 30 Best Movies Like Pride And Prejudice And Zombies ...
If you liked this film , you will for sure love these too! In this selection we highlight some of the best films that share a very similar mood to '', and are worth checking out.
1h 37m Horror Comedy Romance
After a zombie becomes involved with the girlfriend of one of his victims, their romance sets in motion a sequence of events that might transform the entire lifeless world.
2.
The Mortal Instruments: City of Bones (2013)
2h 10m Fantasy Action Mystery
In New York City, Clary Fray, a seemingly ordinary teenager, learns that she is descended from a line of Shadowhunters — half-angel warriors who protect humanity from evil forces. After her mother disappears, Clary joins forces with a group of Shadowhunters and enters Downworld, an alternate realm filled with demons, vampires, and a host of other creatures. Clary and her companions must find and protect an ancient cup that holds the key to her mother's future.
3.
Hansel & Gretel: Witch Hunters (2013)
1h 28m Fantasy Horror Action
After getting a taste for blood as children, Hansel and Gretel have become the ultimate vigilantes, hell-bent on retribution. Now, unbeknownst to them, Hansel and Gretel have become the hunted, and must face an evil far greater than witches... their past.
4.
Dawn of the Dead (2004)
1h 41m Action Horror
A group of survivors take refuge in a shopping mall after the world is taken over by aggressive, flesh-eating zombies.
1h 56m Action Drama Horror Science Fiction Thriller
Life for former United Nations investigator Gerry Lane and his family seems content. Suddenly, the world is plagued by a mysterious infection turning whole human populations into rampaging mindless zombies. After barely escaping the chaos, Lane is persuaded to go on a mission to investigate this disease. What follows is a perilous trek around the world where Lane must brave horrific dangers and long odds to find answers before human civilization falls.
6.
Pride & Prejudice (2005)
2h 7m Drama Romance
A story of love and life among the landed English gentry during the Georgian era. Mr. Bennet is a gentleman living in Hertfordshire with his overbearing wife and five daughters, but if he dies their house will be inherited by a distant cousin whom they have never met, so the family's future happiness and security is dependent on the daughters making good marriages.
7.
I, Frankenstein (2014)
1h 32m Horror Thriller
200 years after his shocking creation, Dr. Frankenstein's creature, Adam, still walks the earth. But when he finds himself in the middle of a war over the fate of humanity, Adam discovers he holds the key that could destroy humankind.
8.
Resident Evil: The Final Chapter (2016)
1h 47m Action Horror Science Fiction
Picking up immediately after the events in Resident Evil: Retribution, Alice is the only survivor of what was meant to be humanity's final stand against the undead. Now, she must return to where the nightmare began - The Hive in Raccoon City, where the Umbrella Corporation is gathering its forces for a final strike against the only remaining survivors of the apocalypse.
9.
Resident Evil: Afterlife (2010)
1h 37m Action Adventure Horror Science Fiction
In a world ravaged by a virus infection, turning its victims into the Undead, Alice continues on her journey to find survivors and lead them to safety. Her deadly battle with the Umbrella Corporation reaches new heights, but Alice gets some unexpected help from an old friend. A new lead that promises a safe haven from the Undead takes them to Los Angeles, but when they arrive the city is overrun by thousands of Undead - and Alice and her comrades are about to step into a deadly trap.
1h 39m Thriller Horror
Abraham Van Helsing, who has tangled with Count Dracula in the past, works as an English antiques dealer. Simon is a vampire hunter in training under his apprenticeship.
2h 1m Comedy Drama Romance
Emma Woodhouse is a congenial young lady who delights in meddling in other people's affairs. She is perpetually trying to unite men and women who are utterly wrong for each other. Despite her interest in romance, Emma is clueless about her own feelings, and her relationship with gentle Mr. Knightly.
13.
Mansfield Park (1999)
1h 52m Drama Romance
When spirited young woman, Fanny Price is sent away to live on the great country estate of her rich cousins, she's meant to learn the ways of proper society. But while Fanny learns 'their' ways, she also enlightens them with a wit and sparkle all her own.
14.
The Wedding Date (2005)
1h 28m Comedy Romance
With the wedding of her younger sister fast approaching, Kat Ellis faces the undesirable prospect of traveling alone to London for the ceremony. While this is bad enough, Jeffrey, the man who left her as they moved closer to marriage, happens to be the groom's best man. Determined to show everyone -- most of all Jeffrey -- that her romantic life is as full and thrilling as ever, Kat hires a charming male escort as her date.
15.
Blood and Chocolate (2007)
1h 38m Drama Fantasy Horror Romance
A young teenage werewolf is torn between honoring her family's secret and her love for a man.
16.
Dylan Dog: Dead of Night (2010)
1h 42m Action Fantasy Horror
A troubled young man is drawn to a mythical place called Midian where a variety of monsters are hiding from humanity.
18.
Underworld: Awakening (2012)
1h 28m Fantasy Action Horror
Having escaped years of imprisonment, vampire warrioress Selene finds herself in a changed world where humans have discovered the existence of both Vampire and Lycan clans and are conducting an all-out war to eradicate both immortal species. Now Selene must battle the humans and a frightening new breed of super Lycans to ensure the death dealers' survival.
1h 37m Horror Action Comedy Science Fiction
A quaint Australian fishing village is overcome by meteorites that turn its residents into the ravenous undead, leaving a small group of those unharmed to find a way out.
20.
Dead Snow 2: Red vs. Dead (2014)
1h 40m Horror Action Comedy
The gruesome Nazi Zombies are back to finish their mission, but our hero is not willing to die. He is gathering his own army to give them a final fight.
21.
Resident Evil: Retribution (2012)
1h 35m Action Horror Science Fiction
The Umbrella Corporation's deadly T-virus continues to ravage the Earth, transforming the global population into legions of the flesh eating Undead. The human race's last and only hope, Alice, awakens in the heart of Umbrella's most clandestine operations facility and unveils more of her mysterious past as she delves further into the complex. Without a safe haven, Alice continues to hunt those responsible for the outbreak; a chase that takes her from Tokyo to New York, Washington, D.C. and Moscow, culminating in a mind-blowing revelation that will force her to rethink everything that she once thought to be true. Aided by new found allies and familiar friends, Alice must fight to survive long enough to escape a hostile world on the brink of oblivion. The countdown has begun.
22.
Underworld: Blood Wars (2016)
1h 31m Fantasy Action Thriller
Vampire death dealer Selene fends off brutal attacks from both the Lycan clan and the Vampire faction that betrayed her. With her only allies, David and his father Thomas, she must stop the eternal war between Lycans and Vampires, even if it means she has to make the ultimate sacrifice.
1h 37m Horror Comedy
A werewolf loose in Los Angeles changes the lives of three young adults, who, after being mauled by the beast, learn they must kill their attacker if they hope to change their fate to avoid becoming werewolves too.
1h 20m Comedy Horror
A boy declares his love for his girlfriend, only to die the same night. He is brought back to life by his mother as a flesh-craving zombie, who sires more teen undead while trying to control his, er, appetite for his beloved.
25.
The Legend of Tarzan (2016)
1h 49m Fantasy Action Adventure Drama Romance
Tarzan, having acclimated to life in London, is called back to his former home in the jungle to investigate the activities at a mining encampment.
2h 2m Fantasy Action
In the final days of World War II, the Nazis attempt to use black magic to aid their dying cause. The Allies raid the camp where the ceremony is taking place, but not before a demon—Hellboy—has already been conjured. Joining the Allied forces, Hellboy eventually grows to adulthood, serving the cause of good rather than evil.
27.
An American Werewolf in Paris (1997)
1h 45m Horror Comedy
An American man unwittingly gets involved with werewolves who have developed a serum allowing them to transform at will.
28.
Far from the Madding Crowd (2015)
1h 59m Drama Romance
Based on the literary classic by Thomas Hardy. Bathsheba Everdene, attracts three very different suitors: Gabriel Oak, a sheep farmer, captivated by her fetching willfulness; Frank Troy, a handsome and reckless Sergeant; and William Boldwood, a prosperous and mature bachelor. This timeless story of Bathsheba's choices and passions explores the nature of relationships and love – as well as the human ability to overcome hardships through resilience and perseverance.
29.
Pride and Prejudice (2003)
1h 44m Romance Comedy
Elizabeth Bennet is a hard-working, intelligent college student who won't even think about marriage until she graduates. But when she meets Jack Wickham, a good-looking playboy, and Darcy, a sensible businessman, Elizabeth's determination is put to the test. Will she see through their exteriors and discover their true intentions? Based on Jane Austen's timeless tale Pride and Prejudice.
explore
Check out more list from our community