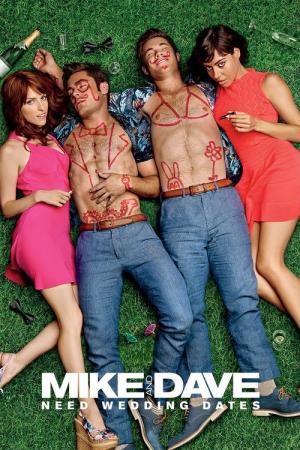 30 Best Movies Like Mike And Dave Need Wedding Dates ...
If you liked this film , you will definitely love these too! In this selection we highlight some of the best films that share a very similar premise to '', and are worth checking out.
1h 42m Comedy
Jason Kelly is one week away from marrying his boss's uber-controlling daughter, putting him on the fast track for a partnership at the law firm. However, when the straight-laced Jason is tricked into driving his foul-mouthed grandfather, Dick, to Daytona for spring break, his pending nuptials are suddenly in jeopardy. Between riotous frat parties, bar fights, and an epic night of karaoke, Dick is on a quest to live his life to the fullest and bring Jason along for the ride.
1h 37m Comedy
A couple with a newborn baby face unexpected difficulties after they are forced to live next to a fraternity house.
1h 40m Comedy
When three overworked and under-appreciated moms are pushed beyond their limits, they ditch their conventional responsibilities for a jolt of long overdue freedom, fun, and comedic self-indulgence.
1h 32m Comedy
A lazy, incompetent middle school teacher who hates her job and her students is forced to return to her job to make enough money for a boob job after her rich fiancé dumps her.
5.
Neighbors 2: Sorority Rising (2016)
1h 32m Comedy
A sorority moves in next door to the home of Mac and Kelly Radner who have a young child. The Radner's enlist their former nemeses from the fraternity to help battle the raucous sisters.
1h 51m Comedy
A dad forms a bitter rivalry with his daughter's young rich boyfriend.
7.
You, Me and Dupree (2006)
1h 48m Comedy Romance
After standing in as best man for his longtime friend Carl Petersen, Randy Dupree loses his job, becomes a barfly and attaches himself to the newlywed couple almost permanently -- as their houseguest. But the longer Dupree camps out on their couch, the closer he gets to Carl's bride, Molly, leaving the frustrated groom wondering when his pal will be moving out.
8.
The House Bunny (2008)
1h 37m Romance Comedy
Shelley is living a carefree life until a rival gets her tossed out of the Playboy Mansion. With nowhere to go, fate delivers her to the sorority girls from Zeta Alpha Zeta. Unless they can sign a new pledge class, the seven socially clueless women will lose their house to the scheming girls of Phi Iota Mu. In order to accomplish their goal, they need Shelley to teach them the ways of makeup and men; at the same time, Shelley needs some of what the Zetas have - a sense of individuality. The combination leads all the girls to learn how to stop pretending and start being themselves.
9.
The Heartbreak Kid (2007)
1h 56m Comedy Romance
Eddie, the 40-year-old confirmed bachelor finally says "I do" to the beautiful and sexy Lila. But during their honeymoon in Mexico, the woman of his dreams turns out to be a total nightmare, and the guy who could never pull the trigger realizes he's jumped the gun.
10.
That Awkward Moment (2014)
1h 34m Comedy Romance
Best pals Jason and Daniel indulge in casual flings and revel in their carefree, unattached lives. After learning that the marriage of their friend Mikey is over, they gladly welcome him back into their circle. The three young men make a pact to have fun and avoid commitment. However, when all three find themselves involved in serious relationships, they must keep their romances secret from one another.
11.
40 Days and 40 Nights (2002)
1h 34m Comedy Romance
Matt Sullivan's last big relationship ended in disaster and ever since his heart's been aching and his commitment's been lacking. Then came Lent, that time of year when everybody gives something up. That's when Matt decides to go where no man's gone before and make a vow: No sex. Whatsoever. For 40 straight days. At first he has everything under control. That is until the woman of his dreams, Erica, walks into his life.
12.
Just Go with It (2011)
1h 57m Comedy Romance
A plastic surgeon, romancing a much younger schoolteacher, enlists his loyal assistant to pretend to be his soon to be ex-wife, in order to cover up a careless lie. When more lies backfire, the assistant's kids become involved, and everyone heads off for a weekend in Hawaii that will change all their lives.
1h 27m Comedy Romance
Three friends are asked to be bridesmaids at a wedding of a woman they used to ridicule back in high school.
14.
The Sweetest Thing (2002)
1h 24m Romance Comedy
Christina's love life is stuck in neutral. After years of avoiding the hazards of a meaningful relationship, one night while club-hopping with her girlfriends, she meets Peter, her perfect match. Fed up with playing games, she finally gets the courage to let her guard down and follow her heart, only to discover that Peter has suddenly left town. Accompanied by Courtney, she sets out to capture the one that got away.
1h 35m Comedy Romance
Tom Leezak and Sarah McNerney fall in love and plan to get married, despite opposition from Sarah's uptight, rich family. When they do get married, and get a chance to prove Sarah's family wrong, they go on a European honeymoon and run into disaster after disaster. They have to decide whether the honeymoon from hell and a few pre-marital mistakes are worth throwing away their love and marriage.
17.
Forgetting Sarah Marshall (2008)
1h 51m Comedy Romance Drama
When Sarah Marshall dumps aspiring musician Peter Bretter for rock star Aldous Snow, Peter's world comes crashing down. His best friend suggests that Peter should get away from everything and to fly off to Hawaii to escape all his problems. After arriving in Hawaii and meeting the beautiful Rachel Jansen, Peter is shocked to see not only Aldous Snow in Hawaii, but also Sarah Marshall.
1h 34m Romance Comedy
Both dumped by their girlfriends, two best friends seek refuge in the local mall.
20.
Wedding Crashers (2005)
1h 59m Comedy Romance
John and his buddy, Jeremy are emotional criminals who know how to use a woman's hopes and dreams for their own carnal gain. Their modus operandi: crashing weddings. Normally, they meet guests who want to toast the romantic day with a random hook-up. But when John meets Claire, he discovers what true love – and heartache – feels like.
1h 49m Comedy Adventure Romance
A high school senior drives cross-country with his best friends to hook up with a babe he met online.
22.
There's Something About Mary (1998)
23.
Deuce Bigalow: Male Gigolo (1999)
1h 28m Comedy
Deuce Bigalow is a less than attractive, down on his luck aquarium cleaner. One day he wrecks the house of a gigolo and needs quick money to repair it. The only way he can make it is to become a gigolo himself, taking on an unusual mix of female clients. He encounters a couple of problems, though. He falls in love with one of his unusual clients, and a sleazy police officer is hot on his trail.
24.
The Little Hours (2017)
25.
No Strings Attached (2011)
1h 47m Comedy Romance
Emma is a busy doctor who sets up a seemingly perfect arrangement when she offers her best friend Adam a relationship with one rule: No strings attached. But when a fling becomes a thing, can sex friends stay best friends?
26.
There's a Girl in My Soup (1970)
27.
Good Luck Chuck (2007)
1h 41m Comedy
Cursed since childhood, dentist Charlie Logan cannot find the right woman. Even worse, he learns that each of his ex-girlfriends finds true love with the man she meets after her relationship with him ends. Hearing of Charlie's reputation as a good-luck charm, women from all over line up for a quick tryst. But when Charlie meets the woman of his dreams, he must find a way to break the curse or risk losing her to the next man she meets.
1h 29m Comedy Romance
Two best friends become rivals when their respective weddings are accidentally booked for the same day.
1h 41m Comedy Romance
Paul Morse is a good guy. When his friends throw him a wild bachelor party, he just wants to keep his conscience clean -- which is why he's shocked when he wakes up in bed with a beautiful girl named Becky and can't remember the night before. Desperate to keep his fiancée, Karen, from finding out what may or may not be the truth, he tells her a teensy lie. Soon his lies are spiraling out of control and his life is a series of comical misunderstandings.
explore
Check out more list from our community