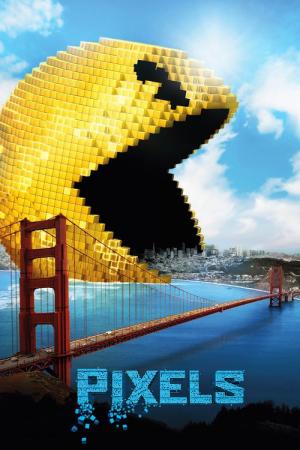 31 Best Movies Like Pixels ...
If you liked this film , you will for sure love these too! In this collection we highlight some of the best films that share a very similar premise to '', and are worth checking out.
1h 28m Action Comedy Family Adventure
Carmen and Juni think their parents are boring. Little do they know that in their day, Gregorio and Ingrid Cortez were the top secret agents from their respective countries. They gave up that life to raise their children. Now, the disappearances of several of their old colleagues forces the Cortez' return from retirement. What they didn't count on was Carmen and Juni joining the "family business."
2.
Super Mario Bros. (1993)
1h 44m Science Fiction Adventure Comedy Family
Mario and Luigi, plumbers from Brooklyn, find themselves in an alternate universe where evolved dinosaurs live in hi-tech squalor. They're the only hope to save our universe from invasion by the dino dictator, Koopa.
30m Animation Action & Adventure
Alienators: Evolution Continues is a traditionally animated series based on the moderately successful live-action feature film, Evolution.
1h 23m Family Comedy Adventure Action Science Fiction
Jack Shepard is an out-of-shape auto shop owner, far removed from the man who once protected the world's freedom. Reluctantly called back into action by the government, Jack is tasked with turning a ragtag group of kids with special powers into a new generation of superheroes to save the world from certain destruction.
1h 29m Action Adventure Comedy Science Fiction
Two brothers have half of a powerful ancient Chinese talisman. An evil gang leader has the other half, and determines to get the brothers' half and have a complete medallion so he can gain absolute power.
1h 52m Science Fiction Adventure Action
16-year-old Cassie Sullivan tries to survive in a world devastated by the waves of an alien invasion that has already decimated the population and knocked mankind back to the Stone Age.
7.
Fantastic 4: Rise of the Silver Surfer (2007)
1h 32m Adventure Fantasy Action Thriller
The Fantastic Four return to the big screen as a new and all powerful enemy threatens the Earth. The seemingly unstoppable 'Silver Surfer', but all is not what it seems and there are old and new enemies that pose a greater threat than the intrepid superheroes realize.
8.
Suburban Commando (1991)
1h 28m Action Comedy Family Science Fiction
Shep Ramsey is an interstellar hero, righting wrongs, etc. His ship is damaged after a fight with an interstellar nasty and he must hide out on Earth until it can recharge. He leaves his power suit at home, but still finds himself unable to allow wrongs to go unrighted and so mixes it up with bad drivers, offensive paperboys, muggers and the like.
1h 42m Comedy Action Science Fiction Mystery
Four everyday suburban guys come together as an excuse to escape their humdrum lives one night a week. But when they accidentally discover that their town has become overrun with aliens posing as ordinary suburbanites, they have no choice but to save their neighborhood - and the world - from total extermination.
1h 32m Science Fiction Action
When strange lights descend on the city of Los Angeles, people are drawn outside like moths to a flame where an extraterrestrial force threatens to swallow the entire human population off the face of the Earth. Now the band of survivors must fight for their lives as the world unravels around them.
1h 38m Thriller Action Comedy Science Fiction
Cabbie-turned-chauffeur Jimmy Tong learns there is really only one rule when you work for playboy millionaire Clark Devlin : Never touch Devlin's prized tuxedo. But when Devlin is temporarily put out of commission in an explosive accident, Jimmy puts on the tux and soon discovers that this extraordinary suit may be more black belt than black tie. Paired with a partner as inexperienced as he is, Jimmy becomes an unwitting secret agent.
1h 30m TV Movie Comedy Family Fantasy
Four very different high school teenagers battle trolls, ghouls and a dark leader of them named Maldark in a video game that goes haywire and releases the battle into the real world.
2h 23m Science Fiction Action Adventure
When an unexpected enemy emerges and threatens global safety and security, Nick Fury, director of the international peacekeeping agency known as S.H.I.E.L.D., finds himself in need of a team to pull the world back from the brink of disaster. Spanning the globe, a daring recruitment effort begins!
14.
Bedtime Stories (2008)
1h 39m Fantasy Comedy Family Romance
Skeeter Bronson is a down-on-his-luck guy who's always telling bedtime stories to his niece and nephew. But his life is turned upside down when the fantastical stories he makes up for entertainment inexplicably turn into reality. Can a bewildered Skeeter manage his own unruly fantasies now that the outrageous characters and situations from his mind have morphed into actual people and events?
15.
Small Soldiers (1998)
16.
Spy Kids 3-D: Game Over (2003)
1h 24m Action Adventure Comedy Family Science Fiction
Carmen's caught in a virtual reality game designed by the Kids' new nemesis, the Toymaker. It's up to Juni to save his sister, and ultimately the world.
17.
Zathura: A Space Adventure (2005)
1h 41m Family Fantasy Science Fiction Adventure Comedy
After their father is called into work, two young boys, Walter and Danny, are left in the care of their teenage sister, Lisa, and told they must stay inside. Walter and Danny, who anticipate a boring day, are shocked when they begin playing Zathura, a space-themed board game, which they realize has mystical powers when their house is shot into space. With the help of an astronaut, the boys attempt to return home.
1h 38m Action Adventure Comedy Science Fiction
After a police chase with an otherworldly being, a New York City cop is recruited as an agent in a top-secret organization established to monitor and police alien activity on Earth: the Men in Black. Agent Kay and new recruit Agent Jay find themselves in the middle of a deadly plot by an intergalactic terrorist who has arrived on Earth to assassinate two ambassadors from opposing galaxies.
1h 22m Action Comedy
America's 7th Best Superhero Team, the Specials, are a group of geeks and oddballs. We get to see one day in their lives as fan and new member Nightbird joins the group, just in time for the group to get a new line of action figures. But the members' extreme personalities and personal issues threaten to rip the group apart.
20.
Battle Los Angeles (2011)
1h 56m Action Science Fiction
When once distant UFOs become a terrifying threat attacking Earth, a Marine staff sergeant and his team take it upon themselves to face the enemy and protect what remains of the planet.
21.
Teenage Mutant Ninja Turtles: Out of the Shadows (2016)
1h 52m Action Adventure Comedy Family Science Fiction
After supervillain Shredder escapes custody, he joins forces with mad scientist Baxter Stockman and two dimwitted henchmen, Bebop and Rocksteady, to unleash a diabolical plan to take over the world. As the Turtles prepare to take on Shredder and his new crew, they find themselves facing an even greater evil with similar intentions: the notorious Krang.
22.
Aliens in the Attic (2009)
1h 26m Adventure Comedy Family Fantasy Science Fiction
A group of kids must protect their vacation home from invading aliens.
23.
Spy Kids 2: Island of Lost Dreams (2002)
1h 40m Action Adventure Family Comedy
Exploring the further adventures of Carmen and Juni Cortez, who have now joined the family spy business as Level 2 OSS agents. Their new mission is to save the world from a mad scientist living on a volcanic island populated by an imaginative menagerie of creatures. On this bizarre island, none of the Cortez's gadgets work and they must rely on their wits--and each other--to survive and save the day.
24.
Spy Kids: All the Time in the World in 4D (2011)
1h 29m Family Comedy Action
Eight years after the third film, the OSS has become the world's top spy agency, while the Spy Kids department has since become defunct. A retired spy Marissa is thrown back into the action along with her stepchildren when a maniacal Timekeeper attempts to take over the world. In order to save the world, Rebecca and Cecil must team up with their hated stepmother. Carmen and Juni have since also grown up and will provide gadgets to them.
1h 47m Comedy Fantasy
After losing their academic posts at a prestigious university, a team of parapsychologists goes into business as proton-pack-toting "ghostbusters" who exterminate ghouls, hobgoblins and supernatural pests of all stripes. An ad campaign pays off when a knockout cellist hires the squad to purge her swanky digs of demons that appear to be living in her refrigerator.
1h 57m Science Fiction Action Adventure
Armed with the astonishing ability to shrink in scale but increase in strength, master thief Scott Lang must embrace his inner-hero and help his mentor, Doctor Hank Pym, protect the secret behind his spectacular Ant-Man suit from a new generation of towering threats. Against seemingly insurmountable obstacles, Pym and Lang must plan and pull off a heist that will save the world.
23m Action & Adventure Animation Family Sci-Fi & Fantasy
Transformers Animated is an Japanese/American animated television series based on the Transformers toy line. The series debuted on Cartoon Network on December 26, 2007, and has been shown on NickToons in the UK since February 2008. It is produced by Cartoon Network Studios and animated by The Answer Studio, MOOK DLE., and Studio 4°C . The series has 42 episodes across three seasons. The European Jetix began to air the series on September 10, 2008. The series began its broadcast in Japan on April 3, 2010, on both TV Aichi and TV Tokyo. The Japanese version of the cartoon was slightly rewritten to tie into Michael Bay's Transformers trilogy.The show's continuity is separate from any other previous Transformers series, despite using footage from the first series in its first episode as a historical film. Despite being a Cartoon Network original series, the show was aired on Nicktoons in the UK, Jetix/Disney XD in the rest of Europe and finally, back in the states on The Hub in high definition.
29.
Transformers: Dark of the Moon (2011)
2h 34m Action Science Fiction Adventure
The Autobots continue to work for NEST, now no longer in secret. But after discovering a strange artifact during a mission in Chernobyl, it becomes apparent to Optimus Prime that the United States government has been less than forthright with them.
30.
The Meteor Man (1993)
explore
Check out more list from our community