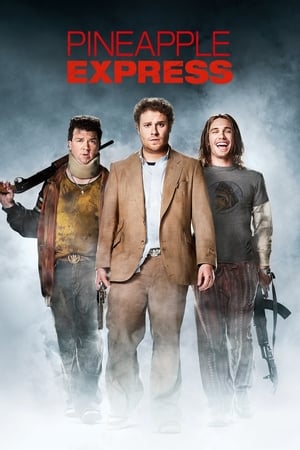 11 Best Movies Like Pineapple Express ...
If you liked this movie , you will definitely love these too! In this selection we highlight some of the best films that share a very similar premise to 'Pineapple Express', and are worth checking out.
1h 33m Action Comedy Crime
Miles Logan is a jewel thief who just hit the big time by stealing a huge diamond. However, after two years in jail, he comes to find out that he hid the diamond in a police building that was being built at the time of the robbery. In an attempt to regain his diamond, he poses as an LAPD detective.
1h 49m Action Comedy Crime
In high school, Schmidt was a dork and Jenko was the popular jock. After graduation, both of them joined the police force and ended up as partners riding bicycles in the city park. Since they are young and look like high school students, they are assigned to an undercover unit to infiltrate a drug ring that is supplying high school students synthetic drugs.
1h 39m Action Comedy
For the past two years, high-school security guard Ben has been trying to show decorated APD detective James that he's more than just a video-game junkie who's unworthy of James' sister, Angela. When Ben finally gets accepted into the academy, he thinks he's earned the seasoned policeman's respect and asks for his blessing to marry Angela. Knowing that a ride along will demonstrate if Ben has what it takes to take care of his sister, James invites him on a shift designed to scare the hell out of the trainee. But when the wild night leads them to the most notorious criminal in the city, James will find that his new partner's rapid-fire mouth is just as dangerous as the bullets speeding at it.
1h 40m Action Comedy Crime
The adventures of two California Highway Patrol motorcycle officers as they make their rounds on the freeways of Los Angeles.
5.
Loaded Weapon 1 (1993)
1h 24m Comedy Crime Action
An LA detective is murdered because she has microfilm with the recipe to make cocaine cookies. Two cops partner to find and stop the fiends before they can dope the nation by distributing their wares via the 'Wilderness Girls' cookie drive.
6.
Harold & Kumar Escape from Guantanamo Bay (2008)
1h 47m Comedy Adventure
Having satisfied their urge for White Castle, Harold and Kumar jump on a plane to catch up with Harold's love interest, who's headed for the Netherlands. But the pair must change their plans when Kumar is accused of being a terrorist. Rob Corddry also stars in this wild comedy sequel that follows the hapless stoners' misadventures as they try to avoid being captured by the Department of Homeland Security.
1h 24m Comedy
Jane, a struggling but perpetually stoned actress, has a busy day ahead. She has several important tasks on her list, including buying more marijuana. Even though she already has a good start on the day's planned drug use, she eats her roommate's pot-laced cupcakes and embarks on a series of misadventures all over Los Angeles.
8.
Jay and Silent Bob Strike Back (2001)
1h 44m Comedy
When Jay and Silent Bob learn that their comic-book alter egos, Bluntman and Chronic, have been sold to Hollywood as part of a big-screen movie that leaves them out of any royalties, the pair travels to Tinseltown to sabotage the production.
1h 24m Action Comedy Crime
Two inept criminals are mistakenly delivered a package of cocaine and think they've hit the jackpot, triggering a series of events that changes ten people's lives forever.
10.
22 Jump Street (2014)
1h 52m Crime Comedy Action
After making their way through high school (twice), big changes are in store for officers Schmidt and Jenko when they go deep undercover at a local college. But when Jenko meets a kindred spirit on the football team, and Schmidt infiltrates the bohemian art major scene, they begin to question their partnership. Now they don't have to just crack the case - they have to figure out if they can have a mature relationship. If these two overgrown adolescents can grow from freshmen into real men, college might be the best thing that ever happened to them.
11.
Let's Go to Prison (2006)
1h 15m Reality
German version of Dancing with the Stars, the reality competition in which celebrities perform choreographed dance routines which are judged by a panel of renowned ballroom experts and voted on by viewers.
explore
Check out more list from our community