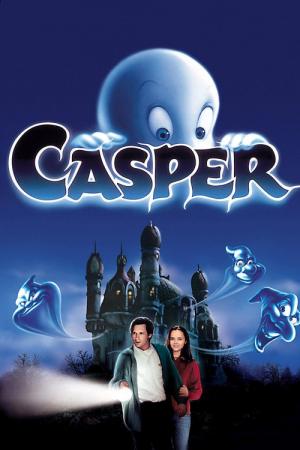 21 Best Movies Like Casper ...
If you liked this film , you will definitely love these too! In this selection we highlight some of the best films that share a very similar mood to '', and are worth checking out.
1h 44m Adventure Fantasy Family
When siblings Judy and Peter discover an enchanted board game that opens the door to a magical world, they unwittingly invite Alan -- an adult who's been trapped inside the game for 26 years -- into their living room. Alan's only hope for freedom is to finish the game, which proves risky as all three find themselves running from giant rhinoceroses, evil monkeys and other terrifying creatures.
1h 26m Adventure Comedy Family Fantasy
Murray is a male fairy godmother, and he is trying to help 8-year-old Anabel to fulfil her "simple wish" - that her father Oliver, who is a cab driver, would win the leading role in a Broadway musical. Unfortunately, Murray's magic wand is broken and the fairies convention is threatened by evil witches Claudia and Boots.
3.
The Haunted Mansion (2003)
1h 39m Thriller Fantasy Comedy Family Mystery
Workaholic Jim Evers and his wife/business partner Sara get a call one night from a mansion owner, Edward Gracey, who wants to sell his house. Once the Evers family arrive at the mansion, a torrential thunderstorm of mysterious origin strands them with the brooding, eccentric Gracey, his mysterious butler, and a variety of residents both seen and unseen.
1h 38m Comedy Family Fantasy
An extraordinarily intelligent young girl from a cruel and uncaring family discovers she possesses telekinetic powers and is sent off to a school headed by a tyrannical principal.
5.
Little Monsters (1989)
1h 42m Adventure Fantasy Comedy Family
A young boy is scared of the monster under his bed. He asks his 6th grade brother to swap rooms for the night as a bet that the monster really exists. Soon the brother becomes friends with the monster and discovers a whole new world of fun and games under his bed where pulling pranks on kids and other monsters is the main attraction.
1h 36m Comedy Family Fantasy
After 300 years of slumber, three sister witches are accidentally resurrected in Salem on Halloween night, and it is up to three kids and their newfound feline friend to put an end to the witches' reign of terror once and for all.
7.
The Little Vampire (2000)
1h 35m Family Adventure Comedy Fantasy
Based on the popular books, the story tells of Tony who wants a friend to add some adventure to his life. What he gets is Rudolph, a vampire kid with a good appetite. The two end up inseparable, but their fun is cut short when all the hopes of the vampire race could be gone forever in single night. With Tony's access to the daytime world, he helps them to find what they've always wanted.
1h 24m Comedy Family Fantasy
A widower with three children is working on a business deal to get his family out of financial straits when he is killed in a taxi accident. With the aid of a paranormal researcher, he attempts to complete the deal from the beyond, ensuring his family will be taken care of.
1h 35m Comedy Family
Billionaire heir Richie Rich has it all, including Reggie Jackson as a batting coach and Claudia Schiffer as a personal trainer -- but no playmates. What's more, scoundrel Laurence Van Dough is scheming to take over the family empire. Uh-oh! Enter faithful butler Cadbury to save the day.
1h 32m Fantasy Comedy
Thanks to an untimely demise via drowning, a young couple end up as poltergeists in their New England farmhouse, where they fail to meet the challenge of scaring away the insufferable new owners, who want to make drastic changes. In desperation, the undead newlyweds turn to an expert frightmeister, but he's got a diabolical agenda of his own.
1h 24m Family Animation Fantasy Comedy
The adventures of a heroic and debonair stalwart mouse named Stuart Little with human qualities, who faces some comic misadventures while searching for his lost bird friend and living with a human family as their child.
1h 54m Adventure Comedy Family
A young teenager named Mikey Walsh finds an old treasure map in his father's attic. Hoping to save their homes from demolition, Mikey and his friends Data Wang, Chunk Cohen, and Mouth Devereaux run off on a big quest to find the secret stash of Pirate One-Eyed Willie.
13.
Dennis the Menace (1993)
25m Animation Comedy
Based upon one of the most successful and evergreen comic strips ever published (and inspiration for the hit live action movie), Hank Ketcham's classic "Dennis The Menace," this series stars the irrepressible Dennis and his unwilling best friend, the grumpy Mr. Wilson. This heartwarming and hilarious series depicts the adult world from a child's perspective.
14.
Mr. Magorium's Wonder Emporium (2007)
1h 33m Family Fantasy Comedy
Molly Mahoney is the awkward and insecure manager of Mr. Magorium's Wonder Emporium—the strangest, most fantastic and most wonderful toy store in the world. After Mr. Magorium bequeaths the store to her, a dark and ominous change begins to take over the once-remarkable Emporium.
1h 43m Comedy Family
Eight-year-old Kevin McCallister makes the most of the situation after his family unwittingly leaves him behind when they go on Christmas vacation. But when a pair of bungling burglars set their sights on Kevin's house, the plucky kid stands ready to defend his territory. By planting booby traps galore, adorably mischievous Kevin stands his ground as his frantic mother attempts to race home before Christmas Day.
16.
Halloweentown High (2004)
1h 22m Adventure Comedy Family Fantasy TV Movie
Marnie Piper prepares to begin a new school year, she asks the Halloweentown Hot Witches' Council to work toward openness between Halloweentown and the mortal world. She proposes to bring a group of Halloweentown students to her own high school in the mortal world.
1h 50m Fantasy Comedy Family
Recently orphaned, a young boy is taken in by his godmother who is shocked to realize that she can see the boy's imaginary friend: a flamboyant, French magician named Bogus.
1h 44m Fantasy Comedy Family
Powerful businessman Russ Duritz is self-absorbed and immersed in his work. But by the magic of the moon, he meets Rusty, a chubby, charming 8-year-old version of himself who can't believe he could turn out so badly -- with no life and no dog. With Rusty's help, Russ is able to reconcile the person he used to dream of being with the man he's actually become.
1h 33m Comedy Family Fantasy
Animated character Fat Albert emerges from his TV universe into the real world, accompanied by his friends Rudy, Mushmouth, Old Weird Harold and Dumb Donald. Though the gang is flabbergasted by the modern world, they make new friends, and Albert attempts to help young Doris become popular. But things get complicated when Albert falls for her older sister, Lauri, and must turn to creator Bill Cosby for advice.
20.
Alexander and the Terrible, Horrible, No Good, Very Bad Day (2014)
1h 21m Family Comedy
Alexander's day begins with gum stuck in his hair, followed by more calamities. Though he finds little sympathy from his family and begins to wonder if bad things only happen to him, his mom, dad, brother, and sister all find themselves living through their own terrible, horrible, no good, very bad day.
explore
Check out more list from our community