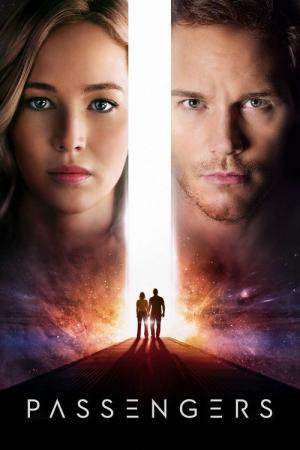 31 Best Movies Like Passengers ...
If you liked this film , you will probably love these too! In this list we highlight some of the best films that share a very similar mood to '', and are worth checking out.
2h 24m Drama Adventure Science Fiction
During a manned mission to Mars, Astronaut Mark Watney is presumed dead after a fierce storm and left behind by his crew. But Watney has survived and finds himself stranded and alone on the hostile planet. With only meager supplies, he must draw upon his ingenuity, wit and spirit to subsist and find a way to signal to Earth that he is alive.
2h 4m Action Science Fiction Adventure Mystery
Jack Harper is one of the last few drone repairmen stationed on Earth. Part of a massive operation to extract vital resources after decades of war with a terrifying threat known as the Scavs, Jack's mission is nearly complete. His existence is brought crashing down when he rescues a beautiful stranger from a downed spacecraft. Her arrival triggers a chain of events that forces him to question everything he knows and puts the fate of humanity in his hands.
2h 3m Science Fiction Drama
The near future, a time when both hope and hardships drive humanity to look to the stars and beyond. While a mysterious phenomenon menaces to destroy life on planet Earth, astronaut Roy McBride undertakes a mission across the immensity of space and its many perils to uncover the truth about a lost expedition that decades before boldly faced emptiness and silence in search of the unknown.
1h 31m Science Fiction Thriller Drama
Dr. Ryan Stone, a brilliant medical engineer on her first Shuttle mission, with veteran astronaut Matt Kowalsky in command of his last flight before retiring. But on a seemingly routine spacewalk, disaster strikes. The Shuttle is destroyed, leaving Stone and Kowalsky completely alone-tethered to nothing but each other and spiraling out into the blackness of space. The deafening silence tells them they have lost any link to Earth and any chance for rescue. As fear turns to panic, every gulp of air eats away at what little oxygen is left. But the only way home may be to go further out into the terrifying expanse of space.
2h 49m Adventure Drama Science Fiction
The adventures of a group of explorers who make use of a newly discovered wormhole to surpass the limitations on human space travel and conquer the vast distances involved in an interstellar voyage.
2h 4m Science Fiction Adventure Mystery
A team of explorers discover a clue to the origins of mankind on Earth, leading them on a journey to the darkest corners of the universe. There, they must fight a terrifying battle to save the future of the human race.
1h 44m Horror Science Fiction Thriller
The six-member crew of the International Space Station is tasked with studying a sample from Mars that may be the first proof of extra-terrestrial life, which proves more intelligent than ever expected.
1h 41m Drama Romance Science Fiction
A futuristic love story set in a world where emotions have been eradicated.
1h 48m Action Horror Mystery Science Fiction Thriller
Two crew members wake up on an abandoned spacecraft with no idea who they are, how long they've been asleep, or what their mission is. The two soon discover they're actually not alone – and the reality of their situation is more horrifying than they could have imagined.
1h 47m Science Fiction Thriller
Fifty years into the future, the sun is dying, and Earth is threatened by arctic temperatures. A team of astronauts is sent to revive the Sun — but the mission fails. Seven years later, a new team is sent to finish the mission as mankind's last hope.
11.
Approaching the Unknown (2016)
1h 30m Thriller Drama Science Fiction
Captain William Stanaforth is on a one-way solo mission to take the first steps in colonising Mars. Like all pioneers throughout history, Stanaforth will face insurmountable odds and life and death decisions as he rockets bravely through space.
1h 37m Science Fiction Drama
With only three weeks left in his three year contract, Sam Bell is getting anxious to finally return to Earth. He is the only occupant of a Moon-based manufacturing facility along with his computer and assistant, GERTY. When he has an accident however, he wakens to find that he is not alone.
1h 30m Science Fiction Thriller
A crew of international astronauts are sent on a private mission to Jupiter's fourth moon.
1h 49m Science Fiction Action Drama Thriller
In the year 2159, two classes of people exist: the very wealthy who live on a pristine man-made space station called Elysium, and the rest, who live on an overpopulated, ruined Earth. Secretary Rhodes, a hard line government official, will stop at nothing to enforce anti-immigration laws and preserve the luxurious lifestyle of the citizens of Elysium. That doesn't stop the people of Earth from trying to get in, by any means they can. When unlucky Max is backed into a corner, he agrees to take on a daunting mission that, if successful, will not only save his life, but could bring equality to these polarized worlds.
1h 36m Horror Science Fiction Mystery
In 2047 a group of astronauts are sent to investigate and salvage the starship 'Event Horizon' which disappeared mysteriously 7 years before on its maiden voyage. With its return, the crew of the 'Lewis and Clark' discovers the real truth behind the disappearance of the 'Event Horizon' – and something even more terrifying.
16.
The Space Between Us (2017)
2h 1m Romance Adventure Science Fiction Drama
A young man raised by scientists on Mars returns to Earth to find his father.
17.
Mission to Mars (2000)
1h 54m Science Fiction Thriller
When contact is lost with the crew of the first Mars expedition, a rescue mission is launched to discover their fate.
1h 55m Action Science Fiction
In 2035, where robots are commonplace and abide by the three laws of robotics, a technophobic cop investigates an apparent suicide. Suspecting that a robot may be responsible for the death, his investigation leads him to believe that humanity may be in danger.
1h 31m Mystery Science Fiction Thriller
4 would be astronauts spend 400 days in a land locked space simulator to test the psychological effects of deep space travel but, when something goes terribly wrong and they are forced to leave the simulation, they discover that everything on earth has changed. Is this real or is the simulation on a higher level than they could have ever imagined?
1h 27m Science Fiction TV Movie Drama Thriller
Twelve extremely talented men and women have been chosen to be part of the Phaeton mission, a 10-year trek to explore a distant planetary system. In order to endure the stress of being confined to their high-tech vessel, the crew passes the time using advanced virtual reality modules that allow them to take on various identities. But as the ship approaches a critical phase of their journey, a deadly flaw is discovered in the virtual system, forcing them to question if someone onboard might be a killer.
1h 39m Drama Science Fiction Mystery Romance
A troubled psychologist is sent to investigate the crew of an isolated research station orbiting a bizarre planet.
22.
The Hunger Games: Catching Fire (2013)
2h 26m Adventure Action Science Fiction
Katniss Everdeen has returned home safe after winning the 74th Annual Hunger Games along with fellow tribute Peeta Mellark. Winning means that they must turn around and leave their family and close friends, embarking on a "Victor's Tour" of the districts. Along the way Katniss senses that a rebellion is simmering, but the Capitol is still very much in control as President Snow prepares the 75th Annual Hunger Games (The Quarter Quell) - a competition that could change Panem forever.
1h 46m Thriller Science Fiction Mystery Romance
In a future society in the era of indefinite eugenics, humans are set on a life course depending on their DNA. Young Vincent Freeman is born with a condition that would prevent him from space travel, yet is determined to infiltrate the GATTACA space program.
1h 56m Drama Science Fiction Mystery
Taking place after alien crafts land around the world, an expert linguist is recruited by the military to determine whether they come in peace or are a threat.
1h 31m Horror Science Fiction Thriller
Set in the 22nd century, when a battered salvage ship sends out a distress signal, the seasoned crew of the rescue hospital ship Nova-17 responds. What they find is a black hole--that threatens to destroy both ships--and a mysterious survivor whose body quickly mutates into a monstrous and deadly form.
2h 14m Adventure Drama Science Fiction Thriller
After spending several months in an orbiting lab, three astronauts prepare to return to Earth only to find their de-orbit thrusters won't activate. After initially thinking they might have to abandon them in orbit, NASA decides to launch a daring rescue. Their plans are complicated by a Hurricane headed towards the launch site—and a shrinking air supply in the astronauts' capsule.
1h 34m Science Fiction Thriller
In the near future, breathable air is nonexistent. Virtually all of humanity has disappeared, and those chosen to reestablish society reside in a controlled state of suspended animation. Two engineers tasked with guarding the last hope for mankind struggle to preserve their own sanity and lives while administering to the vital task at hand.
28.
The Last Days on Mars (2013)
1h 38m Science Fiction Thriller Horror
On the last day of the first manned mission to Mars, a crew member of Tantalus Base believes he has made an astounding discovery – fossilized evidence of bacterial life. Unwilling to let the relief crew claims all the glory, he disobeys orders to pack up and goes out on an unauthorized expedition to collect further samples. But a routine excavation turns to disaster when the porous ground collapses and he falls into a deep crevice and near certain death. His devastated colleagues attempt to recover his body. However, when another vanishes, they start to suspect that the life-form they have discovered is not without danger.
2h Thriller Mystery Science Fiction
The story of CARGO takes place on rusty space-freighter KASSANDRA on its way to Station 42. The young medic LAURA is the only one awake on board while the rest of the crew lies frozen in hibernation sleep. In 4 months will Laura's shift be over.
2h 6m Romance Science Fiction Drama
In the not so distant future, Theodore, a lonely writer purchases a newly developed operating system designed to meet the user's every needs. To Theodore's surprise, a romantic relationship develops between him and his operating system. This unconventional love story blends science fiction and romance in a sweet tale that explores the nature of love and the ways that technology isolates and connects us all.
explore
Check out more list from our community