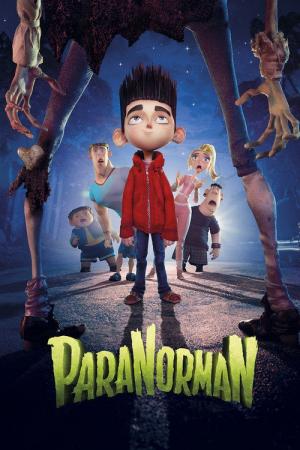 29 Best Movies Like Paranorman ...
If you liked this film , you will for sure love these too! In this selection we highlight some of the best films that share a very similar mood to '', and are worth checking out.
1h 40m Animation Family Fantasy
When Coraline moves to an old house, she feels bored and neglected by her parents. She finds a hidden door with a bricked up passage. During the night, she crosses the passage and finds a parallel world where everybody has buttons instead of eyes, with caring parents and all her dreams coming true. When the Other Mother invites Coraline to stay in her world forever, the girl refuses and finds that the alternate reality where she is trapped is only a trick to lure her.
1h 27m Animation Comedy Family
When a car hits young Victor's pet dog Sparky, Victor decides to bring him back to life the only way he knows how. But when the bolt-necked "monster" wreaks havoc and terror in the hearts of Victor's neighbors, he has to convince them that Sparky's still the good, loyal friend he was.
1h 31m Animation Comedy Family Fantasy
Monsters under the bed are scary enough, but what happens when an entire house is out to get you? Three teens aim to find out when they go up against a decrepit neighboring home and unlock its frightening secrets.
4.
The Nightmare Before Christmas (1993)
1h 16m Fantasy Animation Family
Tired of scaring humans every October 31 with the same old bag of tricks, Jack Skellington, the spindly king of Halloween Town, kidnaps Santa Claus and plans to deliver shrunken heads and other ghoulish gifts to children on Christmas morning. But as Christmas approaches, Jack's rag-doll girlfriend, Sally, tries to foil his misguided plans.
1h 37m Animation Comedy Family Fantasy
An orphaned boy raised by underground creatures called Boxtrolls comes up from the sewers and out of his box to save his family and the town from the evil exterminator, Archibald Snatcher.
22m Animation Sci-Fi & Fantasy Comedy
The adventures of goth girl Lydia Deetz and her undead friend Beetlejuice as they explore The Neitherworld, a wacky afterlife realm inhabited by monsters, ghosts, ghouls and zombies.
1h 17m Romance Fantasy Animation
Set in a 19th-century european village, this stop-motion animation feature follows the story of Victor, a young man whisked away to the underworld and wed to a mysterious corpse bride, while his real bride Victoria waits bereft in the land of the living.
8.
Kubo and the Two Strings (2016)
1h 42m Animation Adventure Family
Kubo mesmerizes the people in his village with his magical gift for spinning wild tales with origami. When he accidentally summons an evil spirit seeking vengeance, Kubo is forced to go on a quest to solve the mystery of his fallen samurai father and his mystical weaponry, as well as discover his own magical powers.
2h 5m Animation Family Fantasy
A young girl, Chihiro, becomes trapped in a strange new world of spirits. When her parents undergo a mysterious transformation, she must call upon the courage she never knew she had to free her family.
1h 27m Animation Comedy Family Fantasy
A cliché hunchbacked evil scientist's assistant aspires to become a scientist himself, much to the displeasure of the rest of the evil science community.
11.
Scooby-Doo and the Loch Ness Monster (2004)
1h 14m Family Adventure Animation Comedy Fantasy Mystery
While the gang travel to Scotland to visit Daphne's cousin and witness the Highland Games, they find themselves terrorized by the legendary Loch Ness Monster.
12.
Scooby-Doo and the Alien Invaders (2000)
1h 14m Animation Family Comedy Mystery Science Fiction Adventure
A cosmic case of flying saucers, intergalactic intrigue and out-of-this-world romance launches Scooby-Doo and the Mystery Gang into their most unearthly adventure ever.
13.
Scooby-Doo! Pirates Ahoy! (2006)
1h 20m Fantasy Animation Comedy Family Mystery Adventure
Ghost pirates attack the cruise ship that Scooby and the gang are vacationing on.
14.
Scooby-Doo Meets the Boo Brothers (1987)
1h 32m Animation Adventure Comedy Family TV Movie
When Shaggy inherits an old Southern estate from an uncle, he and his sleuthing hounds take a road trip. But they don't even make it to the mansion before the haunting starts. Amid headless horsemen, walking skeletons, and a menacing butler, Scooby, Scrappy, and Shaggy get majorly spooked.
15.
Casper's Haunted Christmas (2000)
1h 24m Animation Family Fantasy
Kibosh, supreme ruler of all ghosts, decrees that casper must scare at least one person before Christmas Day so Casper visits Kriss, Massachusetts where he meets the Jollimore family and sets out to complete his mission. As usual, kindhearted Casper has a ghastky time trying to scare anyone; so The Ghostly Trio, fed up with his goody-boo-shoes behavior, secretly hires Casper's look-alike cousin Spooky to do the job-with hilarious results.
16.
Doug's 1st Movie (1999)
1h 17m Animation Family Comedy
Doug and his pal Skeeter set's out to find the monster of Lucky Duck Lake. Though things get really out of hand when some one blurts out that the monster is real.
17.
Teacher's Pet (2004)
18.
Scooby-Doo! Camp Scare (2010)
1h 12m Animation Comedy Family Mystery
Scooby and the gang experience outdoor fun as they go back to Fred's old summer camp.
19.
Scooby-Doo and the Ghoul School (1988)
1h 32m TV Movie Animation Family Comedy Fantasy Mystery
Scooby, Shaggy and Scrappy Doo are on their way to a Miss Grimwood's Finishing School for Girls, where they have been hired as gym teachers. Once there, however, they find that it is actually a school for girl ghouls.
20.
Casper Meets Wendy (1998)
1h 30m Family Fantasy
When a warlock threatens Wendy the Good Little Witch, she and her aunts hide out at a resort where Casper the Ghost is vacationing with his uncles. Although Casper and Wendy are told ghosts and witches don't get along, the two are kindred spirits! This spooky family-friendly adventure finds Casper and Wendy bridging the ghost-witch divide to battle the warlock who is intent on destroying Wendy.
21.
Hotel Transylvania (2012)
1h 31m Animation Comedy Family Fantasy
Welcome to Hotel Transylvania, Dracula's lavish five-stake resort, where monsters and their families can live it up and no humans are allowed. One special weekend, Dracula has invited all his best friends to celebrate his beloved daughter Mavis's 118th birthday. For Dracula catering to all of these legendary monsters is no problem but the party really starts when one ordinary guy stumbles into the hotel and changes everything!
22.
Scooby-Doo and the Witch's Ghost (1999)
1h 10m Animation Comedy Mystery Family Fantasy
Scooby-Doo and the Mystery Gang visit Oakhaven, Massachusetts to seek strange goings on involving a famous horror novelist and his ancestor who is rumored be a witch.
23.
Scooby-Doo! Frankencreepy (2014)
1h 14m Mystery Animation Family Comedy
Scooby-Doo and those "meddling kids" Shaggy, Fred, Daphne and Velma are back in this all-new original movie! Velma discovers she's inherited her great-great-uncle Dr. Von Dinkenstein's cursed castle in the terrifying town of Transylvania…Pennsylvania, that is. Just when the Gang persuades Velma to go claim her inheritance, the ghost of Dinkenstein Castle blows up the Mystery Machine as a warning! Now the Crew must spring back into action, but this time it's personal! Who's responsible for the Dinkenstein monster? What family secret has Velma been hiding? Will Fred recover from the loss of his beloved Mystery Machine? Can any helpless snack survive Scooby and Shaggy's monster-sized appetites? This Scooby-Doo adventure has enough spooky fun to make the whole family come alive!
24.
Mutant Pumpkins from Outer Space (2009)
27m TV Movie Animation Family Comedy
Susan Murphy (a.k.a. Ginormica) and the Monsters are now working with the US government as special ops. So when an alien presence is detected in Susan's hometown of Modesto, California -- right before Halloween -- the team is dispatched to investigate. Everything appears normal, right down to the jack-o-lanterns peering out from every doorstep and windowsill. But when Halloween arrives, those innocent-looking carved pumpkins reveal themselves for what they really are mutant aliens. The altered pumpkins then start to implement their fiendish plan to take over Earth. The Monsters are there to combat the mutant gourds and try to smash their wicked scheme!
25.
Stuart Little 3: Call of the Wild (2005)
1h 12m Fantasy Animation Comedy Family
With school out for the summer, The Littles are vacationing in a cabin by the lake, and Stuart is so excited he could burst! But when Snowbell the cat is captured by a mean-spirited creature known simply as the Beast, it's up to Stuart and a skunk named Reeko to rescue him and a few other friends.
26.
Stuart Little 2 (2002)
1h 18m Family Adventure Animation Comedy
Stuart, an adorable white mouse, still lives happily with his adoptive family, the Littles, on the east side of Manhattan's Central Park. More crazy mouse adventures are in store as Stuart, his human brother, George, and their mischievous cat, Snowbell, set out to rescue a friend.
27.
Planes: Fire & Rescue (2014)
1h 23m Animation Comedy Adventure Family
When world-famous air racer Dusty learns that his engine is damaged and he may never race again, he must shift gears and is launched into the world of aerial firefighting. Dusty joins forces with veteran fire and rescue helicopter Blade Ranger and his team, a bunch of all-terrain vehicles known as The Smokejumpers. Together, the fearless team battles a massive wildfire, and Dusty learns what it takes to become a true hero.
28.
Howl's Moving Castle (2004)
1h 59m Fantasy Animation Adventure
When Sophie, a shy young woman, is cursed with an old body by a spiteful witch, her only chance of breaking the spell lies with a self-indulgent yet insecure young wizard and his companions in his legged, walking castle.
explore
Check out more list from our community