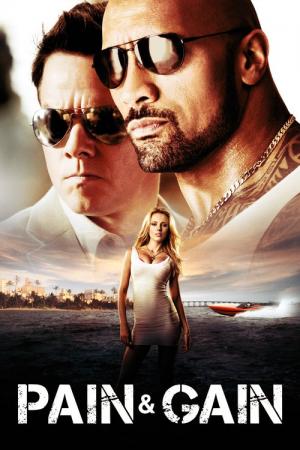 31 Best Movies Like Pain And Gain ...
If you liked this one , you will probably love these too! In this selection we highlight some of the best films that share a very similar mood to '', and are worth checking out.
45m Drama Action & Adventure
We don't have an overview translated in English. Help us expand our database by adding one.
2.
The Wolf of Wall Street (2013)
3h Crime Drama Comedy
A New York stockbroker refuses to cooperate in a large securities fraud case involving corruption on Wall Street, corporate banking world and mob infiltration. Based on Jordan Belfort's autobiography.
1h 59m Action Comedy Crime Thriller
Marcus Burnett is a hen-pecked family man. Mike Lowry is a foot-loose and fancy free ladies' man. Both are Miami policemen, and both have 72 hours to reclaim a consignment of drugs stolen from under their station's nose. To complicate matters, in order to get the assistance of the sole witness to a murder, they have to pretend to be each other.
5.
Seven Psychopaths (2012)
1h 50m Comedy Crime
A struggling screenwriter inadvertently becomes entangled in the Los Angeles criminal underworld after his oddball friends kidnap a gangster's beloved Shih Tzu.
1h 24m Drama Action Crime Thriller
Casey has given up drug dealing for a suburban idyll in Houston, a job as an architect and a new wife. They are even planning to adopt a child. But Casey's past arrives on the doorstep in the shape of Nick, an old business partner. And all hell breaks loose!
7.
Flickering Lights (2000)
1h 45m Drama Comedy Crime
Chronicles Jack Harris, one of the pioneers of internet commerce, as he wrestles with his morals and struggles not to drown in a sea of conmen, mobsters, drug addicts, and pornstars.
9.
Lock, Stock and Two Smoking Barrels (1998)
1h 45m Comedy Crime
A card shark and his unwillingly-enlisted friends need to make a lot of cash quick after losing a sketchy poker match. To do this they decide to pull a heist on a small-time gang who happen to be operating out of the flat next door.
10.
The Other Guys (2010)
1h 47m Comedy Action Crime
Unlike their heroic counterparts on the force, desk-bound NYPD detectives Gamble and Hoitz garner no headlines as they work day to day. When a seemingly minor case turns out to be a big deal, the two cops get the opportunity to finally prove to their comrades that they have the right stuff.
11.
Gridlock'd (1997)
1h 31m Crime Drama Comedy
After a friend overdoses, Spoon and Stretch decide to kick their drug habits and attempt to enroll in a government detox program. Their efforts are hampered by seemingly endless red tape, as they are shuffled from one office to another while being chased by drug dealers and the police.
1h 31m Action Adventure Comedy Thriller
Affable hit man Melvin Smiley is constantly being scammed by his cutthroat colleagues in the life-ending business. So, when he and his fellow assassins kidnap the daughter of an electronics mogul, it's naturally Melvin who takes the fall when their prime score turns sour. That's because the girl is the goddaughter of the gang's ruthless crime boss. But, even while dodging bullets, Melvin has to keep his real job secret from his unsuspecting fiancée, Pam.
1h 55m Action Thriller Mystery
A gang of criminals and corrupt cops plan the murder of a police officer in order to pull off their biggest heist yet across town.
1h 31m Comedy Crime Drama
Upon his release from a mental hospital following a nervous breakdown, the directionless Anthony joins his friend Dignan, who seems far less sane than the former. Dignan has hatched a hair-brained scheme for an as-yet-unspecified crime spree that somehow involves his former boss, the (supposedly) legendary Mr. Henry.
15.
Observe and Report (2009)
1h 27m Comedy Crime Drama
Mall security guard Ronnie Barnhardt is called into action to stop a flasher from turning shopper's paradise into his personal peep show. But when Barnhardt can't bring the culprit to justice, a surly police detective is recruited to close the case.
2h 27m Adventure Action Comedy Thriller Crime
Out-of-control, trash-talking buddy cops Marcus Burnett and Mike Lowrey of the Miami Narcotics Task Force reunite, and bullets fly, cars crash and laughs explode as they pursue a whacked-out drug lord from the streets of Miami to the barrios of Cuba. But the real fireworks result when Marcus discovers that playboy Mike is secretly romancing Marcus' sexy sister.
1h 37m Action Comedy Crime
Fresh out of prison, Git rescues a former best friend (now living with Git's girlfriend) from a beating at the hands of loan sharks. He's now in trouble with the mob boss, Tom French, who sends Git to Cork with another debtor, Bunny Kelly, to find a guy named Frank Grogan, and take him to a man with a friendly face at a shack across a bog. It's a tougher assignment than it seems: Git's a novice, Bunny's prone to rash acts, Frank doesn't want to be found (and once he's found, he has no money), and maybe Tom's planning to murder Frank, which puts Git in a moral dilemma. Then, there's the long-ago disappearance of Sonny Mulligan. What's a decent and stand-up lad to do?
18.
Pineapple Express (2008)
1h 51m Action Comedy Crime
A stoner and his dealer are forced to go on the run from the police after the pothead witnesses a cop commit a murder.
1h 33m Action Crime Drama
Ace is an impressionable young man working for a dry cleaning business. His friend, drug dealer Mitch goes to prison. In an unrelated incident, he finds some cocaine in a pants pocket. Soon, Ace finds himself dealing cocaine for Lulu. Via lucky breaks and solid interpersonal skills, Ace moves to the top of the Harlem drug world. Of course, unfaithful employees and/or rivals conspire to bring about Ace's fall.
20.
Horrible Bosses (2011)
1h 38m Comedy Crime
For Nick, Kurt and Dale, the only thing that would make the daily grind more tolerable would be to grind their intolerable bosses into dust. Quitting is not an option, so, with the benefit of a few-too-many drinks and some dubious advice from a hustling ex-con, the three friends devise a convoluted and seemingly foolproof plan to rid themselves of their respective employers... permanently.
21.
We Own the Night (2007)
1h 57m Drama Crime Thriller
A New York nightclub manager tries to save his brother and father from Russian mafia hitmen.
1h 33m Comedy Crime Drama
After spending 12 years in prison for keeping his mouth shut, notorious safe-cracker Dom Hemingway is back on the streets of London looking to collect what he's owed.
23.
22 Jump Street (2014)
1h 52m Crime Comedy Action
After making their way through high school (twice), big changes are in store for officers Schmidt and Jenko when they go deep undercover at a local college. But when Jenko meets a kindred spirit on the football team, and Schmidt infiltrates the bohemian art major scene, they begin to question their partnership. Now they don't have to just crack the case - they have to figure out if they can have a mature relationship. If these two overgrown adolescents can grow from freshmen into real men, college might be the best thing that ever happened to them.
1h 41m Comedy Crime Drama
Over the course of three days Ross, a college dropout addicted to crystal-meth, encounters a variety of oddball folks - including a stripper named Nikki and her boyfriend, the local meth producer, The Cook - but all he really wants to do is hook up with his old girlfriend, Amy.
1h 49m Thriller Action Drama Crime
When his brother-in-law runs afoul of a drug lord, family man Chris Farraday turns to a skill he abandoned long ago—smuggling—to repay the debt. But the job goes wrong, and Farraday finds himself wanted by cops, crooks and killers alike.
26.
Money for Nothing (1993)
1h 40m Drama Comedy Crime
When unemployed dockworker Joey Coyle finds $1.2 million that fell off of an armored car, he decides to do the logical thing: take the money and run. After all, he says, finders keepers. He turns to his ex-girlfriend Monica, who works in an investment firm, for advice, before turning to the mob for help laundering the money. While Joey makes plans to leave the country, however, a detective is following his ever-warmer trail in order to recover the cash.
27.
Thunderbolt and Lightfoot (1974)
1h 55m Crime Comedy Action
With the help of an irreverent young sidekick, a bank robber gets his old gang back together to organise a daring new heist.
1h 37m Thriller Crime Drama
A gangster, Nino, is in the Cash Money Brothers, making a million dollars every week selling crack. A cop, Scotty, discovers that the only way to infiltrate the gang is to become a dealer himself.
30.
Nothing to Lose (1997)
1h 37m Action Adventure Comedy
Advertising executive Nick Beame learns that his wife is sleeping with his employer. In a state of despair, he encounters a bumbling thief whose attempted carjacking goes awry when Nick takes him on an involuntary joyride. Soon the betrayed businessman and the incompetent crook strike up a partnership and develop a robbery-revenge scheme. But it turns out that some other criminals in the area don't appreciate the competition.
explore
Check out more list from our community