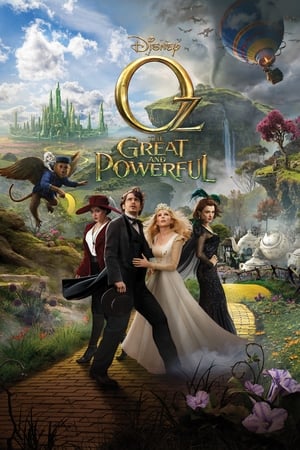 30 Best Movies Like Oz The Great And Powerful ...
If you liked this one , you will probably love these too! In this collection we highlight some of the best films that share a very similar mood to '', and are worth checking out.
2h 7m Adventure Fantasy Romance Family
In a countryside town bordering on a magical land, a young man makes a promise to his beloved that he'll retrieve a fallen star by venturing into the magical realm. His journey takes him into a world beyond his wildest dreams and reveals his true identity.
1h 37m Fantasy Adventure Action Family Romance
A beautiful, pure-hearted young woman, Maleficent has an idyllic life growing up in a peaceable forest kingdom, until one day when an invading army threatens the harmony of the land. Maleficent rises to be the land's fiercest protector, but she ultimately suffers a ruthless betrayal – an act that begins to turn her heart into stone. Bent on revenge, Maleficent faces an epic battle with the invading King's successor and, as a result, places a curse upon his newborn infant Aurora. As the child grows, Maleficent realizes that Aurora holds the key to peace in the kingdom – and to Maleficent's true happiness as well.
3.
Alice in Wonderland (2010)
1h 48m Family Fantasy Adventure
Alice, an unpretentious and individual 19-year-old, is betrothed to a dunce of an English nobleman. At her engagement party, she escapes the crowd to consider whether to go through with the marriage and falls down a hole in the garden after spotting an unusual rabbit. Arriving in a strange and surreal place called 'Underland,' she finds herself in a world that resembles the nightmares she had as a child, filled with talking animals, villainous queens and knights, and frumious bandersnatches. Alice realizes that she is there for a reason – to conquer the horrific Jabberwocky and restore the rightful queen to her throne.
4.
The Chronicles of Narnia: The Lion, the Witch and the Wardrobe (2005)
2h 23m Adventure Family Fantasy
Siblings Lucy, Edmund, Susan and Peter step through a magical wardrobe and find the land of Narnia. There, they discover a charming, once peaceful kingdom that has been plunged into eternal winter by the evil White Witch, Jadis. Aided by the wise and magnificent lion, Aslan, the children lead Narnia into a spectacular, climactic battle to be free of the Witch's glacial powers forever.
5.
Jack the Giant Slayer (2013)
1h 54m Fantasy Action Adventure Family
The story of an ancient war that is reignited when a young farmhand unwittingly opens a gateway between our world and a fearsome race of giants. Unleashed on the Earth for the first time in centuries, the giants strive to reclaim the land they once lost, forcing the young man, Jack into the battle of his life to stop them. Fighting for a kingdom, its people, and the love of a brave princess, he comes face to face with the unstoppable warriors he thought only existed in legend–and gets the chance to become a legend himself.
6.
The Nutcracker and the Four Realms (2018)
1h 39m Fantasy Adventure Family
When Clara's mother leaves her a mysterious gift, she embarks on a journey to four secret realms—where she discovers her greatest strength could change the world.
7.
Fantastic Beasts and Where to Find Them (2016)
2h 12m Adventure Fantasy
In 1926, Newt Scamander arrives at the Magical Congress of the United States of America with a magically expanded briefcase, which houses a number of dangerous creatures and their habitats. When the creatures escape from the briefcase, it sends the American wizarding authorities after Newt, and threatens to strain even further the state of magical and non-magical relations.
8.
Miss Peregrine's Home for Peculiar Children (2016)
2h 7m Drama Fantasy Adventure Family
A teenager finds himself transported to an island where he must help protect a group of orphans with special powers from creatures intent on destroying them.
9.
Snow White and the Huntsman (2012)
2h 7m Adventure Fantasy Drama
After the Evil Queen marries the King, she performs a violent coup in which the King is murdered and his daughter, Snow White, is taken captive. Almost a decade later, a grown Snow White is still in the clutches of the Queen. In order to obtain immortality, The Evil Queen needs the heart of Snow White. After Snow escapes the castle, the Queen sends the Huntsman to find her in the Dark Forest.
10.
Maleficent: Mistress of Evil (2019)
1h 59m Family Fantasy Adventure
Maleficent and her goddaughter Aurora begin to question the complex family ties that bind them as they are pulled in different directions by impending nuptials, unexpected allies, and dark new forces at play.
11.
The Chronicles of Narnia: The Voyage of the Dawn Treader (2010)
1h 53m Adventure Family Fantasy
This time around Edmund and Lucy Pevensie, along with their pesky cousin Eustace Scrubb find themselves swallowed into a painting and on to a fantastic Narnian ship headed for the very edges of the world.
1h 44m Fantasy Action Adventure Family
In his homeland of Alagaesia, a farm boy happens upon a dragon's egg -- a discovery that leads him on a predestined journey where he realized he's the one person who can defend his home against an evil king.
13.
Harry Potter and the Prisoner of Azkaban (2004)
2h 21m Adventure Fantasy
Year three at Hogwarts means new fun and challenges as Harry learns the delicate art of approaching a Hippogriff, transforming shape-shifting Boggarts into hilarity and even turning back time. But the term also brings danger: soul-sucking Dementors hover over the school, an ally of the accursed He-Who-Cannot-Be-Named lurks within the castle walls, and fearsome wizard Sirius Black escapes Azkaban. And Harry will confront them all.
14.
The Golden Compass (2007)
1h 53m Adventure Fantasy
After overhearing a shocking secret, precocious orphan Lyra Belacqua trades her carefree existence roaming the halls of Jordan College for an otherworldly adventure in the far North, unaware that it's part of her destiny.
15.
Alice Through the Looking Glass (2016)
1h 53m Adventure Family Fantasy
Alice Kingsleigh returns to Underland and faces a new adventure in saving the Mad Hatter.
16.
Harry Potter and the Chamber of Secrets (2002)
2h 41m Adventure Fantasy
Cars fly, trees fight back, and a mysterious house-elf comes to warn Harry Potter at the start of his second year at Hogwarts. Adventure and danger await when bloody writing on a wall announces: The Chamber Of Secrets Has Been Opened. To save Hogwarts will require all of Harry, Ron and Hermione's magical abilities and courage.
17.
Percy Jackson & the Olympians: The Lightning Thief (2010)
1h 58m Adventure Fantasy Family
Accident prone teenager, Percy discovers he's actually a demi-God, the son of Poseidon, and he is needed when Zeus' lightning is stolen. Percy must master his new found skills in order to prevent a war between the Gods that could devastate the entire world.
1h 31m Adventure Fantasy Horror Family
A young boy named Luke and his grandmother go on vacation only to discover their hotel is hosting an international witch convention, where the Grand High Witch is unveiling her master plan to turn all children into mice. Will Luke fall victim to the witches' plot before he can stop them?
1h 52m Family Music Adventure Comedy Fantasy TV Movie
A present-day idyllic kingdom where the benevolent teenage son of King Adam and Queen Belle offers a chance of redemption for the troublemaking offspring of Disney's classic villains: Cruella De Vil (Carlos), Maleficent (Mal), the Evil Queen (Evvie) and Jafar (Jay).
20.
The Last Airbender (2010)
1h 43m Action Adventure Fantasy
The story follows the adventures of Aang, a young successor to a long line of Avatars, who must put his childhood ways aside and stop the Fire Nation from enslaving the Water, Earth and Air nations.
21.
Mio in the Land of Faraway (1987)
1h 39m Adventure Drama Fantasy Family Mystery
They're two best friends, a million miles from home. On an incredible adventure, beyond the boundaries of space and time. A fantasy about a lonely boy who is transferred from his dull life with his adoptive parents to the land where his real father is the king.
22.
The Sorcerer's Apprentice (2010)
1h 49m Fantasy Adventure Action
Balthazar Blake is a master sorcerer in modern-day Manhattan trying to defend the city from his arch-nemesis, Maxim Horvath. Balthazar can't do it alone, so he recruits Dave Stutler, a seemingly average guy who demonstrates hidden potential, as his reluctant protégé. The sorcerer gives his unwilling accomplice a crash course in the art and science of magic, and together, these unlikely partners work to stop the forces of darkness.
1h 42m Comedy Adventure Fantasy
A fantasy movie about an arrogant, lazy prince and his more heroic brother who must complete a quest in order to save their father's kingdom.
24.
The Hobbit: The Desolation of Smaug (2013)
2h 41m Fantasy Adventure Action
The Dwarves, Bilbo and Gandalf have successfully escaped the Misty Mountains, and Bilbo has gained the One Ring. They all continue their journey to get their gold back from the Dragon, Smaug.
1h 42m Adventure Family Fantasy
When teen Sarah is forced to babysit Toby, her baby stepbrother, she summons Jareth the Goblin King to take him away. When he is actually kidnapped, Sarah is given just thirteen hours to solve a labyrinth and rescue him.
26.
The Hobbit: The Battle of the Five Armies (2014)
2h 24m Action Adventure Fantasy
Immediately after the events of The Desolation of Smaug, Bilbo and the dwarves try to defend Erebor's mountain of treasure from others who claim it: the men of the ruined Laketown and the elves of Mirkwood. Meanwhile an army of Orcs led by Azog the Defiler is marching on Erebor, fueled by the rise of the dark lord Sauron. Dwarves, elves and men must unite, and the hope for Middle-Earth falls into Bilbo's hands.
27.
Halloweentown II: Kalabar's Revenge (2001)
1h 21m Adventure Family Fantasy TV Movie Horror
The Cromwell clan live in the real world, except for their grandmother who lives in Halloweentown, a place where monsters go to escape reality. But now the son of the Cromwells' old enemy Kalabar has a plan to use the grandmother's book to turn Halloweentown into a grey dreary version of the real world, while transform the denizens of the real world into monsters.
28.
Harry Potter and the Order of the Phoenix (2007)
2h 18m Adventure Fantasy Mystery
The rebellion begins! Lord Voldemort has returned, but the Ministry of Magic is doing everything it can to keep the wizarding world from knowing the truth – including appointing Ministry official Dolores Umbridge as the new Defence Against the Dark Arts professor at Hogwarts. When Umbridge refuses to teach practical defensive magic, Ron and Hermione convince Harry to secretly train a select group of students for the wizarding war that lies ahead. A terrifying showdown between good and evil awaits in this enthralling film version of the fifth novel in J.K. Rowling's Harry Potter series. Prepare for battle!
29.
Harry Potter and the Deathly Hallows: Part 1 (2010)
2h 26m Adventure Fantasy
Harry, Ron and Hermione walk away from their last year at Hogwarts to find and destroy the remaining Horcruxes, putting an end to Voldemort's bid for immortality. But with Harry's beloved Dumbledore dead and Voldemort's unscrupulous Death Eaters on the loose, the world is more dangerous than ever.
explore
Check out more list from our community