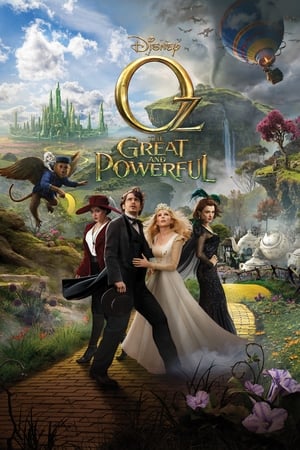 12 Best Movies Like Oz The Great And Powerful ...
If you liked this film , you will probably love these too! In this collection we highlight some of the best films that share a very similar premise to 'Oz the Great and Powerful', and are worth checking out.
2h 7m Adventure Fantasy Romance Family
In a countryside town bordering on a magical land, a young man makes a promise to his beloved that he'll retrieve a fallen star by venturing into the magical realm. His journey takes him into a world beyond his wildest dreams and reveals his true identity.
2.
The Nutcracker and the Four Realms (2018)
1h 39m Fantasy Adventure Family
When Clara's mother leaves her a mysterious gift, she embarks on a journey to four secret realms—where she discovers her greatest strength could change the world.
3.
Miss Peregrine's Home for Peculiar Children (2016)
2h 7m Drama Fantasy Adventure Family
A teenager finds himself transported to an island where he must help protect a group of orphans with special powers from creatures intent on destroying them.
4.
Harry Potter and the Order of the Phoenix (2007)
2h 18m Adventure Fantasy Mystery
The rebellion begins! Lord Voldemort has returned, but the Ministry of Magic is doing everything it can to keep the wizarding world from knowing the truth – including appointing Ministry official Dolores Umbridge as the new Defence Against the Dark Arts professor at Hogwarts. When Umbridge refuses to teach practical defensive magic, Ron and Hermione convince Harry to secretly train a select group of students for the wizarding war that lies ahead. A terrifying showdown between good and evil awaits in this enthralling film version of the fifth novel in J.K. Rowling's Harry Potter series. Prepare for battle!
1h 52m Family Music Adventure Comedy Fantasy TV Movie
A present-day idyllic kingdom where the benevolent teenage son of King Adam and Queen Belle offers a chance of redemption for the troublemaking offspring of Disney's classic villains: Cruella De Vil (Carlos), Maleficent (Mal), the Evil Queen (Evvie) and Jafar (Jay).
6.
Halloweentown II: Kalabar's Revenge (2001)
1h 21m Adventure Family Fantasy TV Movie Horror
The Cromwell clan live in the real world, except for their grandmother who lives in Halloweentown, a place where monsters go to escape reality. But now the son of the Cromwells' old enemy Kalabar has a plan to use the grandmother's book to turn Halloweentown into a grey dreary version of the real world, while transform the denizens of the real world into monsters.
1h 44m Fantasy Action Adventure Family
In his homeland of Alagaesia, a farm boy happens upon a dragon's egg -- a discovery that leads him on a predestined journey where he realized he's the one person who can defend his home against an evil king.
8.
The Golden Compass (2007)
1h 53m Adventure Fantasy
After overhearing a shocking secret, precocious orphan Lyra Belacqua trades her carefree existence roaming the halls of Jordan College for an otherworldly adventure in the far North, unaware that it's part of her destiny.
1h 37m Fantasy Adventure Action Family Romance
A beautiful, pure-hearted young woman, Maleficent has an idyllic life growing up in a peaceable forest kingdom, until one day when an invading army threatens the harmony of the land. Maleficent rises to be the land's fiercest protector, but she ultimately suffers a ruthless betrayal – an act that begins to turn her heart into stone. Bent on revenge, Maleficent faces an epic battle with the invading King's successor and, as a result, places a curse upon his newborn infant Aurora. As the child grows, Maleficent realizes that Aurora holds the key to peace in the kingdom – and to Maleficent's true happiness as well.
10.
The Chronicles of Narnia: The Lion, the Witch and the Wardrobe (2005)
2h 23m Adventure Family Fantasy
Siblings Lucy, Edmund, Susan and Peter step through a magical wardrobe and find the land of Narnia. There, they discover a charming, once peaceful kingdom that has been plunged into eternal winter by the evil White Witch, Jadis. Aided by the wise and magnificent lion, Aslan, the children lead Narnia into a spectacular, climactic battle to be free of the Witch's glacial powers forever.
11.
Harry Potter and the Prisoner of Azkaban (2004)
2h 21m Adventure Fantasy
Year three at Hogwarts means new fun and challenges as Harry learns the delicate art of approaching a Hippogriff, transforming shape-shifting Boggarts into hilarity and even turning back time. But the term also brings danger: soul-sucking Dementors hover over the school, an ally of the accursed He-Who-Cannot-Be-Named lurks within the castle walls, and fearsome wizard Sirius Black escapes Azkaban. And Harry will confront them all.
12.
Snow White and the Huntsman (2012)
2h 7m Adventure Fantasy Drama
After the Evil Queen marries the King, she performs a violent coup in which the King is murdered and his daughter, Snow White, is taken captive. Almost a decade later, a grown Snow White is still in the clutches of the Queen. In order to obtain immortality, The Evil Queen needs the heart of Snow White. After Snow escapes the castle, the Queen sends the Huntsman to find her in the Dark Forest.
explore
Check out more list from our community