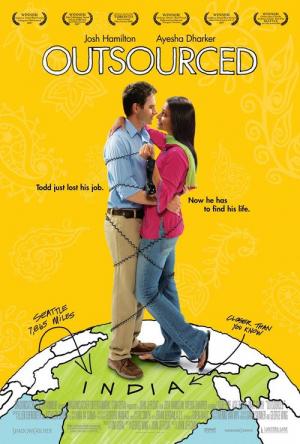 24 Best Movies Like Outsourced ...
If you liked this one , you will probably love these too! In this selection we highlight some of the best films that share a very similar mood to '', and are worth checking out.
1.
The Best Exotic Marigold Hotel (2011)
2h 4m Drama Comedy
British retirees travel to India to take up residence in what they believe is a newly restored hotel. Less luxurious than its advertisements, the Marigold Hotel nevertheless slowly begins to charm in unexpected ways as the residents find new purpose in their old age.
21m Comedy Family
A lone American manages the new call center of an American novelties company in Bombay and must explain American popular culture to his employees as he tries to understand Indian culture.
3.
The Second Best Exotic Marigold Hotel (2015)
2h 2m Drama Comedy
As the Best Exotic Marigold Hotel has only a single remaining vacancy - posing a rooming predicament for two fresh arrivals - Sonny pursues his expansionist dream of opening a second hotel.
1h 48m Comedy Romance Drama
When she learns she's in danger of losing her visa status and being deported, overbearing book editor Margaret Tate forces her put-upon assistant, Andrew Paxton, to marry her.
6.
Shanghai Calling (2012)
1h 38m Romance Comedy Drama
When ambitious New York attorney Sam is sent to Shanghai on assignment, he immediately stumbles into a legal mess that could end his career. With the help of a beautiful relocation specialist, a well-connected old-timer, a clever journalist, and a street-smart legal assistant, Sam might just save his job, find romance, and learn to appreciate the beauty and wonders of Shanghai.
7.
Picture Perfect (1997)
1h 45m Comedy Romance
A young advertising executive's life becomes increasingly complicated when, in order to impress her boss, she pretends to be engaged to a man she has just met.
1h 42m Romance Comedy Drama
An American woman is stranded in Tokyo after breaking up with her boyfriend. Searching for direction in life, she trains to be a râmen chef under a tyrannical Japanese master.
9.
My Faraway Bride (2006)
1h 35m Comedy Romance
The story of Alex, a copy-writer dreaming of being an adventure novelist someday, who meets and romances Indian beauty Reena, while she is vacationing in California. Torn by her blossoming feelings for Alex and her Indian family values and obligations, Reena returns home without saying goodbye. Alex, distraught by the turn of events, decides to follow her to Mumbai and win her back.
1h 45m Comedy
Two mismatched personal trainers' lives are upended by the actions of a new, wealthy client.
11.
In Good Company (2004)
1h 49m Comedy Drama Romance
Dan Foreman is a seasoned advertisement sales executive at a high-ranking publication when a corporate takeover results in him being placed under naive supervisor Carter Duryea, who is half his age. Matters are made worse when Dan's new supervisor becomes romantically involved with his daughter an 18 year-old college student Alex.
12.
The Other End of the Line (2008)
1h 46m Comedy Romance
An employee at an Indian call-center travels to San Francisco to be with a guy she falls for over the phone
1h 29m Drama Romance Comedy
A woman who is robbed on her way to catch the 1:30 train to Boston is left stranded in New York City. She meets a man who helps her during the course of the night and the two form a romance.
14.
Bride & Prejudice (2004)
1h 51m Drama Comedy Romance
A Bollywood update of Jane Austen's classic tale, in which Mrs. Bakshi is eager to find suitable husbands for her four unmarried daughters. When the rich single gentlemen Balraj and Darcy come to visit, the Bakshis have high hopes, though circumstance and boorish opinions threaten to get in the way of romance.
1h 44m Comedy Romance
After leaving Washington D.C. hospital, plastic surgeon Ben Stone heads for California, where a lucrative practice in Beverly Hills awaits. After a car accident, he's sentenced to perform as the community's general practitioner.
1h 37m Comedy Drama Romance
Four friends search for love and happiness while working at a California sandwich shop.
1h 50m Comedy Drama Romance
The life of super-yuppie J.C. is thrown into turmoil when she inherits a baby from a distant relative.
18.
The Secret of My Succe$s (1987)
1h 51m Comedy
Brantley Foster, a well-educated kid from Kansas, has always dreamed of making it big in New York, but once in New York, he learns that jobs - and girls - are hard to get. When Brantley visits his uncle, Howard Prescott, who runs a multi-million-dollar company, he is given a job in the company's mail room.
19.
Honeymoon Travels Pvt. Ltd. (2007)
1h 58m Comedy Drama Romance
Six newly-married, diverse, honeymooning couples face marital bliss and discord, finding out more about themselves, their significant others and life in this happy-go-lucky, quirky drama.
1h 38m Comedy Romance Drama
When he suddenly finds himself without his long-standing blue-collar job, Larry Crowne enrolls at his local college to start over. There, he becomes part of an eclectic community of students and develops a crush on his teacher.
21.
Not Another Happy Ending (2013)
1h 42m Romance Comedy Drama
When a struggling publisher discovers his only successful author is blocked, he knows he has to unblock her or he's finished. With her newfound success, she's become too damn happy and she can't write when she's happy. The only trouble is, the worse he makes her feel, the more he realizes he's in love with her.
22.
Barbershop 2: Back in Business (2004)
23.
The Giant Mechanical Man (2012)
1h 34m Comedy Drama Romance
An offbeat romantic comedy about a silver-painted street performer and the soft spoken zoo worker who falls for him.
explore
Check out more list from our community