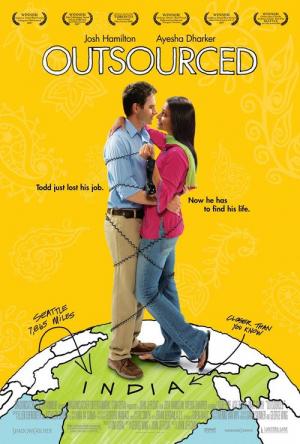 12 Best Movies Like Outsourced ...
If you liked this film , you will probably love these too! In this selection we highlight some of the best films that share a very similar premise to 'Outsourced', and are worth checking out.
1h 44m Comedy Romance
After leaving Washington D.C. hospital, plastic surgeon Ben Stone heads for California, where a lucrative practice in Beverly Hills awaits. After a car accident, he's sentenced to perform as the community's general practitioner.
1h 37m Comedy Drama Romance
Four friends search for love and happiness while working at a California sandwich shop.
3.
Not Another Happy Ending (2013)
1h 42m Romance Comedy Drama
When a struggling publisher discovers his only successful author is blocked, he knows he has to unblock her or he's finished. With her newfound success, she's become too damn happy and she can't write when she's happy. The only trouble is, the worse he makes her feel, the more he realizes he's in love with her.
1h 38m Comedy Romance Drama
When he suddenly finds himself without his long-standing blue-collar job, Larry Crowne enrolls at his local college to start over. There, he becomes part of an eclectic community of students and develops a crush on his teacher.
5.
The Other End of the Line (2008)
1h 46m Comedy Romance
An employee at an Indian call-center travels to San Francisco to be with a guy she falls for over the phone
1h 48m Comedy Romance Drama
When she learns she's in danger of losing her visa status and being deported, overbearing book editor Margaret Tate forces her put-upon assistant, Andrew Paxton, to marry her.
7.
The Giant Mechanical Man (2012)
1h 34m Comedy Drama Romance
An offbeat romantic comedy about a silver-painted street performer and the soft spoken zoo worker who falls for him.
1h 45m Comedy
Two mismatched personal trainers' lives are upended by the actions of a new, wealthy client.
9.
In Good Company (2004)
1h 49m Comedy Drama Romance
Dan Foreman is a seasoned advertisement sales executive at a high-ranking publication when a corporate takeover results in him being placed under naive supervisor Carter Duryea, who is half his age. Matters are made worse when Dan's new supervisor becomes romantically involved with his daughter an 18 year-old college student Alex.
10.
The Ramen Girl (2008)
1h 42m Romance Comedy Drama
An American woman is stranded in Tokyo after breaking up with her boyfriend. Searching for direction in life, she trains to be a râmen chef under a tyrannical Japanese master.
11.
Barbershop 2: Back in Business (2004)
1h 29m Drama Romance Comedy
A woman who is robbed on her way to catch the 1:30 train to Boston is left stranded in New York City. She meets a man who helps her during the course of the night and the two form a romance.
explore
Check out more list from our community