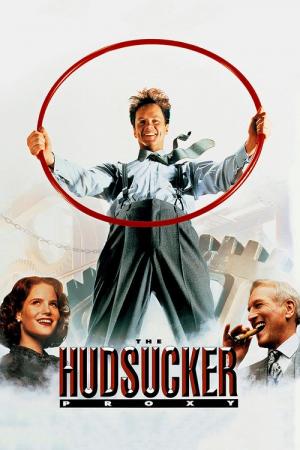 14 Best Alone In The T ...
If you liked this film , you will for sure love these too! In this selection we highlight some of the best films that share a very similar mood to 'The Hudsucker Proxy', and are worth checking out.
1.
The Fisher King (1991)
2h 18m Comedy Drama
Two troubled men face their terrible destinies and events of their past as they join together on a mission to find the Holy Grail and thus to save themselves.
2.
Delivering Milo (2001)
1h 34m Fantasy Comedy
A guardian angel has 24 hours to convince a soul that life on Earth is worth the effort.
1h 32m Fantasy Drama Comedy
A woman named Kit moves back to her parent's house, where she receives a mysterious invitation that would fulfill her childhood dreams.
4.
Defending Your Life (1991)
1h 52m Comedy Fantasy Romance
In an afterlife resembling the present-day US, people must prove their worth by showing in court how they have demonstrated courage.
1h 44m Comedy Drama
Unable to cope with a recent personal tragedy, LA's top celebrity shrink turns into a pothead with no concern for his appearance and a creeping sense of his inability to help his patients.
1h 43m Comedy Fantasy Family
When Elizabeth returns to her mother's home after her marriage breaks up, she recreates her imaginary childhood friend, Fred, to escape from the trauma of losing her husband and her job. In between the chaos and mayhem that Fred creates, Elizabeth attempts to win back her husband and return to normality.
1h 31m Fantasy Comedy Drama
On Christmas Eve, a relentlessly cheerful woman escapes from the killers hired by her husband, and embarks on a series of strange encounters.
1h 53m Drama Comedy
Jack Harriman becomes a spiritual celebrity after debunking Reverend Guy Roy on a public-access TV show. While on the road speaking his brand of truth, forces natural and supernatural lead him to question whether he has a deeper calling.
1h 26m Comedy Drama
A comedy-drama about a Black American female philosophy professor and her insensitive, philandering, and flamboyant artist husband who are having a marital crisis. When the wife goes off on an almost unbelievable journey to find "ecstasy", her husband is forced to see her in a different light.
2h 4m Fantasy Comedy Drama
Geeky teenager David and his popular twin sister, Jennifer, get sucked into the black-and-white world of a 1950s TV sitcom called "Pleasantville," and find a world where everything is peachy keen all the time. But when Jennifer's modern attitude disrupts Pleasantville's peaceful but boring routine, she literally brings color into its life.
1h 30m Adventure Comedy Drama TV Movie
A self-absorbed young man is challenged to grow a conscience and change his ways in order to receive an inheritance.
13.
Being John Malkovich (1999)
1h 53m Comedy Drama Fantasy
One day at work, unsuccessful puppeteer Craig finds a portal into the head of actor John Malkovich. The portal soon becomes a passion for anybody who enters its mad and controlling world of overtaking another human body.
14.
Still Breathing (1997)
1h 49m Comedy Drama Romance
Two lost souls: she a con-artist in L.A.; he a puppeteer in San Antonio have the same dream linking each with the other. He travels to L.A. to find this woman he has become obsessed with. She resists, afraid of his kooky ideas until she travels with him to San Antonio and meets his wise grandmother. Story of two disparate people linked by "fate" gets increasingly interesting as it rolls along.
explore
Check out more list from our community