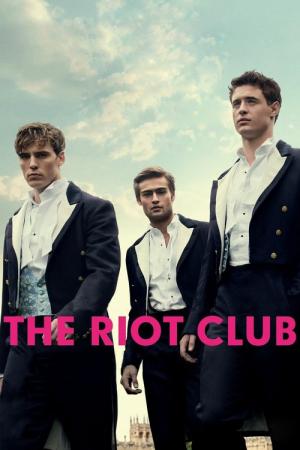 25 Best Movies Like The Riot Club ...
If you liked this film , you will for sure love these too! In this list we highlight some of the best films that share a very similar mood to '', and are worth checking out.
1.
Kill Your Darlings (2013)
1h 44m Drama Romance Thriller
A murder in 1944 draws together the great poets of the beat generation: Allen Ginsberg, Jack Kerouac and William Burroughs.
1h 36m Thriller Drama
In Barrow, Alaska, teenagers Qalli and Aivaaq find their bond tested when a seal-hunting trip goes wrong, resulting in the death of their friend.
3.
Dirty Pretty Things (2002)
1h 37m Crime Drama Thriller
An urban hotel in London is a gathering and flash point for legal and illegal immigrants attempting to cobble together their lives in a new country. The immigrants include Senay, a Turkish woman, and a Nigerian doctor named Okwe who is working as a night porter at the hotel. The pair discover the hotel is a front for all sorts of clandestine activities. Their only wish is to avoid possible deportation. Okwe becomes more entangled in the goings on when he is called to fix a toilet in one of the rooms. He discovers the plumbing has been clogged by a human heart.
4.
Wasted on the Young (2010)
1h 37m Drama Thriller Romance
When a high school party goes dangerously off the rails, one teenager finds that revenge is just a computer click away.
1h 43m Crime Thriller
Set ahead of the 2012 London Olympics, the film follows Liam (Sam Claflin), an ex-con trying to win back the love and trust of his family. He has lost everything at the hands of a local crime syndicate run by Clifford Cullen (Spall), who has high-level connections in politics, finance and the police force. Liam's drive for redemption sees him caught up in a web of conspiracy, crime, and corruption.
1h 44m Drama Mystery Thriller
Jealousy flares after the headmistress of an elite boarding school for girls becomes obsessed with a new student.
1h 50m Drama Thriller
A college co-ed is brutally raped and struggles alone to rebuild her life, but when the chance for revenge comes she as a Victim sinks lower than her Predator.
8.
Poison Ivy: The Secret Society (2008)
1h 35m Drama Thriller
A mysterious death of a young college student occurs late one night at a prestigious New England college...
1h 48m Horror Drama Thriller
Three college students set out to document what other people dread the most. However, one of the three turns out to secretly be a sadistic psychopath who uses this knowledge to gruesomely torture the subjects.
10.
The Trespasser (2001)
1h 22m Drama Thriller
Seemingly mild-mannered businessman Edmond Burke visits a fortuneteller and hears a remark that spurs him to leave his wife abruptly and seek what is missing from his life. Encounters with strangers and unsavory people weaken the barriers encompassing his long-suppressed rage, until Edmond explodes in violence.
1h 44m Drama Thriller
The Munns, father John and sons Chris and Tim, recede to the woods of rural Georgia. Their life together is forever changed with the arrival of Uncle Deel, though the tragedy that follows forces troubled Chris to become a man.
13.
Changing Lanes (2002)
1h 39m Crime Thriller
A rush-hour fender-bender on New York City's crowded FDR Drive, under most circumstances, wouldn't set off a chain reaction that could decimate two people's lives. But on this day, at this time, a minor collision will turn two complete strangers into vicious adversaries. Their means of destroying each other might be different, but their goals, ultimately, will be the same: Each will systematically try to dismantle the other's life in a reckless effort to reclaim something he has lost.
1h 52m Drama
Finn is a teenager trying to escape his drug-addicted mother by going to study tribal people. His hopes are dashed when he gets caught scoring drugs for her, and she decides to start their lives over by moving them in with her massage client, billionaire Ogden. At first, Finn indulges in the luxury around him and falls for Ogden's granddaughter, but he soon finds that the rich can be more savage than any group in the wild.
15.
New Best Friend (2002)
1h 31m Drama Thriller Mystery
Alicia is a poor girl starting college. Hadley, Julianne and Sydney are three well-off girls in a row house. Classes begin and Alicia is paired with Hadley to work on a sociology class project. At first rejected, Alicia is finally accepted into Hadley's clique where she is introduced to a world of privilege and dangerous thrills. But her attempts to become one of them ultimately land her in the hospital.
1h 30m Drama
A psychotic young man returns to his old neighborhood after release from prison. He seeks out the woman he previously tried to rape and the man who protected her, with twisted ideas of love for her and hate for him.
1h 51m Drama Thriller
Sophie, a quiet and shy maid working for the upper-class family Lelievre, finds a friend in the energetic and uncompromising postmaster Jeanne, who encourages her to stand up against her bourgeois employers.
19.
Before I Go to Sleep (2014)
1h 32m Mystery Thriller
A woman wakes up every day, remembering nothing as a result of a traumatic accident in her past. One day, new terrifying truths emerge that force her to question everyone around her.
1h 30m Action Science Fiction Adventure
Two years after the Martian invasion, George Herbert's worst fears are realized: The Aliens have returned. As a second wave of Martian walkers lay waste to what's left of Earth, an alliance of military forces prepares a daring attack on the Red Planet itself. Once again, the future of mankind hangs in the balance.
1h 19m Drama Action Thriller
Adam Buckley finds himself in the middle of a convenience store robbery during his last night as a pledge for a college fraternity. When the initiation ritual goes horribly wrong, and every move proves disastrous, Adam is forced to confront a new challenge all together, and he has to take a stand.
1h 49m Comedy Drama
Jack Dodd was a London butcher who enjoyed a pint with his mates for over 50 years. When he died, he died as he lived, with a smile on his face watching a horse race on which he had bet, with borrowed money. But before he died he had a final request, 'Last Orders', that his ashes be scattered in the sea at Margate. The movie follows his mates, Ray, Lenny and Vic and his foster son Vince as they journey to the sea with the ashes. Along the way, the threads of their lives, their loves and their disappointments are woven together in their memories of Jack and his wife Amy
1h 30m Thriller Drama
Set in Norfolk, amidst an idyllic, brooding landscape, an innocent teenage boy and his battle-weary father live a simple life. Days are spent hunting, fishing and daydreaming. Out-of-nowhere, disrupting this tranquility, a mysterious intense figure gives the green light for the father to complete one last mission; he is a mercenary, hired to assassinate a group of revolutionaries holed-up in a remote, disused civil service outpost. A mission that threatens to destroy not just the compound but the love between a father and his son.
24.
Catch Me Daddy (2014)
explore
Check out more list from our community