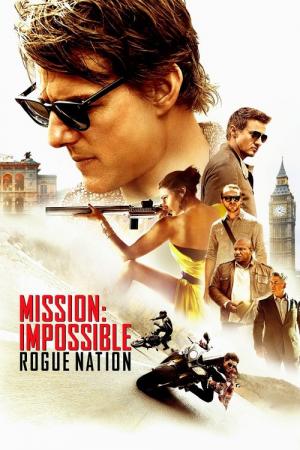 10 Best Movies Like Mission Impossible Rogue Nation ...
If you liked this movie , you will definitely love these too! In this collection we highlight some of the best films that share a very similar mood to 'Mission: Impossible - Rogue Nation', and are worth checking out.
1.
Mission: Impossible - Fallout (2018)
2h 27m Action Adventure
When an IMF mission ends badly, the world is faced with dire consequences. As Ethan Hunt takes it upon himself to fulfill his original briefing, the CIA begin to question his loyalty and his motives. The IMF team find themselves in a race against time, hunted by assassins while trying to prevent a global catastrophe.
2.
Charlie's Angels (2019)
1h 58m Action Adventure Comedy
When a systems engineer blows the whistle on a dangerous technology, Charlie's Angels from across the globe are called into action, putting their lives on the line to protect society.
3.
xXx: Return of Xander Cage (2017)
1h 47m Action Adventure Crime
Extreme athlete turned government operative Xander Cage comes out of self-imposed exile, thought to be long dead, and is set on a collision course with deadly alpha warrior Xiang and his team in a race to recover a sinister and seemingly unstoppable weapon known as Pandora's Box. Recruiting an all-new group of thrill-seeking cohorts, Xander finds himself enmeshed in a deadly conspiracy that points to collusion at the highest levels of world governments.
4.
The World Is Not Enough (1999)
2h 8m Adventure Action Thriller
Greed, revenge, world dominance and high-tech terrorism – it's all in a day's work for Bond, who's on a mission to protect a beautiful oil heiress from a notorious terrorist. In a race against time that culminates in a dramatic submarine showdown, Bond works to defuse the international power struggle that has the world's oil supply hanging in the balance.
5.
Kingsman: The Secret Service (2014)
2h 9m Crime Comedy Action Adventure
The story of a super-secret spy organization that recruits an unrefined but promising street kid into the agency's ultra-competitive training program just as a global threat emerges from a twisted tech genius.
1h 48m Adventure Action Comedy Thriller
A group of covert CIA operatives trailing a potential new energy source are double-crossed by corrupt agent Morgan, who causes a helicopter crash in remote South Africa. The sole survivor, suffering severe amnesia, is nursed to recovery by a kindly native tribe who call him "Whoami" after the question he keeps asking. With the help of a mysterious reporter Christine, Whoami pieces together his past and tracks the turncoat agent and his criminal cohorts.
7.
Never Say Never Again (1983)
2h 14m Adventure Action Thriller
James Bond returns as the secret agent 007 one more time to battle the evil organization SPECTRE. Bond must defeat Largo, who has stolen two atomic warheads for nuclear blackmail. But Bond has an ally in Largo's girlfriend, the willowy Domino, who falls for Bond and seeks revenge. This is the last time for Sean Connery as Her Majesty's Secret Agent 007. Made outside of the traditional Broccoli production environment due to separate rights having been obtained for this specific Ian Fleming story.
2h 23m Action Adventure Thriller
When Bond's latest assignment goes gravely wrong and agents around the world are exposed, MI6 is attacked forcing M to relocate the agency. These events cause her authority and position to be challenged by Gareth Mallory, the new Chairman of the Intelligence and Security Committee. With MI6 now compromised from both inside and out, M is left with one ally she can trust: Bond. 007 takes to the shadows - aided only by field agent, Eve - following a trail to the mysterious Silva, whose lethal and hidden motives have yet to reveal themselves.
9.
Die Another Day (2002)
2h 13m Adventure Action Thriller
Bond takes on a North Korean leader who undergoes DNA replacement procedures that allow him to assume different identities. American agent, Jinx Johnson assists Bond in his attempt to thwart the villain's plans to exploit a satellite that is powered by solar energy.
2h 24m Adventure Action Thriller
Le Chiffre, a banker to the world's terrorists, is scheduled to participate in a high-stakes poker game in Montenegro, where he intends to use his winnings to establish his financial grip on the terrorist market. M sends Bond—on his maiden mission as a 00 Agent—to attend this game and prevent Le Chiffre from winning. With the help of Vesper Lynd and Felix Leiter, Bond enters the most important poker game in his already dangerous career.
explore
Check out more list from our community