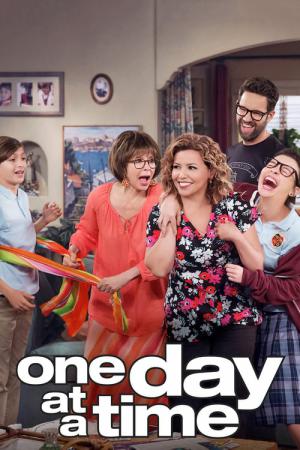 13 Best Shows Like One Day At A Time ...
If you liked this film , you will definitely love these too! In this list we highlight some of the best films that share a very similar mood to '', and are worth checking out.
1.
The Great Indoors (2016)
21m Comedy
An adventure reporter must adapt to the times when he becomes the boss to a group of millennials in the digital department of the magazine.
21m Comedy
Television lawyer Dean Sanderson moves back to his small home town after his hit series, "The Grinder," is canceled thinking his time on TV qualifies him to run his family's law firm.
3.
Last Man Standing (2011)
21m Comedy
A married father of three tries to maintain his manliness in a world increasingly dominated by women.
23m Comedy
Fed up with her father, a woman moves in with her older half-sister, and her fiancé.
5.
How to Be a Gentleman (2011)
22m Comedy
How to Be a Gentleman, inspired by the book of the same name, is a comedy about the unlikely friendship between a traditional, refined writer and an unrefined personal trainer. Andrew Carlson (David Hornsby) is an etiquette columnist whose devotion to ideals from a more civilized time has lead to a life detached from modern society. Infectiously optimistic, Bert Lansing (Kevin Dillon) is a reformed "bad boy" from Andrew's past who inherited a fitness center, but can still be rude, loud and sloppy. When Andrew's editor, Jerry (Dave Foley), tells him to put a modern, sexy twist on his column or be fired, he hires Bert as a life coach in the hopes of learning to be less "gentle man" and more "real man."
23m Comedy
Three guy friends in a retirement community are the top dogs until they're blown out of the water by the newest member of the community, a female rebel who's ready to challenge their place – it's high school with 70 somethings.
22m Comedy
Three 30-something dads try to hold on to their youth as they face the responsibilities of having kids. Thankfully, Gary, Chris and Nick have each other to help navigate the highs and lows of fatherhood - while still trying desperately to remain dudes.
22m Comedy
A time in Mark Feuerstein's adult life when he lived in apartment 9K in the building he grew up in, sandwiched between his parents' apartment, 9J; and his brother, sister-in-law and their baby's apartment, 9L and his attempts to set boundaries with his intrusive but well-meaning family.
10.
Designing Women (1986)
30m Comedy
Julia Sugarbaker, Mary Jo Shively, Charlene Frazier-Stillfield and Suzanne Sugarbaker are associates at their design firm, Sugarbaker and Associates. Julia is the owner and is very outspoken and strong-willed. Mary Jo is a divorced single-parent whom is just as strong-willed as Julia, but isn't as self-confident. Charlene is the naive and trusting farm girl from Poplar Bluff, Missouri. Suzanne is the self-centered ex-beauty queen whom has a number of wealthy ex-husbands.
11.
Growing Up Fisher (2014)
22m Comedy
It's not every family that's brought closer together by divorce, but then again, the Fishers are anything but typical.
12.
Your Family or Mine (2015)
30m Comedy
Oliver and Kelli are living proof of the old saying, "When you marry someone, you don't just marry them, you marry their whole family."
explore
Check out more list from our community