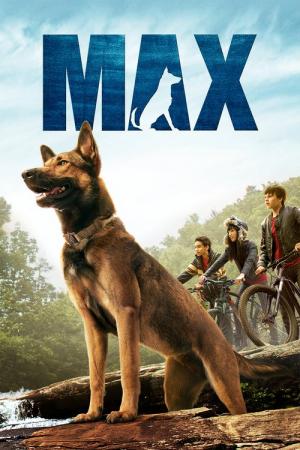 27 Best Movies Like Max ...
If you liked this one , you will for sure love these too! In this list we highlight some of the best films that share a very similar premise to '', and are worth checking out.
1.
Hachi: A Dog's Tale (2009)
1h 33m Drama Family
A drama based on the true story of a college professor's bond with the abandoned dog he takes into his home.
2.
Belle & Sebastian (2013)
20m Comedy Family
Belle's est une série télévisée américaine créée par Ed. Weinberger et Miguel Núñez, diffusée depuis le 1er février 2013 sur TV One.Cette série est inédite dans tous les pays francophones.
3.
Max 2: White House Hero (2017)
1h 25m Family
Max is assigned to the White House while Butch, the secret service dog, is on maternity leave. He meets TJ, a 12 year old boy, who is the President's son. Due to his father's high profile, he is trying hard to fit in and lead a normal life. During a state visit by the Russian President and his daughter, Alexandra (Alex), TJ is asked to accompany her, during their stay. TJ befriends Alex, but when they get into trouble, Max comes to the rescue!
4.
A Dog's Way Home (2019)
2h Family Adventure Drama
A dog finds the meaning of his own existence through the lives of the humans he meets.
1h 35m Drama Family
Katy McLaughlin desires to work on her family's mountainside horse ranch, although her father insists she finish boarding school. Katy finds a mustang in the hills near her ranch. The headstrong 16 year old then sets her mind to tame a mustang and prove to her father she can run the ranch. But when tragedy happens, it will take all the love and strength the family can muster to restore hope.
1h 27m Adventure Drama Family
Many kids might say their best friend is a puppy or a pony. But for 12-year-old Sandy, the most special pet of all is the exuberant dolphin he rescues and who returns the favor by rescuing Sandy from sharks.The dolphin named Flipper first swam into the world's minds and hearts in this 1963 film starring Chuck Connors and Luke Halpin as Sandy (a role he would continue in the 1964-68 TV series that followed.) James B. Clark, a long-time family filmmaker whose credits include "Island of the Blue Dolphins" and "My Side of the Mountain," directs the story of hard times (Hurricane Hazel and its aftermath) and joy (Sandy's dolphin-powered rides through the waves). And two fins up for Mitzie, the animal star who plays flipper.
1h 34m Adventure Family
An update of the Lassie legend stars Thomas Guiry as a troubled city kid whose family retreats to the country, where he befriends the famous collie and changes for the better. Conflict develops when a ruthless sheep rancher causes trouble for everyone.
8.
Homeward Bound: The Incredible Journey (1993)
1h 24m Adventure Comedy Drama Family
Remake of the popular Disney classic, this time featuring some well known voices as two dogs and a cat trek across America encountering all sorts of adventures in the quest to be reunited with their owners.
9.
Free Willy 3: The Rescue (1997)
1h 26m Family Adventure Drama
Willy the whale is back, this time threatened by illegal whalers making money off sushi. Jesse, now 16, has taken a job on an orca-researching ship, along with old friend Randolph and a sarcastic scientist, Drew. On the whaler's ship is captain John Wesley and his son, Max, who isn't really pleased about his father's job, but doesn't have the gut to say so. Along the way, Willy reunites with Jesse
1h 52m Family Adventure Drama
When maladjusted orphan Jesse vandalizes a theme park, he is placed with foster parents and must work at the park to make amends. There he meets Willy, a young Orca whale who has been separated from his family. Sensing kinship, they form a bond and, with the help of kindly whale trainer Rae Lindley, develop a routine of tricks. However, greedy park owner Dial soon catches wind of the duo and makes plans to profit from them.
1h 35m Family Adventure Drama
Jesse becomes reunited with Willy three years after the whale's jump to freedom as the teenager tries to rescue the killer whale and other orcas from an oil spill.
1h 33m Drama Family
An abused beagle runs away from his owner. On the road, he meets young Marty Preston and follows him home. The boy immediately forms a bond with the dog and names him Shiloh. His stern father won't let him keep the dog because it belongs to Judd Travers, a local hunter. After Shiloh is mistreated again, he runs away and returns to Marty. Knowing his father will once again make him bring Shiloh back to Judd, he makes a home for the dog in an old shed up the hill from the Prestons' house and hides him from his family. His secret is soon discovered when a stray attacks the dog one night and he must turn to his father for help.
13.
The Incredible Journey (1963)
1h 20m Adventure Family
The story of three pets, a cat and two dogs, who lose their owners when they are all on vacation. Can they find their way home?
1h 32m Drama
After Davey's father is killed in a hold-up, she and her mother and younger brother visit relatives in New Mexico. Here Davey is befriended by a young man who helps her find the strength to carry on and conquer her fears.
1h 30m Action Adventure Comedy Family
Bingo, the runaway circus dog, is off the leash and saving Chuckie's life! Bingo and the boy become the best of friends in this canine comedy featuring doggy disguises and skateboarding, pinball and prison. Chuckie and his parents (Cindy Williams and David Rasche) are moving house, a thousand miles away, but Bingo won't be allowed to join them. Chuckie and Bingo's determination to be reunited is t
16.
How It Was with Dooms (2005)
17.
Santa Paws 2: The Santa Pups (2012)
1h 28m Family
An all-new Disney holiday classic is born - Santa Paws 2: The Santa Pups. Starring a brand-new litter of the cutest talking pups ever - Hope, Jingle, Charity, and Noble - it's perfect for the whole family. When Mrs. Claus travels to Pineville, the playful Santa Pups stow away on her sled. Taking mischief to a whole new level, they begin granting joyful wishes to Pineville's boys and girls, but something goes terribly wrong - the Christmas spirit begins to disappear. Now the Santa Pups and Mrs. Claus must race to save Christmas around the world. From the creators of Disney Buddies, this magical, heartwarming tale is brimming with hope, cheer, and Christmas spirit. Written by Paws
1h 34m Family Drama
SMITTY is a family film about a rescue dog. When life gets tough for Ben, a friendly paw is all it takes to pull him through. Mischievous thirteen-year-old Ben is sent to his grandfather's farm for the summer, where he crosses paths with a lovable mutt. With help from the unlikely canine companion, Ben learns the importance of friendship, family and responsibility.
1h 30m Drama Family
This heart warming film is about a dog named Cooper who is the lone survivor of a terrible car accident. Jake, a family patriarch, loses his wife and children in the accident. Not being a dog person, Jake is angry and resentful toward the dog for even surviving. However, eventually Jake bonds with Cooper, and this bond ends up being the one thing that gets him out of bed in the morning, the one thing that helps him to go on living after such a tragic loss.
30m Animation Comedy
The New Yogi Bear Show is a 30-minute weekday animated series which aired on syndication in 1988 as part of The Funtastic World of Hanna-Barbera's 4th season. But it was the also the fifth incarnation of Hanna-Barbera's Yogi Bear. It contained 45 new episodes combined with reruns of the original 1960s Yogi series.Pared down from some of the other, recent incarnations of the adventures of Yogi and friends, this series featured only Yogi, Boo-Boo, Cindy and Ranger Smith, with episodes set in Jellystone Park.The show also introduced four new characters: Ranger Roubideux, Ninja Raccoon, Ninja Raccoon's mom, and Blubber Bear from Wacky Races.
1h 30m Family Drama
In this third movie about Shiloh, Judd Travers is accused of killing a man he once fought in a bar. Everyone in the town consider Judd to be guilty except Marty Preston, but even him has some doubts. Trying to clear Judd's name Marty and his friend searches the woods to find the criminal.
22.
Far from Home: The Adventures of Yellow Dog (1995)
1h 27m Action Adventure Drama Family
Teenager Angus adopts a stray dog and names him Yellow. Several days later, while travelling along the coast of British Columbia with Angus's father, John, the boy and dog become stranded when turbulent waters capsize their boat. Angus's parents relentlessly badger rescue teams. Angus, schooled by his father in wilderness survival skills, and assisted by the intelligent Yellow Dog, tries to attract rescuers.
1h 40m Adventure Drama Family
A family in financial crisis is forced to sell Lassie, their beloved dog. Hundreds of miles away from her true family, Lassie escapes and sets out on a journey home.
24.
Zeus and Roxanne (1997)
1h 38m Adventure Comedy Family Romance
Mary Beth is a marine biologist that gets annoyed when a dog called Zeus stows aboard her research boat. Nevertheless she is intrigued when the intrusive canine makes best-friends with her captive dolphin, Roxanne. She falls in love with Zeus's owner, Terry, a musician who rides a bike.
25.
I Heart Shakey (2012)
1h 30m Family Comedy
Shakey is a family film about a 35-year-old widower named J.T. O'Neil, his precocious 10-year-old daughter and their devoted mutt Shakey. After moving from a small town to Chicago and missing the fine print in their rental contract, J.T. is forced to try and get rid of his lovable pooch. Shakey and Chandler won't have it and hatch a plan to keep Shakey and teach J.T. a valuable lesson about loyalty and the importance of keeping family together.
1h 24m Adventure Comedy Family
An eccentric socialite raises a gorilla as her son.
explore
Check out more list from our community