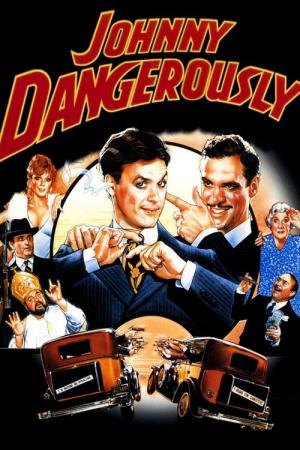 10 Best Johnny Dangerously Car Chase ...
If you liked this one , you will for sure love these too! In this selection we highlight some of the best films that share a very similar premise to 'Johnny Dangerously', and are worth checking out.
1h 35m Comedy Crime
Three mischievous employees of a bank in a small deserted town all make plans to rob it at the same time, however none of them knows about the others.
2.
National Lampoon's Gold Diggers (2003)
1h 36m Comedy
A man decides he needs to help his younger brother lose his virginity and hires a prostitute named Dominique. But hilarious high jinks ensue when a French exchange student with the same name also shows up at his brother's dorm room.
3.
Amos & Andrew (1993)
1h 36m Action Comedy
When Andrew Sterling, a successful black urbanite writer, buys a vacation home on a resort in New England the police mistake him for a burglar. After surrounding his home with armed men, Chief Tolliver realizes his mistake and to avoid the bad publicity offers a thief in his jail, Amos Odell a deal.
1h 26m Action Comedy Crime
Corky Romano is a bumbling, simpleton, veterinarian and the youngest, outcast son of an aging gangster, named Pops Romano, who calls upon Corky to infiltrate the local FBI and retrieve and destroy evidence being used to incriminate Pops for racketeering charges.
5.
See No Evil, Hear No Evil (1989)
1h 43m Crime Comedy
A murder takes place in the shop of David Lyons, a deaf man who fails to hear the gunshot being fired. Outside, blind man Wally Karue hears the shot but cannot see the perpetrator. Both are arrested, but escape to form an unlikely partnership. Being chased by both the law AND the original killers, can the pair work together to outwit them all?
1h 28m Comedy Crime
Two untalented singers are mistaken for a pair of major league safe crackers in Providence, Rhode Island. The two are pressed into service by the local hoodlums and quickly find themselves in conflict with their professional colleagues. Romantic interest is added by the daughter of the underworld leader who won't date the men she knows are gangsters.
1h 42m Comedy Crime
Hooker and Gondorf pull a con on Macalinski, an especially nasty mob boss with the help of Veronica, a new grifter. They convince this new victim that Hooker is a somewhat dull boxer who is tired of taking dives for Gondorf. There is a ringer. Lonigan, their victim from the first movie, is setting them up to take the fall.
8.
Opportunity Knocks (1990)
1h 43m Comedy
Eddie and Lou are a couple of two-bit con men on the lam from a loan shark. They hide out in someone's house and they hear on the answering machine that (A) the owner of the house is out of the country for a month or two and (B) the housesitter supposed to watch the house for the absent owner won't be able to watch the house due to a new job in another part of the country. This provides for a pretty nifty arrangement for Eddie and Lou...until the relatives of the house owner drop by to visit. Eddie quickly adopts the guise of the person supposedly housesitting for the owner, and the shenanigans start from there.
1h 38m Comedy Crime
Two garbage men find the body of a city councilman in a trash can on their route. With help from a supervisor, the duo must solve the case and find the man's killer while hiding the body from the cops.
explore
Check out more list from our community