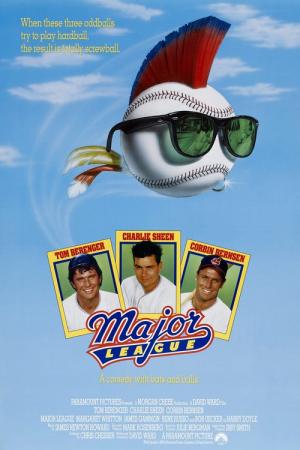 27 Best Movies Like Major League ...
If you liked this film , you will probably love these too! In this collection we highlight some of the best films that share a very similar premise to '', and are worth checking out.
1.
The Replacements (2000)
1h 58m Comedy
Maverick old-guard coach Jimmy McGinty is hired in the wake of a players' strike to help the Washington Sentinels advance to the playoffs. But that impossible dream hinges on whether his replacements can hunker down and do the job. So, McGinty dusts off his secret dossier of ex-players who never got a chance (or screwed up the one they were given) and knits together a bad-dream team of guys who just may give the Sentinels their title shot.
2.
Major League II (1994)
1h 45m Comedy Family Drama
After losing in the ALCS the year before, the Cleveland Indians are determined to make it into the World Series this time! However, they first have to contend with Rachel Phelps again when she buys back the team.
3.
Major League: Back to the Minors (1998)
1h 47m Comedy
At the behest of Roger Dorn -- the Minnesota Twins' silver-tongued new owner -- washed-up minor league hurler Gus Cantrell steps up to the plate to take over as skipper of the club's hapless farm team. But little does he know that Dorn has an ulterior motive to generate publicity with a grudge match between the big leaguers and their ragtag Triple A affiliate.
4.
Dodgeball: A True Underdog Story (2004)
1h 32m Comedy
When megalomaniacal White Goodman, the owner of a trendy, high-end fitness center, makes a move to take over the struggling local gym run by happy-go-lucky Pete La Fleur, there's only one way for La Fleur to fight back: dodgeball. Aided by a dodgeball guru and Goodman's attorney, La Fleur and his rag-tag team of underdogs launch a knock-down, drag-out battle in which the winner takes all.
1h 53m Comedy
Morris Buttermaker is a burned-out minor league baseball player who loves to drink and can't keep his hands to himself. His long-suffering lawyer arranges for him to manage a local Little League team, and Buttermaker soon finds himself the head of a rag-tag group of misfit players. Through unconventional team-building exercises and his offbeat coaching style, Buttermaker helps his hapless Bears prepare to meet their rivals, the Yankees.
1h 43m Comedy
Two losers from Milwaukee, Coop & Remer, invent a new game playing basketball, using baseball rules. When the game becomes a huge success, they, along with a billionaire's help, form the Professional Baseketball League where everyone gets the same pay and no team can change cities. Theirs is the only team standing in the way of major rule changes that the owner of a rival team wants to institute.
7.
The Benchwarmers (2006)
1h 20m Comedy
A trio of guys try and make up for missed opportunities in childhood by forming a three-player baseball team to compete against standard little league squads.
1h 26m Comedy
An unemployed slacker (Lange) inspires his softball teammates to improve their game so they won't get kicked out of the local league.
9.
Necessary Roughness (1991)
1h 48m Comedy
When the Texas Southern Armadillos football team is disqualified for cheating and poor grades, the University is forced to pick from a team that actually goes to school. Will they even win a single game?
1h 32m Comedy
Failed hockey player-turned-golf whiz Happy Gilmore -- whose unconventional approach and antics on the grass courts the ire of rival Shooter McGavin -- is determined to win a PGA tournament so he can save his granny's house with the prize money. Meanwhile, an attractive tour publicist tries to soften Happy's image.
1h 47m Comedy
A comedy that spoofs the inspirational sports movies, The Comebacks tells the story of an out-of-luck coach, Lambeau Fields, who takes a rag-tag bunch of college misfits and drives them towards the football championships. In the process, this life-long loser discovers that he is a winner after all by redeeming himself, saving his relationship with his family and friends, and finding that there is indeed, no "I" in "team"!
12.
Rookie of the Year (1993)
1h 43m Comedy Family
12-year-old Henry Rowengartner, whose late father was a minor league baseball player, grew up dreaming of playing baseball, despite his physical shortcomings. After Henry's arm is broken while trying to catch a baseball at school, the tendon in that arm heals too tightly, allowing Henry to throw pitches that are as fast as 103 mph. Henry is spotted at nearby Wrigley Field by Larry "Fish" Fisher, the general manager of the struggling Chicago Cubs, after Henry throws an opponent's home-run ball all the way from the outfield bleachers back to the catcher, and it seems that Henry may be the pitcher that team owner Bob Carson has been praying for.
2h 3m Comedy Drama
To build up attendance at their games, the management of a struggling minor-league hockey team signs up the Hanson Brothers, three hard-charging players whose job is to demolish the opposition.
1h 46m Comedy
Molly is a high school track coach who knows just as much about football as anyone else on the planet. When a football coach's position becomes vacant, she applies for the job, despite snickers from fellow staff members and her former husband.
15.
The Hot Flashes (2013)
1h 39m Comedy
An unlikely basketball team of unappreciated middle-aged Texas women, all former high school champs, challenge the current high school girls' state champs to raise money for breast cancer prevention. Sparks fly as the women go to comic extremes to prove themselves on and off the court, become a national media sensation, and gain a new lease on life.
16.
The Great White Hype (1996)
1h 31m Comedy Drama
When the champ's promoter, Rev. Sultan, decides something new is needed to boost the marketability of the boxing matches, he searches and finds the only man to ever beat the champ. The problem is that he isn't a boxer anymore and he's white. However, once Rev. Sultan convinces him to fight, he goes into heavy training while the confident champ takes it easy and falls out of shape.
1h 44m Comedy Drama
Aging baseball star who goes by the nickname, Mr. 3000, finds out many years after retirement that he didn't quite reach 3,000 hits. Now at age 47 he's back to try and reach that goal.
18.
Ready to Rumble (2000)
1h 47m Action Comedy
Two slacker wrestling fans are devastated by the ousting of their favorite character by an unscrupulous promoter.
1h 48m Comedy Romance
Veteran catcher Crash Davis is brought to the minor league Durham Bulls to help their up and coming pitching prospect, "Nuke" Laloosh. Their relationship gets off to a rocky start and is further complicated when baseball groupie Annie Savoy sets her sights on the two men.
20.
The Bad News Bears Go to Japan (1978)
1h 31m Comedy Family
In this third film version of the Bad News Bears series, Tony Curtis plays a small time promotor/hustler who takes the pint-sized baseball team to Japan for a match against the country's best little league baseball team which sparks off a series of adventures and mishaps the boys come into.
21.
A League of Their Own (1992)
2h 8m Comedy Drama Family
As America's stock of athletic young men is depleted during World War II, a professional all-female baseball league springs up in the Midwest, funded by publicity-hungry candy maker Walter Harvey (Garry Marshall). Competitive sisters Dottie Hinson (Geena Davis) and Kit Keller (Lori Petty) spar with each other, scout Ernie Capadino (Jon Lovitz) and grumpy has-been coach Jimmy Dugan (Tom Hanks) on their way to fame. Madonna and Rosie O'Donnell co-star as two of the sisters' teammates.
1h 23m Comedy
A rag-tag bunch of seniors, complete outsiders at their surf-crazed Laguna Beach High School, decide to crash the biggest team surf contest. In order to prevail, however, they must do one important thing...learn to surf! We're taking your classic Cinderella story into the world of surfing, complete with hi-jinx and the aesthetic beauty of surf mecca Costa Rica, our spectacular set location
24.
The Bingo Long Traveling All-Stars & Motor Kings (1976)
1h 50m Comedy
Tired of the slave-like treatment of his team's owner, charismatic star Negro League pitcher Bingo Long takes to the road with his band of barnstormers through the small towns of the Midwest in the 1930s.
1h 54m Comedy
After bowler Roy Munson swindles the wrong crowd and is left with a hook for a hand, he settles into impoverished obscurity. That is, until he uncovers the next big thing: an Amish kid named Ishmael. So, the corrupt and the hopelessly naïve hit the circuit intent on settling an old score with Big Ern.
1h 34m Comedy Family
Jack Cooper (Matt LeBlanc) could be a world-class baseball pitcher if he didn't keep buckling under the pressure. He tries to keep his spirits up after he's traded to a minor league team but loses all hope when he discovers that Ed, one of his teammates, is a chimp. Ed used to be the team mascot, but was promoted to third base when the owners realized he had a talent for baseball. As Jack struggles to get used to his new surroundings, Ed helps him regain his confidence on and off the field.
explore
Check out more list from our community