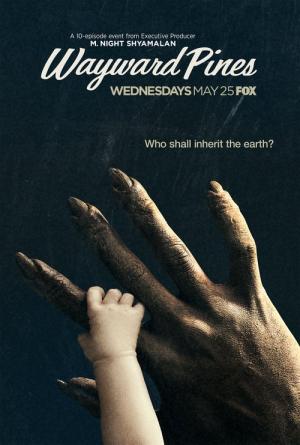 24 Best Shows Like Wayward Pines ...
If you liked this movie , you will definitely love these too! In this list we highlight some of the best films that share a very similar mood to '', and are worth checking out.
42m Drama Mystery Sci-Fi & Fantasy
A small town is suddenly and inexplicably sealed off from the rest of the world by an enormous transparent dome. While military forces, the government and the media positioned outside of this surrounding barrier attempt to break it down, a small group of people inside attempt to figure out what the dome is, where it came from, and when (and if) it will go away.
44m Sci-Fi & Fantasy Action & Adventure
Refugees from a war-torn country start showing up to seek asylum in an American town. Only the country these people are from is America and the war they are fleeing is 250 years in the future. The local sheriff with a past, a federal agent and a mother in search of her missing refugee daughter drive this allegory with a surprising conspiracy at the center.
46m Drama Mystery
The body of Laura Palmer is washed up on a beach near the small Washington state town of Twin Peaks. FBI Special Agent Dale Cooper is called in to investigate her strange demise only to uncover a web of mystery that ultimately leads him deep into the heart of the surrounding woodland and his very own soul.
53m Sci-Fi & Fantasy Drama Mystery Crime
A missing child causes four families to help each other for answers. What they could not imagine is that this mystery would be connected to innumerable other secrets of the small town.
1h Mystery Drama
Based on the stories of Stephen King, the series intertwines characters and themes from the fictional town of Castle Rock.
1h Mystery
One cannot quench his all-consuming thirst. The other cannot tame the beast clawing its way out. In the sleepy Pennsylvania village of Hemlock Grove, two young men struggle to accept painful truths: about family, themselves, the mystery of the White Tower - and a terrifying new threat so powerful it will turn them from predators into prey.
43m Mystery Drama Crime
A "contemporary prequel" to the 1960 film Psycho, depicting the life of Norman Bates and his mother Norma prior to the events portrayed in Hitchcock's film, albeit in a different fictional town and in a modern setting. The series begins after the death of Norma's husband, when she purchases a motel located in a coastal Oregon town so she and Norman can start a new life.
45m Drama Sci-Fi & Fantasy
FBI agent Audrey Parker arrives in the small town of Haven, Maine to solve a murder and soon discovers the town's many secrets—which also hold the key to unlocking the mysteries of her lost past.
1h 21m Drama Sci-Fi & Fantasy
An English teacher travels back in time to prevent the Kennedy assassination, but discovers he is attached to the life he has made in a bygone era.
1h Action & Adventure Drama Mystery
Jericho is an American action/drama series that centers on the residents of the fictional town of Jericho, Kansas, in the aftermath of nuclear attacks on 23 major cities in the contiguous United States.
50m Drama Mystery Action & Adventure
The Utopia Experiments is a legendary graphic novel shrouded in mystery. When a group of strangers find themselves in possession of an original manuscript, their lives suddenly and brutally implode.
43m Drama
Set amidst a wave of violent animal attacks sweeping across the planet, a young renegade scientist is thrust into a race to unlock the mystery behind this pandemic before time runs out for animals and humans alike.
1h Mystery Sci-Fi & Fantasy Crime
Members of a secret society chase immortality by seeking refuge in the bodies of others.
44m Sci-Fi & Fantasy Drama
Between is the story of a town under siege from a mysterious disease that has wiped out everybody except those 21 years old and under. The series explores the power vacuum that results when a government has quarantined a 10-mile diameter area and left the inhabitants to fend for themselves.
43m Drama Science Fiction
The provocative story of Cole, a time traveler from a decimated future in a high-stakes race against the clock. Utilizing a dangerous and untested method of time travel, he journeys from 2043 to the present day on a mission to locate and eradicate the source of a deadly plague that will all but annihilate the human race.
1h Sci-Fi & Fantasy Drama
When 2% of the world's population abruptly disappears without explanation, the world struggles to understand just what they're supposed to do about it. The drama series 'The Leftovers' is the story of the people who didn't make the cut.
42m Drama Sci-Fi & Fantasy
4400 centers on the return of 4400 people who, previously presumed dead or reported missing, reappear on Earth. Though they have not aged physically, some of them seem to have deeper alterations ranging from superhuman strength to an unexplained healing touch. A government agency is formed to track the 4400 people after one of them commits a murder.
19.
Endangered Species (1982)
1h 37m Thriller Drama Mystery
Thriller about a New York ex-cop and an attractive female sheriff who fall in love while investigating a string of mysterious cattle mutilations in a small Colorado town. Urich is great as Reuben Castle, the retired alcoholic police lieutenant out visiting the town with his tomboy daughter. At first he tries to stay out of the case but finds himself involved after the mysterious death of his friend Joe Hiatt, the editor of the local paper whose theories about black helicopters have aroused the ire of cattle baron Ben Morgan. Trying miserably to stay sober, Castle finds himself back in danger and in love, as he and the sheriff work together to get to the bottom of the mystery, encountering incredible danger and resistance from the frightened locals.
20.
The Sisterhood of Night (2014)
42m Sci-Fi & Fantasy Drama
The coastal town of Bristol Cove is known for its legend of once being home to mermaids. When the arrival of a mysterious girl proves this folklore all too true, the battle between man and sea takes a very vicious turn as these predatory beings return to reclaim their right to the ocean.
42m Mystery Drama
After a rash of disappearances and a likely murder, an inquisitive, young female production assistant on a wildly popular television show called Cult joins a journalist blogger in investigating the rabid fans of the series who might be re-creating crimes seen on the program, in real life.
23.
A Mother's Son (2012)
1h Crime Drama
A mother suspects that her son could be the killer of a recently found dead girl, and becomes caught in a torturous dilemma of whether to denounce him, or protect him and hide the act.
explore
Check out more list from our community