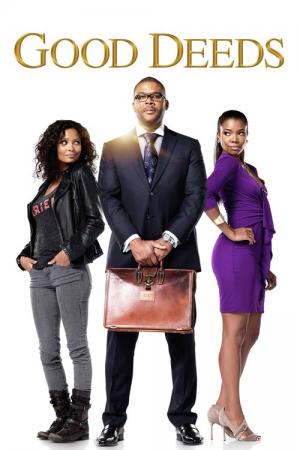 10 Best Movies Like Good Deeds ...
If you liked this film , you will probably love these too! In this collection we highlight some of the best films that share a very similar premise to 'Good Deeds', and are worth checking out.
1.
Old, New, Borrowed and Blue (2003)
1h 30m Comedy Drama Romance
Katrine is to be married. Her fiancé is gorgeous, their appartment is luxurious and her future in-laws are wealthy. Katrine only has one problem: she sometimes finds it difficult to tell the truth, and this sends her on a round-about jaunt with an old friend, Thomsen, who has just barged in unannounced from Kenya and who wants to return a favour and help Katrine with her wedding preparations. A labyrinthal excursion takes place. Tomorrow is another day, the wedding day!
1h 35m Comedy Romance
Twenty years ago, Arlen Faber (Jeff Daniels) wrote a book about spirituality that became wildly popular. These days, he's a curmudgeonly recluse who only enjoys the company of his chiropractor, Elizabeth (Lauren Graham). As Elizabeth's warmth starts to melt Arlen's cold heart, he comes to realize what love really means.
1h 37m Comedy Romance
A young woman escapes her wildly eccentric family in search for a life of normalcy.
4.
Pulling Strings (2013)
1h 51m Comedy Romance
Rachel is an intelligent, modern-day woman constantly on the move. Primarily focused on her career as a diplomatic consul for the U.S. embassy, she's literally lived her life on the move, globe-trotting from city to city. Currently working in Mexico City and set to leave for London, Rachel's world turns upside down on the eve of her own goodbye party when she gets drunk and passes out on the street. Saved by Alejandro, a handsome Mariachi singer and single father, Rachel wakes up in his apartment with no recollection of how she got there. Nor does she remember that she rejected his visa the day before, which he desperately needs for his daughter. Romance unexpectedly blossoms between the two, but either sparks or fists will fly after she finds out his secret.
22m Reality
Behind the scenes of Leah Remini and her family finding an interest in their local home in Los Angeles.
6.
Amira & Sam (2014)
1h 30m Drama Romance Comedy
Sam, a soldier who had served in Afghanistan and Iraq, meets Amira when he visits her uncle, Bassam, who had served as Sam's Iraqi translator. Bassam and Sam have a special bond due to their time together in the war. Initially Amira does not trust him because he was an American soldier and her brother was killed by a bomb from American troops in the war. Sam's cousin, Charlie, asks Sam to help him with illegal hedge funds unbeknownst to Sam at the time. Amira is staying with her uncle Bassam since her father died. She sells bootlegged films on the street corner but is forced to stay with Sam after getting busted; immigration officials begin pursuing her. As the film progresses, Sam and Amira fall in love.
7.
My Faraway Bride (2006)
1h 35m Comedy Romance
The story of Alex, a copy-writer dreaming of being an adventure novelist someday, who meets and romances Indian beauty Reena, while she is vacationing in California. Torn by her blossoming feelings for Alex and her Indian family values and obligations, Reena returns home without saying goodbye. Alex, distraught by the turn of events, decides to follow her to Mumbai and win her back.
9.
Meet the Browns (2008)
1h 40m Comedy Drama Romance
A single mother living in inner city Chicago, Brenda has been struggling for years to make ends meet and keep her three kids off the street.But when she's laid off with no warning, she starts losing hope for the first time - until a letter arrives announcing the death of a father she's never met.Desperate for any kind of help, Brenda takes her family to Georgia for the funeral. But nothing could have prepared her for the Browns, her father's fun-loving, crass Southern clan. In a small-town world full of long afternoons and country fairs, Brenda struggles to get to know the family she never knew existed...and finds a brand new romance that just might change her life.The story is adapted by Tyler Perry from his stage play "Meet the Browns." Perry will portray Madea and Uncle Joe in the film.
10.
Bed & Breakfast: Love is a Happy Accident (2010)
1h 29m Comedy Romance
Bed and Breakfast is a romantic comedy about a saleswoman from a large department store in Rio who discovers she has inherited property in the wine country of California. She could never expect what she would find in "Webster", a small country town
explore
Check out more list from our community