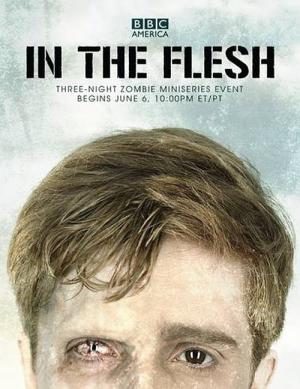 26 Best Shows Like In The Flesh ...
If you liked this movie , you will definitely love these too! In this collection we highlight some of the best films that share a very similar mood to '', and are worth checking out.
1h 35m Horror Drama Mystery
There's a deadly zombie epidemic threatening humanity, but Wade, a small-town farmer and family man, refuses to accept defeat even when his daughter Maggie becomes infected. As Maggie's condition worsens and the authorities seek to eradicate those with the virus, Wade is pushed to the limits in an effort to protect her. Joely Richardson co-stars in this post-apocalyptic thriller.
2.
The Walking Dead: World Beyond (2020)
45m Drama Sci-Fi & Fantasy Mystery
A heroic group of teens sheltered from the dangers of the post-apocalyptic world receive a message that inspires them to leave the safety of the only home they have ever known and embark on a cross-country journey to find the one man who can possibly save the world.
43m Drama Sci-Fi & Fantasy
A small town that is turned upside down when several local people, who have long been presumed dead, suddenly reappear; their presence creates both positive and negative consequences. As families are reunited, the lives of those who were left behind are challenged both physically and emotionally.
43m Drama Mystery
Welcome to Bedlam Heights. Converted from an imposing former lunatic asylum, this apartment building offers the ultimate in stylish 21st century urban living. But little do its new residents suspect that behind the luxury fittings lay unimaginable horrors.
1h Drama
The lives and loves of a 1930s Yorkshire town explored in a passionate tale of politics in small places. South Riding charts the story of Sarah Burton's homecoming to Yorkshire in 1934 after twenty years teaching in London and the Empire. After a fiery interview with a conservative interview panel, outspoken Sarah takes up her first headmistress-ship at Kiplington High School for Girls, determined to demonstrate to her new pupils that the future is theirs for the taking.
55m Drama Mystery Sci-Fi & Fantasy
In the shadow of an enormous hydraulic dam, the lives of the residents of a small French town are changed to their core when hundreds of previously dead relatives all return home on the same day.
40m Drama Sci-Fi & Fantasy
A small town family is torn apart by a brutal crime. As they deal with the fallout an eerie mist rolls in, suddenly cutting them off from the rest of the world, and in some cases, each other.
45m Drama
The lives, loves and highs and lows of four members of the Women's Land Army working at the Hoxley Estate during World War II.
1h Drama
Powerful historical drama series, based on the lives of real people, telling the story of young 19th-century apprentices taking their lives into their own hands for the first time.
12.
Fear the Walking Dead (2015)
43m Action & Adventure Drama
What did the world look like as it was transforming into the horrifying apocalypse depicted in "The Walking Dead"? This spin-off set in Los Angeles, following new characters as they face the beginning of the end of the world, will answer that question.
13.
Extinction: The G.M.O. Chronicles (2011)
45m Drama Mystery Sci-Fi & Fantasy
The town of Rosewood has been suffering from a curse for generations. Five strangers suddenly feel connected by this fatal curse and feel the need to dig in the town's mysterious and horrible history before it's to late for each one of them.
1h Sci-Fi & Fantasy Drama
Survivors was a British science fiction television series produced by the BBC. It depicts the lives of a group of people who survived a virulent unknown strain of influenza which has wiped out most of the human species. According to the producers, the series is not a remake of the 1970s BBC television series Survivors, created by Terry Nation, but is loosely based on the novel of the same name that Nation wrote following the first series of the 1970s series. Two series were produced of the new series. Series 1 ran on BBC One and BBC HD in November–December 2008, and series 2 ran in January–February 2010, ending with a cliffhanger. The BBC announced on 13 April 2010 that, due to poor viewing figures and other considerations, Survivors had been cancelled.The series had its premiere in South Africa on BBC Entertainment in September 2009, in France on DTTV channel NRJ 12 on 12 January 2010, and on BBC America in the United States on 13 February 2010. The series' Australian premiere was on Channel Nine, on 21 March 2010.
59m Drama
The interwoven lives of seven people whose relationships are forged in the white heat of the 60s through to the present day.
44m Drama Comedy
Irreverent comedy drama which follows the messy lives, loves, delirious highs and inevitable lows of a group of raucous teenage friends in Bristol.
1h Drama
A rich and comic drama about the people of Cranford, a small Cheshire town on the cusp of change in the 1840s. Adapted from the novels by Elizabeth Gaskell.
21.
28 Days Later... (2002)
1h 53m Horror Thriller Science Fiction
Twenty-eight days after a killer virus was accidentally unleashed from a British research facility, a small group of London survivors are caught in a desperate struggle to protect themselves from the infected. Carried by animals and humans, the virus turns those it infects into homicidal maniacs -- and it's absolutely impossible to contain.
44m Science Fiction Drama Mystery
A high concept thriller that tells the story of Dr. Ephraim Goodweather, the head of the Center for Disease Control Canary Team in New York City. He and his team are called upon to investigate a mysterious viral outbreak with hallmarks of an ancient and evil strain of vampirism. As the strain spreads, Eph, his team, and an assembly of everyday New Yorkers, wage war for the fate of humanity itself.
23.
The Walking Dead (2010)
42m Action & Adventure Drama Sci-Fi & Fantasy
Sheriff's deputy Rick Grimes awakens from a coma to find a post-apocalyptic world dominated by flesh-eating zombies. He sets out to find his family and encounters many other survivors along the way.
24.
Witches of East End (2013)
42m Drama Sci-Fi & Fantasy
The adventures of Joanna Beauchamp and her two adult daughters Freya and Ingrid -- both of whom unknowingly are their family's next generation of witches -- who lead seemingly quiet, uneventful modern day lives in Long Island's secluded seaside town of East Haven. When Freya becomes engaged to a young, wealthy newcomer, a series of events forces Joanna to admit to her daughters they are, in fact, powerful and immortal witches.
25.
The Secret Circle (2011)
42m Drama Sci-Fi & Fantasy
After her mother dies in a fire, Cassie Blake moves in with her grandmother in the small town of Chance Harbor, Washington. As she gets to know her high school classmates, strange and frightening things begin to happen. They are all descended from powerful witches, and they've been waiting for Cassie to join them and complete a new generation of the Secret Circle. What they don't yet know is that darker powers are at play and that Cassie's mother's death might not have been an accident.
explore
Check out more list from our community