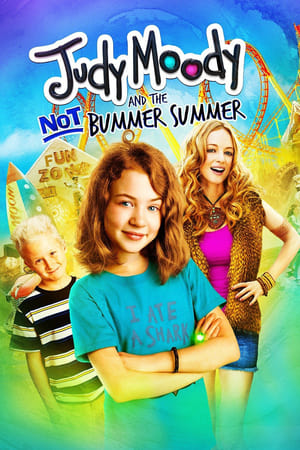 25 Best Movies Like Judy Moody ...
If you liked this one , you will definitely love these too! In this selection we highlight some of the best films that share a very similar mood to '', and are worth checking out.
1.
Diary of a Wimpy Kid: Dog Days (2012)
1h 34m Comedy Family
It's summertime, and Greg Heffley is looking forward to playing video games and spending time with his friends. However, Greg's dad has other plans: He's decided that some father-son bonding time is in order. Desperate to prevent his dad from ruining summer vacation, Greg pretends he has a job at a ritzy country club. But Greg's plan backfires, leaving him in the middle of embarrassing mishaps and a camping trip gone wrong.
2.
Diary of a Wimpy Kid: Rodrick Rules (2011)
1h 39m Family Comedy
Wimpy Greg Heffley, now in seventh grade, thinks he has it all together. He has mastered middle school and gotten rid of the Cheese Touch. However, Greg's older brother, Rodrick, is itching to cut him down to size. He gets the perfect opportunity when their mother tries to force the boys to bond. Rodrick may be Greg's chief tormentor, but he feels his constant pranks are just what his little brother needs to prepare him for life's hard knocks.
1h 43m Comedy Family
Eight-year-old Kevin McCallister makes the most of the situation after his family unwittingly leaves him behind when they go on Christmas vacation. But when a pair of bungling burglars set their sights on Kevin's house, the plucky kid stands ready to defend his territory. By planting booby traps galore, adorably mischievous Kevin stands his ground as his frantic mother attempts to race home before Christmas Day.
4.
How to Eat Fried Worms (2006)
1h 38m Comedy Drama Family
During the first day of his new school year, a fifth grade boy squares off against a bully and winds up accepting a dare that could change the balance of power within the class.
1h 30m Family Comedy
Shakey is a family film about a 35-year-old widower named J.T. O'Neil, his precocious 10-year-old daughter and their devoted mutt Shakey. After moving from a small town to Chicago and missing the fine print in their rental contract, J.T. is forced to try and get rid of his lovable pooch. Shakey and Chandler won't have it and hatch a plan to keep Shakey and teach J.T. a valuable lesson about loyalty and the importance of keeping family together.
6.
The Little Rascals Save the Day (2014)
1h 33m Comedy
The Little Rascals are back in an all-new movie! Join the fun with Spanky, Alfalfa, Darla, Buckwheat, Petey the dog and the whole gang as they are up to their usual mischief! The Rascals try anything to raise the money needed to save their grandma's (Doris Roberts) bakery. The only trouble is - they can't seem to do anything right! From botched pet washes to terrible taxi service, they just can't raise a penny. Their only hope is to win prize money from the local talent show - but have you ever heard Alfalfa sing?
7.
Little Nicholas (2009)
1h 31m Comedy
Nicolas has a happy existence, parents who love him, a great group of friends with whom he has great fun, and all he wants is that nothing changes. However, one day, he overhears a conversation that leads him to believe that his life might change forever, his mother is pregnant! He panics and envisions the worst.
8.
The Anderssons in Greece (2012)
1h 25m Comedy Family
A penny-pinching dad springs for an all-inclusive Greek vacation with his wife and three kids, who get up to plenty of antics of their own. What fun is a family vacation if you actually have to hang out with your parents the whole time?
1h 40m Comedy Family
All Ira Finkelstein wants for Christmas is...Christmas. Unfortunately, his parents are sending him to Florida to be with his Grandparents. Ira's spirit soars as he manages to land in Christmas Town, USA, instead.
1h 28m Comedy Family
Charlie and Dan have been best friends and business partners for thirty years; their Manhattan public relations firm is on the verge of a huge business deal with a Japanese company. With two weeks to sew up the contract, Dan gets a surprise: a woman he married on a drunken impulse nearly nine years before (annulled the next day) shows up to tell him he's the father of her twins, now seven, and she'll be in jail for 14 days for a political protest. Dan volunteers to keep the tykes, although he's up tight and clueless. With Charlie's help is there any way they can be dad and uncle, meet the kids' expectations, and still land the account?
11.
Alexander and the Terrible, Horrible, No Good, Very Bad Day (2014)
1h 21m Family Comedy
Alexander's day begins with gum stuck in his hair, followed by more calamities. Though he finds little sympathy from his family and begins to wonder if bad things only happen to him, his mom, dad, brother, and sister all find themselves living through their own terrible, horrible, no good, very bad day.
12.
Nicholas on Holiday (2014)
1h 37m Family Comedy
It's the end of the school year. The long-awaited moment of the holidays is arrive. The little Nicolas, her parents and Grandma take the road towards the sea, and settle in for some time at the Hotel Beau-Rivage.
1h 34m Family Comedy
Boy genius Michael Dean (Adkins) teams up with a super-talented chimpanzee and his caretaker (Modine) to take down an animal testing lab. In exchange the scientist gives the boy some pointers on the girl of his dreams.
14.
Ramona and Beezus (2010)
1h 43m Comedy Family
Ramona is a little girl with a very big imagination and a nose for mischief. Her playful antics keep everyone in her loving family on their toes, including her older sister Beezus, who's just trying to survive her first year of high school. Through all the ups and downs of childhood, Ramona and Beezus learn that anything's possible when you believe in yourself and rely on each other.
15.
Passport to Paris (1999)
1h 27m Comedy Drama Family
Sent to Paris to visit their grandfather, the twins fall in love with France, not to mention two French boys.
16.
Parental Guidance (2012)
1h 44m Comedy
Artie and Diane agree to look after their three grandkids when their type-A helicopter parents need to leave town for work. Problems arise when the kids' 21st-century behavior collides with Artie and Diane's old-school methods.
1h 24m Comedy Family TV Movie
Public Defender Eddie is a widower with a 13 year-old daughter, Naomi. A classic workaholic, Eddie has been M.I.A. for most of Naomi's big moments. But when an unfortunately timed accident gives Eddie the opportunity to become the "Team Mom" for the Killer Bees, Naomi's team in the Spring Action Classic at camp Hulka's Rock, he grabs it.
18.
Beethoven's 4th (2001)
1h 33m Comedy Family
The family is pleasantly surprised and puzzled when Beethoven suddenly becomes obedient. Turns out it's a prince and the pauper scenario, with the real Beethoven now living with a pompous rich family.
1h 35m Comedy Family
Billionaire heir Richie Rich has it all, including Reggie Jackson as a batting coach and Claudia Schiffer as a personal trainer -- but no playmates. What's more, scoundrel Laurence Van Dough is scheming to take over the family empire. Uh-oh! Enter faithful butler Cadbury to save the day.
1h 29m Comedy Family
The adventurous, young Madeline is very good at getting into trouble, but she's also fantastic at solving problems as well, and her school-mistress Miss Clavel is not too approving of her. The biggest problem comes up when Lord Covington decides to sell Madeline's school.
21.
Slappy and the Stinkers (1998)
1h 18m Adventure Family
Five 2nd-grade kids who don't follow strict rules by their school principal Brinway are dubbed "Stinkers" by him. On the class visit to an aquarium the Stinkers decide that a sea lion called Slappy doesn't feel too good there, "free" him, and plant him into Brinway's hot-tub.
22.
Beethoven's Big Break (2008)
1h 41m Comedy Family
Eddie, a struggling animal trainer and single dad suddenly finds himself the personal wrangler for a large and lovable St. Bernard whose fabulous movie "audition" catapults the dog to stardom. However, a trio of unscrupulous ne'er-do-wells have plans to kidnap the famous dog and hold him for ransom.
23.
Boys Will Be Boys (1999)
1h 30m Family Comedy
Two young brothers talk their strict father Lloyd Clauswell into allowing them to babysit themselves for the first time while their parents attend a corporate barbecue...
24.
Christmas Caper (2007)
1h 28m Comedy Drama Family TV Movie
A Grinch-like thief retreats to her hometown in Connecticut after a con goes bad and gets stuck baby-sitting her niece and nephew until their parents can make it home for Christmas. She spends most of her time devising ways to even the score with Clive, her partner in crime, until the spirit of the holidays can help put her priorities back on track.
explore
Check out more list from our community