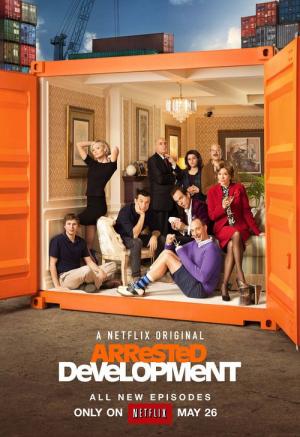 11 Best Shows Similar To Arrested Development ...
If you liked this one , you will for sure love these too! In this selection we highlight some of the best films that share a very similar mood to 'Arrested Development', and are worth checking out.
22m Comedy
The everyday lives of office employees in the Scranton, Pennsylvania branch of the fictional Dunder Mifflin Paper Company.
2.
It's Always Sunny in Philadelphia (2005)
30m Comedy
Set in the corridors of power and spin, the Minister for Social Affairs is continually harassed by Number 10's policy enforcer and dependent on his not-so-reliable team of civil servants.
22m Comedy
The daily mishaps of a married woman and her semi-dysfunctional family and their attempts to survive life in general in the city of Orson, Indiana.
24m Comedy
After many years spent at the "Cheers" bar, Frasier moves back home to Seattle to work as a radio psychiatrist after his policeman father gets shot in the hip on duty.
5.
Grounded for Life (2001)
22m Comedy
Right out of high school, Sean Finnerty got his girlfriend Claudia pregnant. Now she's his wife, and at just 32, he's somehow found himself with 14-year-old daughter Lily, two little boys, and a constant struggle between his need to be responsible and his desperate desire to be irresponsible. His judgmental father Walt and devil-may-care brother Eddie are no help at all. When they all get together, stories always start to fly. Of course, Sean's family will never let him finish a story; they interrupt, they debate, they derail, they defend themselves; just like any good family would.
22m Comedy
Follow the lives of a group of students at what is possibly the world's worst community college in the fictional locale of Greendale, Colorado.
7.
Cleaver Family Reunion (2013)
1h 31m Comedy
Members of a dysfunctional family settle their differences after a series of misadventures during their summer reunion
8.
A Moody Christmas (2012)
30m Comedy
Focused on the lovable, yet seasonally dysfunctional Moody family, A Moody Christmas is set against the backdrop of the one occasion that can bring out the best (and the worst) in people … Christmas Day.
30m Comedy
Single father George Altman is doing his best to raise his sixteen-year-old daughter Tessa in the big city. When he discovers a box of condoms in her bedroom, though, he decides the time has come to move her to a more wholesome and nurturing environment: the suburbs. But behind the beautiful homes and perfect lawns lurk the Franken-moms, spray tans, nose jobs, and Red Bull-guzzling teens who have nothing in common with Tessa. It's a whole new world, one that makes George wonder if they haven't jumped out of the frying pan and into the fire.
43m Drama
The trials and tribulations of the very large, colorful and imperfect Braverman family.
30m Comedy Family
James "Jimmy" Chance is a clueless 24-year-old who impregnates a serial killer during a one-night-stand. Earning custody of his daughter after the mother is sentenced to death, Jimmy relies on his oddball but well-intentioned family for support in raising the child.
explore
Check out more list from our community